Bruitage / Sound effects
23 sites pour télécharger des effets sonores, sons et bruits gratuits - Geek - 3min30
: Une interface minimaliste, un moteur de recherche, de nombreuses réponses, pour une banque de données ultra fournie.
PacDV has been producing royalty free sounds for filmmakers, sound designers, music producers, film students, and multimedia developers since 2001, and our sounds have been featured in a variety of independent films and videos, television programs, documentaries, commercials, games, radio shows, and new media projects.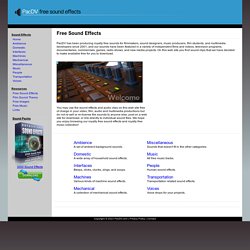 Trouver des bruitages pour ses films - Tous les navigateurs Web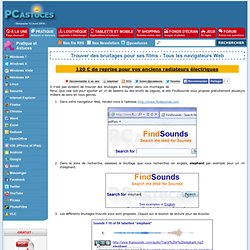 Il n'est pas évident de trouver des bruitages à intégrer dans vos montages de films. Que cela soit pour ajouter un cri de baleine ou des bruits de vagues, le site FindSounds vous propose gratuitement plusieurs milliers de sons en tous genres. Dans votre navigateur Web, rendez-vous à l'adresse http://www.findsounds.com Dans la zone de recherche, saisissez le bruitage que vous recherchez en anglais, elephant par exemple pour un cri d'éléphant.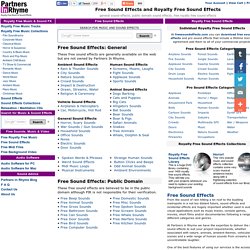 From the sound of rain hitting a tin roof to the bustling metropolis in a not too distant future, sound effects and incidental effects are hugely important whether used in audio or visual applications such as music tracks, console games, movies, short films and/or documentaries following a range of different categories and genres. At Partners in Rhyme we have the expertise to deliver the ideal sound effects to suit your project requirements, whether associated with nature, animals, ambient themes, vehicular scenes and a wide range of human sounds from screams to uncontrollable laughter.
Free Sound Effects and Royalty Free Sound Effects
2,000+ free sound effects. Make some noise!