Metamoteurs
Current release is HIPPY: P2P collaborative filter on top of metasearch engine. Additionnally Seeks implements a websearch proxy. Seeks runs on GNU/Linux and most of *BSD. There is no windows port yet.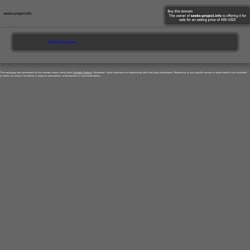 Seeks
Un article de Wikipédia, l'encyclopédie libre. Seeks est un moteur de recherche libre, disponible sous licence publique générale Affero version 3[1]. Il se présente, entre autres, sous la forme d'un proxy web, qui intercepte les requêtes faites à d'autres moteurs de recherche, les soumet aux moteurs activés dans la configuration, recueille et recoupe les résultats pour ensuite les présenter à l'utilisateur. Sa particularité réside dans le fait qu'il récupère les résultats localement et permet leur partage dans un réseau pair à pair.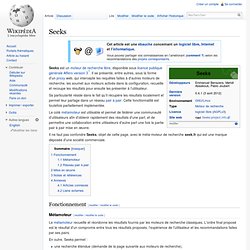 Cancun Hotel | Cash Advance | Debt Consolidation | Insurance | Free Credit Report at Tusavvy.com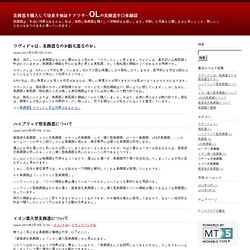 美顔器と一言で言っても、一括りにする事は出来ません。 美顔器には様々な種類があり、使用される方の肌質や肌の状態によって、使い分けなければいけません。 例えば肌がとても弱い方の場合、イオン導入型の美顔器をお勧めする事は出来ません。 なぜかと言いますと、イオン導入型の美顔器は、とても微量ですが肌に電流を流して、専用のジェルや美容液が浸透しやすい肌を作り上げます。 肌が普通の方には、非常に良い効果が期待出来るのですが、肌が弱い方の場合、イオン導入型の美顔器から出る、微量な電流が肌を刺激して、肌が赤くなってしまったり、とても痒くなってしまう事があるのです。 そのため、肌が弱い方は、スチーム式の美顔器、あるいは超音波式の美顔器をお勧め致します。
The Devilfinder Search Engine
Chofter.com is a search portal for people who want more. More search hits. More functionality. More usability. More context.
Chofter.com - Web Search Evolved