Metamoteurs
Web Recherche. PolyMeta - Universal Meta Search and Discovery Engine. Yippy. Seeks Search. Seeks. Un article de Wikipédia, l'encyclopédie libre.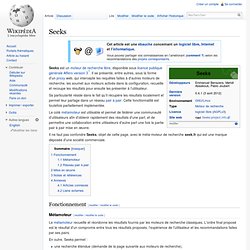 Seeks est un moteur de recherche libre, disponible sous licence publique générale Affero version 3[1]. Il se présente, entre autres, sous la forme d'un proxy web, qui intercepte les requêtes faites à d'autres moteurs de recherche, les soumet aux moteurs activés dans la configuration, recueille et recoupe les résultats pour ensuite les présenter à l'utilisateur.
Sa particularité réside dans le fait qu'il récupère les résultats localement et permet leur partage dans un réseau pair à pair. Cancun Hotel | Cash Advance | Debt Consolidation | Insurance | Free Credit Report at Tusavvy.com. Scour - Search Socially. Ixquick Search Engine. The Devilfinder Search Engine. Dogpile Web Search. Joongel, Internet The Easy Way. Chofter.com - Web Search Evolved. AllPlus - Universal Meta Search and Discovery Engine.
---