Craftsss
Tutorial: Homemade Sidewalk Chalk. By Michelle Vackar, Modern Handmade Child One of our favorite outside activities at our home is drawing with chalk on the driveway.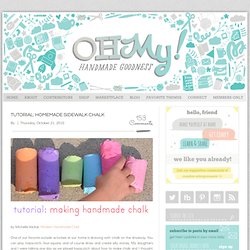 You can play hopscotch, four-square, and of course draw and create silly stories. My daughters and I were talking one day as we played hopscotch about how to make chalk and I thought to myself, let's try it! It ended up being quite a lot of fun. What you will need: • Toilet paper or paper towel tubes • Scissors • Duct tape • Wax paper • Small bucket or disposable container to make the recipe • ¾ cup of warm water • 1 ½ cups Plaster of Paris • 2-3 tablespoons of tempera paint • Paper bag or a "mess mat" DIY Doily Lamp. How to make gift bags from newspaper. When I bought something at a store recently, the clerk handed me my purchase in a bag made from a newspaper.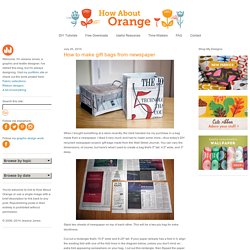 I liked it very much and had to make some more—thus today's DIY recycled newspaper project: gift bags made from the Wall Street Journal. You can vary the dimensions, of course, but here's what I used to create a bag that's 5" tall, 4.5" wide, and 3" deep. Stack two sheets of newspaper on top of each other. Most favorited all-time.
21 Scrapbooking Ideas & Keepsake Crafts for Kids | Easy Crafts for Kids -- Quick Arts and Craft Ideas -- Kids' Crafts. DIY Solar Lamp: Make Your Own Eco-Friendly Sun Jars. The principle is simple and seductively clever: solar lights that store energy during the day and release light at night.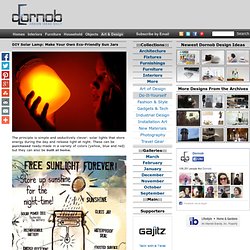 These can be purchased ready-made in a variety of colors (yellow, blue and red) but they can also be built at home. A simple, less-technical approach involves buying a conventional solar-powered yard lamp and then essentially harvesting it for key pieces to put in a jar. This is simply a way of taking an existing solar lamp design and appropriating its parts to make something more attractive for display around a house or home. Make A Cheap &Easy Solar USB Charger With An Altoids Tin : TreeHugger - StumbleUpon.
Photos by Joshua Zimmerman The craftster behind the very popular $3 solar-powered emergency radio is back with a new awesome project: a cheap solar battery charger with a USB plug.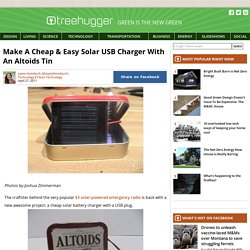 Zimmerman wrote, saying that he saw a lot of small solar powered chargers being talked about over Earth Day, but there was a big problem: "They're all quite nice, but also quite expensive. I don't think I've seen any for less than $60, and I've not seen one that really suits my style. " So, he came up with his own, using one of our favorite reusable items -- the ever wonderful Altoids tin.
---