Divers
Ordigami, Etienne Cliquet
Origami Heaven
Kiwamu droits de propriété intellectuelle de Ken Origami - Origami Tanteidan
日本折紙学会では、折り紙作品という知的財産を保護し、活発な創作活動を促進するとともに、折り紙作品の適切な利用を促し、折り紙の普及を促進するという2つの観点を意識して作品利用に関するガイドライン(「知的財産としての折り紙について」2005年5月15日)を公表してきました。 私たちは折り紙に他の創造活動に引けを取らない創造性を認めています。世界各国には優れた創作者がいることを多くの愛好家は知り、尊敬しています。また、折り紙は人から人への伝承をその文化に内包しており、一人でも多くの愛好家が優れた作品に触れることの喜びを享受すべきです。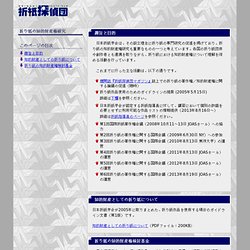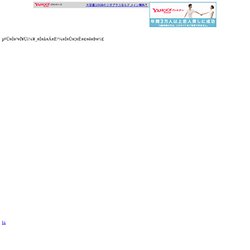 µ­ºÜ¤Ï¤³¤Î¥Ú¡¼¥¸¤Î¤â¤Ã¤È²¼¤Î¤Û¤¦¤Ë¤¢¤ê¤Þ¤¹¡£ Ìá Á°Àî°¡¥¥¶¥ê¥¬¥Ë¡ÊÅÄÃæ¤Þ¤µ¤·¡Ë ¸¶ºî¼Ô¡¡ÅÄÃæ¤Þ¤µ¤·
Á°Àî²Ê¡¡Á°Àî°¡¥¥¶¥ê¥¬¥Ë¡ÊÅÄÃæ¤Þ¤µ¤·¡Ë
Origami Österreich
origami/origami.pdf
Я всегда была очарована фигурками оригами, и они стали неотъемлемой частью моей жизни, особенно когда я стала делиться своими познаниями в их складывании с остальными людьми. Только те, кто любит складывать фигурки оригами в состоянии понять, как много это может означать. Чем глубже я погружаюсь в это удивительное искусство складывания из бумаги, тем больше я понимаю, как много еще предстоит мне узнать и сделать.Оригинальное название: Arte dos mestres de origami (Искусство мастеров оригами)Автор: Mari Kanegae | Страниц: 328 | Формат: JPEG Качество: Хорошее | Язык: Португальский | Размер: 64,6 mbСкачать книгу (64,6 mb)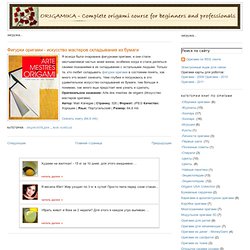 Оригами схемы - Оригами книги
Origami Tanteidan Japonais - Origami site de la Société
Pliage de papier.com • Page d'index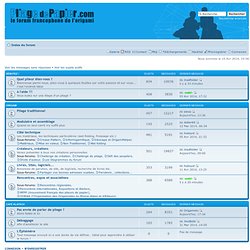 Nous sommes le 10 Jan 2014, 18:41 Voir les messages sans réponses • Voir les sujets actifs Quel plieur êtes-vous ?
Eileen's Origami Page!
To continue the origami how-to video fun, here's a new one from my partner Ioana Stoian showing how to fold a cute origami cat designed by Roberto Gretter and Ioana during the Polish origami convention earlier this year. What a fun little cat! And it's based on 60 degree angles, which for geometers like me is particularly satisfying… I saw this fantastic little 4:30 minute documentary on Bobby Jaber, a retired chemistry teacher who has spent the last 20 years working with porcelain to represent geometric shapes and solids. It's beautiful artwork and well worth seeing. It reminds me a lot of Shuzo Fujimoto, a Japanese chemistry teacher who decided to fold paper to help represent chemical structures for his students; he was one of the first origami tessellation masters, and his explorations became the basis for most of what exists in the origami tessellation world these days.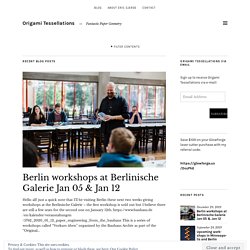 Welcome to Origamido Studio!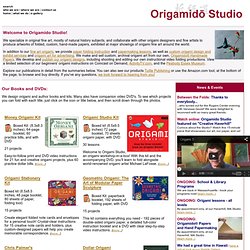 Welcome to Origamido Studio! We specialize in original fine art, mostly of natural history subjects, and collaborate with other origami designers and fine artists to produce artworks of folded, custom, hand-made papers, exhibited at major showings of origami fine art around the world. In addition to our fine art origami, we provide paper folding instruction and papermaking lessons, as well as custom origami design and exhibit services and origami art for advertising. We make and sell custom, archival origami art from our own, Origamido® Handmade Papers. We develop and publish our origami designs, including shooting and editing our own instructional video folding productions. View a limited selection of our beginners' origami instructions on Comcast on Demand, ActivityTV.com, and the Peabody Essex Museum.
Origami's Hunter
UN BLOG SUR L'ORIGAMI
Ce blog sert à partager ma passion pour l'origami (art du papier plié). J'ai réalisé tous les pliages visibles sur ce blog (très souvent à l'aide de diagrammes). Je suis étudiant et pratique l'origami depuis 8 ans. J'ai appris le pliage de papier à partir de livres, mais vous pouvez faire la même chose avec des diagrammes pris sur internet.
Doodle : Doodle Origami Oriented Diagramming LanguagE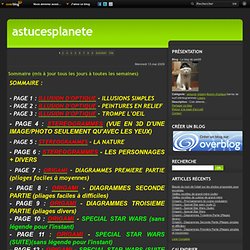 Mercredi 13 mai 3 13 /05 /Mai 02:17 - PAGE 7 : ORIGAMI - DIAGRAMMES PREMIERE PARTIE (pliages faciles à moyennes) - PAGE 8 : ORIGAMI - DIAGRAMMES SECONDE PARTIE (pliages faciles à difficiles) - PAGE 9 : ORIGAMI - DIAGRAMMES TROISIEME PARTIE (pliages divers) - PAGE 10 : ORIGAMI - SPECIAL STAR WARS (sans légende pour l'instant) - PAGE 11 : ORIGAMI - SPECIAL STAR WARS (SUITE)(sans légende pour l'instant) - PAGE 12 : ORIGAMI - SPECIAL STAR WARS (SUITE 2)(sans légende pour l'instant) - PAGE 13 : ORIGAMI - (PROCHAINEMENT : LE CYGNE MODULAIRE) - PAGE 14 : VIEILLES RECETTES DE CUISINE DE GRAND-MERE - PAGE 15 : VIEILLES RECETTES DE CUISINE DE GRAND-MERE (SUITE) Par zen05 - Publié dans : ILLUSION D'OPTIQUE -Communauté : je fee,tu fee; il fee,,, 2
Art'Origami
BIENVENUE DANS LA BOUTIQUE ORIGAMI
Welcome to Origami-Fun! Here you'll find a complete paper folding resource: everything you ever wanted to know, plus all the models you can make… ...for the list of diagrams, just click here: And by the way, it's all free, and there is a printable PDF version of every diagram on the site, so feel free to share them with your friends! Paper-folding is a wonderful hobby, and a wonderful group activity... and for kids it has so many benefits socially and for the developing mind, but I just love it because you get to make cool stuff - with only a sheet of paper!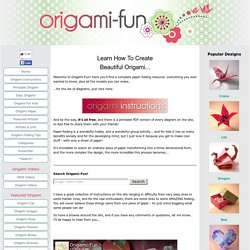 A new home for your family. Origami is a permanent, living monument to your family. Enter your email to be placed on the waiting list for early access. All origami shapes start the same way, one square of paper. Thousands of symbols and figurines – all different in appearance – can be folded from the same material.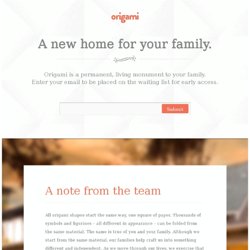 origami-online
The Fitful Flog
About a year ago, I read a book on Japanese temple mathematics that I found in the local libraries. Well, I didn't read it completely — there was a great deal of it I couldn't follow. But the pictures were beautiful and what I understood, I enjoyed. During the Edo period, that is, after the Japanese had been exposed to Dutch traders, but before they'd met the Americans, there was something of a renaissance in Japanese math. Part of it was that mathematicians would make wooden tablets with strange geometry puzzles on them, sangaku, and hang them in Shinto temples throughout the land. Other visiting math-heads would attach solutions to the problems.
Présentation libre des moyens de rendre l'apprentissage en classe Origami Origami
おりがみ教室はおりがみ畑の、おりがみのおりかたつくりかたの無料公開サイト 著作権法では、無断で二次的著作物を創作すること自体、翻案権の侵害が成立します。 作品の折り方は、具体的な折り方の組み合わせで作品自体の造形を表現した著作物です。 たんなる著作物ではない折り方自体など折り図上には存在しません。 描き方自体は著作物ではなくても、作品自体の描き方を表現すると著作権の侵害が成立します。 おりがみ畑のおりがみ教室のサイトマップ(みんな折りたいおりがみの折り方を教えてく予定です。)
| origami jewellery |
Goran Konjevod: Organic Origami
Star Wars Origami
Origami Database
折紙探偵団 - 日本折紙学会公式サイト
Flotsam and Origami Jetsam