Religion in the US
Q. Texas governor and GOP candidate Rick Perry, at a campaign event this week, told a boy that evolution is "just a theory" with "gaps" and that in Texas they teach "both creationism and evolution." Perry later added "God is how we got here."
Attention Governor Perry: Evolution is a fact - On Faith
Evolution threatens Christianity - On Faith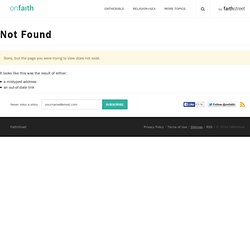 Q: Rick Perry, at a campaign event this week, told a boy that evolution is 'just a theory' with 'gaps' and that in Texas they teach "both creationism and evolution." According to a 2009 Gallup study, only 38 percent of Americans say they believe in evolution. If a majority of Americans are skeptical or unsure about evolution, should schools teach it as a mere "theory"? Why is evolution so threatening to religion? So-called "reality TV" has done the world a grave disservice.
Thousands in US turn out for 'Reason Rally' - Americas
slacktivist » Bishops and burkhas and buggies
September 8, 2011 | Like this article? Join our email list: Stay up to date with the latest headlines via email. A few weeks ago, Jon Huntsman torpedoed his candidacy for the Republican presidential nomination by making the following announcement : "To be clear. I believe in evolution and trust scientists on global warming.
Why the Anti-Science Creationist Movement Is So Dangerous | Belief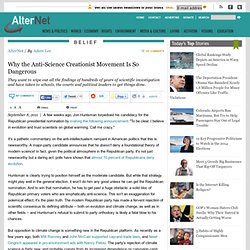 The Filthy Little Atheist … Founding Father
Posted by Daniele Bolelli on December 30, 2011 [ Site editor's note: The following is an excerpt from the new Disinformation title 50 Things You're Not Supposed To Know: Religion , authored by Daniele Bolelli. ] The story of his life is richer and weirder than any fiction. Among his close friends were visionary poets such as William Blake as well as political icons like Benjamin Franklin.
Since when did Jesus join the Air Force?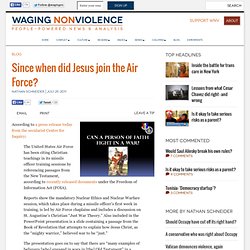 According to a press release today from the secularist Center for Inquiry : The United States Air Force has been citing Christian teachings in its missile officer training sessions by referencing passages from the New Testament, according to recently released documents under the Freedom of Information Act (FOIA). Reports show the mandatory Nuclear Ethics and Nuclear Warfare session, which takes place during a missile officer's first week in training, is led by Air Force chaplains and includes a discussion on St. Augustine's Christian "Just War Theory."
I've long since believed that the American Family Association lacks a moral foundation and now a new article has justified this. From Sarah Posner of Religious Dispatches comes accusations of former employees who attest to the not-so Christian attitude of the so-called pro-family group and a lot of it has to do with the controversial Bryan Fischer:
Alvin McEwen: Former employees accuse American Family Association of racism, employee abuse
Hitchens' address to American Atheists : Pharyngula
Theocracy in America
America faces the clear and present danger of a takeover by theocrats who want to impose their religion on everyone else. The only problem is, we don't know which religion. If you get your news from conservative sources, then it's pretty clear the threat is Islamic.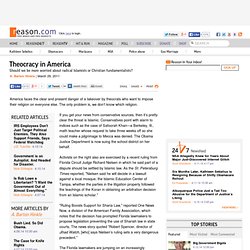 Atheism in America