Religion in the US
Attention Governor Perry: Evolution is a fact - On Faith. "I believe Governor Romney is a good man.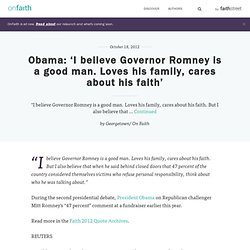 Loves his family, cares about his faith. But I also believe that when he said behind closed doors that 47 percent of the country considered themselves victims who refuse personal responsibility, think about who he was talking about." During the second presidential debate, President Obama on Republican challenger Mitt Romney's "47 percent" comment at a fundraiser earlier this year. Read more in the Faith 2012 Quote Archives. Republican presidential nominee Mitt Romney listens as President Obama answers a question during the second presidential debate in Hempstead, N.Y. on Oct. 16, 2012.
Thousands in US turn out for 'Reason Rally' - Americas. Slacktivist » Bishops and burkhas and buggies. Why the Anti-Science Creationist Movement Is So Dangerous | Belief. September 8, 2011 | Like this article?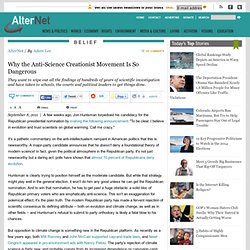 Join our email list: Stay up to date with the latest headlines via email. A few weeks ago, Jon Huntsman torpedoed his candidacy for the Republican presidential nomination by making the following announcement: "To be clear. I believe in evolution and trust scientists on global warming. The Filthy Little Atheist … Founding Father.
[Site editor's note: The following is an excerpt from the new Disinformation title 50 Things You're Not Supposed To Know: Religion, authored by Daniele Bolelli.]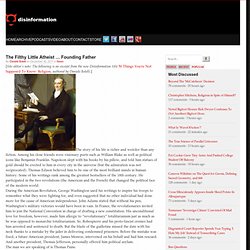 The story of his life is richer and weirder than any fiction. Among his close friends were visionary poets such as William Blake as well as political icons like Benjamin Franklin. Napoleon slept with his books by his pillow, and told him statues of gold should be erected to him in every city in the universe (but the admiration was not reciprocated). Since when did Jesus join the Air Force? According to a press release today from the secularist Center for Inquiry: The United States Air Force has been citing Christian teachings in its missile officer training sessions by referencing passages from the New Testament, according to recently released documents under the Freedom of Information Act (FOIA).Reports show the mandatory Nuclear Ethics and Nuclear Warfare session, which takes place during a missile officer's first week in training, is led by Air Force chaplains and includes a discussion on St.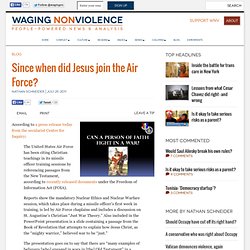 Augustine's Christian "Just War Theory." Also included in the PowerPoint presentation is a slide containing a passage from the Book of Revelation that attempts to explain how Jesus Christ, as the "mighty warrior," believed war to be "just."The presentation goes on to say that there are "many examples of believers [who] engaged in wars in [the] Old Testament" in a "righteous way" and notes there is "no pacifistic sentiment in mainstream Jewish history." Alvin McEwen: Former employees accuse American Family Association of racism, employee abuse. I've long since believed that the American Family Association lacks a moral foundation and now a new article has justified this.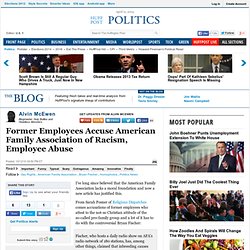 From Sarah Posner of Religious Dispatches comes accusations of former employees who attest to the not-so Christian attitude of the so-called pro-family group and a lot of it has to do with the controversial Bryan Fischer: Hitchens' address to American Atheists : Pharyngula. Christopher Hitchens was scheduled to appear at the American Atheist convention, but had to cancel because of his illness.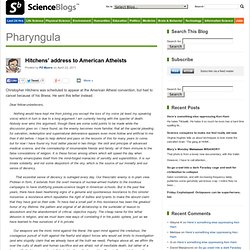 He sent this letter instead. Dear fellow-unbelievers, Nothing would have kept me from joining you except the loss of my voice (at least my speaking voice) which in turn is due to a long argument I am currently having with the specter of death. Nobody ever wins this argument, though there are some solid points to be made while the discussion goes on. I have found, as the enemy becomes more familiar, that all the special pleading for salvation, redemption and supernatural deliverance appears even more hollow and artificial to me than it did before.
Theocracy in America. America faces the clear and present danger of a takeover by theocrats who want to impose their religion on everyone else.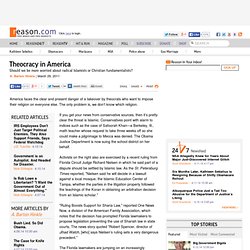 The only problem is, we don't know which religion. If you get your news from conservative sources, then it's pretty clear the threat is Islamic. Atheism in America. Godlessness is the last big taboo in the US, where non-believers face discrimination and isolation Point, Texas (pop. 792) is not the easiest place for a single lesbian to raise her child.
But neither her sexuality nor her unwed parenthood are enough to make Renee Johnson an American conservative's worst nightmare. As she explained to me when I met her at Rains County Library, "I'd rather have a big 'L' or 'lesbian' written across my shirt than a big 'A' or 'atheist', because people are going to handle it better."
We had met in a private room because Johnson worried that anywhere else in the town, people might overhear us and be offended by her godlessness. No wonder she often feels alone in her non-belief.
---