Organismes (nabla)
CanaDon - Faites un don
Fonds Mondial Nord Sud
Social Performance Indicators Blog
INTERPOL
IAIS - International Association of Insurance Supervisors - International Association of Insurance Supervisors
The Asia/Pacific Group on Money Laundering
Caribbean Financial Action Task Force
World Travel Market - ExCeL London
CIFORT - Centre international de formation et de recherche en tourisme - Conférence Shandong 2011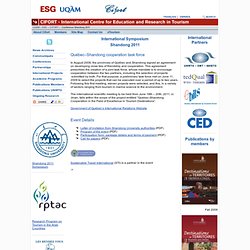 Québec–Shandong cooperation task force In August 2008, the provinces of Québec and Shandong signed an agreement on developing close ties of friendship and cooperation. This agreement prescribes the creation of a joint task force, whose mandate is to encourage cooperation between the two partners, including the selection of projects submitted by both.
World Tourism Organization UNWTO | Committed to Tourism, Travel and the Millennium Development Goals
our clients :: Business carbon offsets : carbon footprinting : carbon reduction solutions :: Climate Care
Project AWARE Foundation
Lions Clubs International Foundation I The Foundation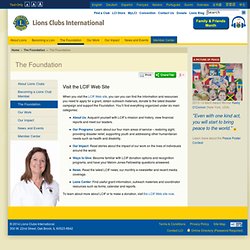 Visit the LCIF Web Site When you visit the LCIF Web site , you can you can find the information and resources you need to apply for a grant, obtain outreach materials, donate to the latest disaster campaign and support the Foundation. You'll find everything organized under six main categories:
South Africa National Parks - SANParks - Official Website - Accommodation, Activities, Prices, Reservations
Climate Care : carbon offsets : buy carbon offsets: carbon calculator: calculate my emissions
COHEF: Children Of Haiti Enhancement Foundation, Inc.