Organismes (nabla)
CanaDon - Faites un don
Fonds Mondial Nord Sud
Social Performance Indicators Blog
INTERPOL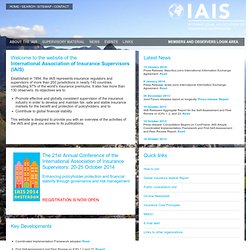 IAIS - International Association of Insurance Supervisors - International Association of Insurance Supervisors
Welcome to the website of the International Association of Insurance Supervisors (IAIS) Established in 1994, the IAIS represents insurance regulators and supervisors of more than 200 jurisdictions in nearly 140 countries, constituting 97% of the world's insurance premiums. It also has more than 130 observers.
The Asia/Pacific Group on Money Laundering
Caribbean Financial Action Task Force
World Travel Market - ExCeL London
CIFORT - Centre international de formation et de recherche en tourisme - Conférence Shandong 2011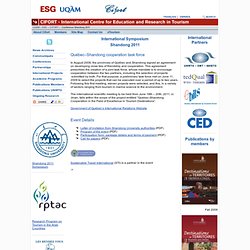 Québec–Shandong cooperation task force In August 2008, the provinces of Québec and Shandong signed an agreement on developing close ties of friendship and cooperation. This agreement prescribes the creation of a joint task force, whose mandate is to encourage cooperation between the two partners, including the selection of projects submitted by both.
World Tourism Organization UNWTO | Committed to Tourism, Travel and the Millennium Development Goals
our clients :: Business carbon offsets : carbon footprinting : carbon reduction solutions :: Climate Care
Project AWARE Foundation
Lions Clubs International Foundation I The Foundation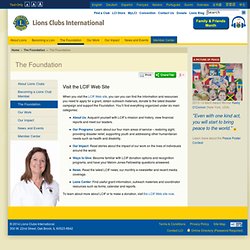 Visit the LCIF Web Site When you visit the LCIF Web site, you can you can find the information and resources you need to apply for a grant, obtain outreach materials, donate to the latest disaster campaign and support the Foundation. You'll find everything organized under six main categories: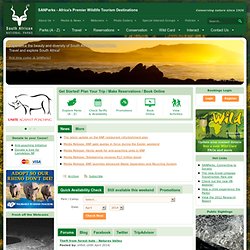 Experience the beauty and diversity of South African National Parks. Travel and explore South Africa! First time visitor @ SANParks? Photo By: Sanparks If you would like to make bookings or view availability for Golden Gate Hotel and Chalets, please click on the 'Make Reservation' button. You can find more information on the booking process by clicking on 'More Info'.
South Africa National Parks - SANParks - Official Website - Accommodation, Activities, Prices, Reservations
ClimateCare mobilises the power and scale of private finance to deliver projects with positive environmental and social impacts around the world. We help business deliver world-leading Voluntary Carbon Offset Programmes and integrate their CSR activities to increase impact. We combine the vision of a social enterprise and the commercial experience of an investment bank. Leveraging mainstream funding, we profitably deliver some of the largest, most successful corporate sustainability initiatives in the world. From offices across the globe we help leading brands, organisations and governments scale up the impact of their initiatives. By investing their resources in projects that directly combat climate change and poverty, improve health and increase community welfare, we build better futures for millions of people around the world.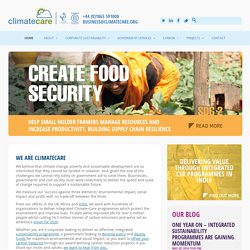 Children of Haiti Enhancement Foundation COHEF's mission is to PROMOTE EDUCATION IN RURAL HAITI, ESPECIALLY IN KENSCOFF, AND TO IMPROVE THE BASIC NEEDS OF A TARGETED POPULATION. COHEF is a non-profit 501©3 organization, established in 1994, independent and apolitical in partnership with Wynne Farm Ecological Reserve located in Kenscoff, Haiti. At the early stage, we were supporting an orphanage; however, there was a need to re-direct our support towards 5 small needy schools and one orphanage. At the present time, we service 5 small schools and one orphanage in the beautiful mountainside of Kenscoff and its surroundings. We help about 1000 school children, between the age of 5 and 16.
COHEF: Children Of Haiti Enhancement Foundation, Inc.