Open Source et Libre
Thingiverse - 3D print blog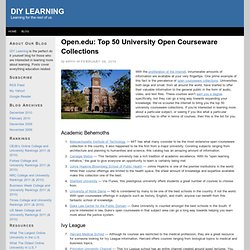 Open.edu: Top 50 University Open Courseware Collections | DIY Learning
With the proliferation of the internet, innumerable amounts of information are available at your very fingertips. One prime example of this fact is the prevalence of open courseware collections. Universities both large and small, from all around the world, have started to offer their valuable information to the general public in the form of audio, video, and text files. These courses won't earn you a degree specifically, but they can go a long way towards expanding your knowledge. We've scoured the internet to bring you the top 50 university courseware collections. If you're interested in learning more about a particular subject, or seeing if you like what a particular university has to offer in terms of courses, then this is the list for you.
450 Free Online Courses from Top Universities
Get free online courses from the world's leading universities – Stanford, Yale, MIT, Harvard, Berkeley, Oxford and more. This collection includes over 875 free courses in the liberal arts and sciences. You can download these audio & video courses (often from iTunes, YouTube, or university web sites) straight to your computer or mp3 player. Over 30,000 hours of free audio & video lectures, await you now. Humanities & Social Sciences Art & Art History Courses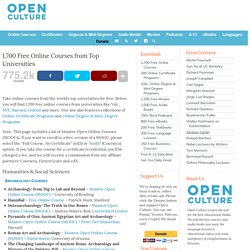 Public Libraries, 3D Printing, FabLabs and Hackerspaces
Enabling Emerging Markets to Manufacture Their Own Ultra-efficient Transportation, WIKISPEED and Open Source Ecology Announce Partnership in Open-Hardware Movement Seattle, WA, and Maysville, MO, USA (March 7, 2012) The open-hardware movement got a tremendous boost today when WIKISPEED, an innovative automotive company building modular, high-performance cars using agile design principles, and Open Source Ecology (OSE), a group committed to providing free plans and processes necessary for building the global economy, announced that they are teaming up to revolutionize transportation in the developing world. Taking on traditional, proprietary manufacturing R & D, the two companies aim to create an open-source product-development methodology that would allow communities around the world to quickly develop their own machinery and processes to support themselves, removing a dependency on industrialized nations for costly solutions.
Press Release: OSE-Wikispeed Collaboration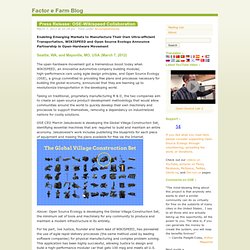 Histoire du Libre et de l'Open Source
Projets Open Source et Libre
Modèles économiques du logiciel libre
The Free World Charter: Let's make everything free
The Free World Charter: Read and sign the Charter
Open P2P Design Workshop: Singapore 2009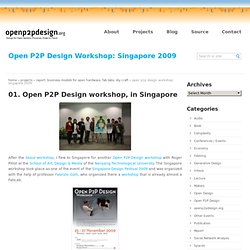 01. Open P2P Design workshop, in Singapore After the Seoul workshop, I flew to Singapore for another Open P2P Design workshop with Roger Pitiot at the School of Art, Design & Media of the Nanyang Technological University.
Forum emploi GNU/Linux et unix libres
Merci ! la campagne de financement participatif sur Ulule est un immense succès, vous êtes plus de 200 à ce jour à avoir déjà participé, combien serez-vous le 20 Janvier, vous pouvez encore soutenir Lolix sur http://fr.ulule.com/lolix-v2/ ? Les entreprises qui soutiennent Lolix : Easter-eggs, Gandi, ELOL, ISVTEC, LibrIT, Evolix, No Parking, Devinsy, Antoine Musso Conseils Code Lutin, Makina Corpus, Syloé, Pilot Systems, Dalibo, Bearstech, Néréide, AF83, Anevia, Hegoa Recrutement, Omega Cube, Outscale Lolix est un centre de compétences spécialisé dans les technologies à base de Logiciel Libre. Vous pouvez déposer votre CV et vos annonces en rapport avec le Logiciel Libre gratuitement sur Lolix. Actualités