Social Media
Get flash to fully experience Pearltrees
LONDON European data stored in the "cloud" could be acquired and inspected by U.S. law enforcement and intelligence agencies, despite Europe's strong data protection laws, university researchers have suggested.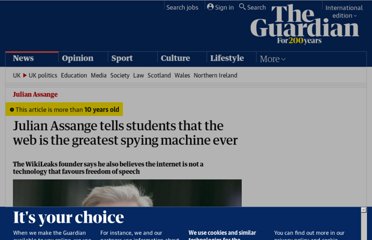 Julian Assange told students at Cambridge that the internet is 'the greatest spying machine the world has ever seen'. Photograph: Lewis Whyld/PA The internet is the "greatest spying machine the world has ever seen" and is not a technology that necessarily favours the freedom of speech, the WikiLeaks co-founder, Julian Assange , has claimed in a rare public appearance.
By ELIZABETH WILLIAMSON , AMY SCHATZ and GEOFFREY A. FOWLER Joe White discusses how Facebook is confronting questions about how it plans to handle its role as a global public square for discussion, including a willingness to play by China's rules in an effort to gain access to the Chinese market. President Barack Obama will travel to Facebook Inc.'s Silicon Valley headquarters Wednesday to hold a "town hall" meeting on the economy with users of the social-networking site.
WikiLeaks founder Julian Assange says Facebook, Google, and Yahoo are being used by the U.S. intelligence community to spy on users. In an interview, Assange was especially critical of Facebook , the world's top social network. The information Facebook houses is a potential boon for the U.S. government if it tries to build up a dossier on users, he told the Russian news site RT. Assange also told RT that Google and Yahoo "have built-in interfaces for U.S. intelligence." "Facebook in particular is the most appalling spying machine that has ever been invented," Assange said.
Facebook is reportedly negotiating with Chinese partners to launch the social network in China, where it is currently blocked from use. But expanding into China requires abiding by Chinese laws, which require web companies to censor everything from search results to status updates. Though Facebook says it is dedicated to making the world a "more open and connected" place--a mission that clashes with the Chinese government's frequent crackdowns on Internet expression--a spokesperson told the Wall Street Journal that it is considering censoring the content that appears on its site in nations abroad.
Pendant que les médias se focalisent sur quelques petits détournements de données, les VRAIS « piratages » restent impunis. La faute à un réseau construit de manière à être impossible à protéger... et qu'aucun dirigeant ne semble vouloir colmater ! En 1994, apparaissait le Web.