E-mail
GMAIL - 2-step Verification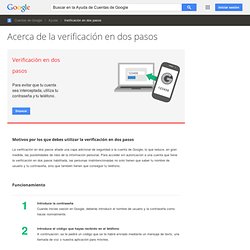 Motivos por los que debes utilizar la verificación en dos pasos La verificación en dos pasos añade una capa adicional de seguridad a la cuenta de Google, lo que reduce, en gran medida, las posibilidades de robo de la información personal. Para acceder sin autorización a una cuenta que tiene la verificación en dos pasos habilitada, las personas malintencionadas no solo tienen que saber tu nombre de usuario y tu contraseña, sino que también tienen que conseguir tu teléfono. Funcionamiento
Version 1.6 Notable ChangesThe setup wizard can now download and install GnuPG as part of thesetup process on Windows and Mac OS X.The passphrase timeout configuration in Enigmail is now read andwritten from/to gpg-agent. New dialog to change the expiry date of keys. New function to search for the OpenPGP keys of all Address Bookentries on a keyserver. This add-on is not compatible with your version of Thunderbird because of the following: Add-on uses binary components.
Enigmail :: Add-ons for Thunderbird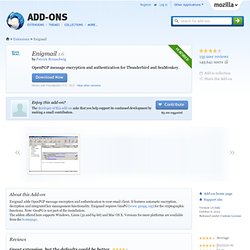 Enigmail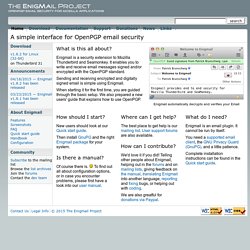 Enigmail automatically decrypts and verifies your Email What is this all about? Enigmail is a security extension to Mozilla Thunderbird and Seamonkey. It enables you to write and receive email messages signed and/or encrypted with the OpenPGP standard.
riseup home
Safe-mail.net