#OccupyProtectIP SOPA/PIPA/ACTA
Accueil | Global Potential. Web Action Now.
Comment agir contre ACTA. Cette page recense différentes façons d'agir contre ACTA et de mieux connaître ce dangereux accord.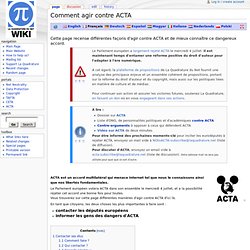 ACTA est un accord multilatéral qui menace Internet tel que nous le connaissons ainsi que nos libertés fondamentales. Le Parlement européen votera ACTA dans son ensemble le mercredi 4 juillet, et a la possibilité rejeter cet accord une bonne fois pour toutes. Le traité A.C.T.A ( In English ) SOPA / PIPA. What is SOPA ? Pétition pour l'international. !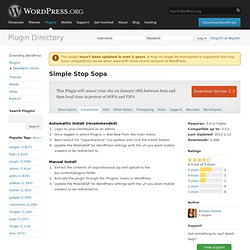 This plugin hasn't been updated in over 2 years. It may no longer be maintained or supported and may have compatibility issues when used with more recent versions of WordPress. This Plugin will censor your site on January 18th between 8am and 8pm local time in protest of SOPA and PIPA Automattic Install (recommended) Login to your Dashboard as an admin.Once logged in select Plugins > Add New from the main menu.Next search for "sopa-blackout" (no quotes) and click the install button.Update the MobileESP for WordPress settings with the url you want mobile viewers to be redirected to. SOPA = PIPA = ACTA = Censure ! #OCCUPY PROTECT IP / SOPA Breaks The Internet. Wikipedia, Reddit to Shut Down Sites Wednesday to Protest Proposed Stop Online Piracy Act.
This is a rush transcript.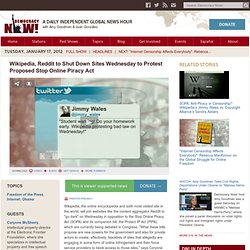 Copy may not be in its final form. AMY GOODMAN: If you want to know more about two controversial internet anti-piracy bills moving through Congress, you won't be able to consult Wikipedia on Wednesday. SOPA "explained" by The Guardian. Episode 2. SOPA STRIKE - Largest online protest in history - January 18 - blackout your site.
---
laetsgo Jan 20 2012

bah si ! tu es déjà dans l'équipe ! (enfin je suppose puisque je suis censée être la fondatrice....mais j'avoue que je m'y perds...)
---