#OccupyProtectIP SOPA/PIPA/ACTA
Accueil | Global Potential
LAST NEWS PIPA/SOPA/ACTA/CISPA
Cette page recense différentes façons d'agir contre ACTA et de mieux connaître ce dangereux accord. ACTA est un accord multilatéral qui menace Internet tel que nous le connaissons ainsi que nos libertés fondamentales. Le Parlement européen votera ACTA dans son ensemble le mercredi 4 juillet, et a la possibilité rejeter cet accord une bonne fois pour toutes.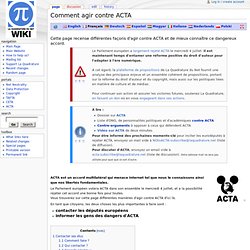 Le traité A.C.T.A ( In English )
Si quelqu'un trouve ce doc en frenchie, nous sommes preneurs .

Cré-@ctivement votre by tourist.information Feb 14
Pétition pour l'international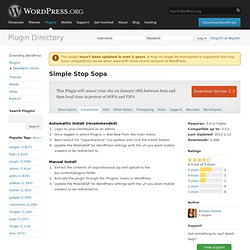 This Plugin will censor your site on January 18th between 8am and 8pm local time in protest of SOPA and PIPA Automattic Install (recommended)
j'avais pas vu ton com précédent : beurk ! by laetsgo Jan 20
un lien dans un lien dans un lien dans un PT...ok, je me rends, je suis paumée ! ;-) by laetsgo Jan 20
@ Olive :
http://www.pearltrees.com/laetsgo/pipa-sopa/id4158398
;-) by tourist.information Jan 19
Ohlala, Tourisr.information, oeuw(tu faire une perle de ce lien ? Je vais tenter d'y accéder puis lier dans SeenThis etc ... by oliviersc Jan 19
Et là, en France, le seul politic toc qui réagit ( cela devient tres gravissime pour la France, il se pourrait qu' une envie de gerber vous prennent ) : http://www.lemonde.fr/technologies/article/2012/01/18/pour-lancer-sa-campagne-en-ligne-marine-le-pen-s-attaque-a-la-hadopi_1631380_651865.html by tourist.information Jan 19
Salut amigos ! J'ai commencé un nv PT sur Sopa Pipa...care to join me ? by laetsgo Jan 19
Plus que tres rare que nous signons une pétition, mais celle-ci, c'est plus que oui. C'est tout le net international là ... by tourist.information Jan 18
Hadopie version US ... Bonjour les dégats ...La france en a revé, les States l' a font . by tourist.information Jan 18
SOPA = PIPA = ACTA = Censure !
This is a rush transcript. Copy may not be in its final form. AMY GOODMAN: If you want to know more about two controversial internet anti-piracy bills moving through Congress, you won't be able to consult Wikipedia on Wednesday.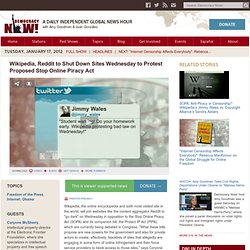 Wikipedia, Reddit to Shut Down Sites Wednesday to Protest Proposed Stop Online Piracy Act
SOPA "explained" by The Guardian
Episode 2