Occupydesign
Occupy Wall Street, un an d'indignation. OCCUPY FRANCE.
Resources. La gestuelle en image dans le mouvement « Occupy » ! Qui continue encore aujourd'hui se réunit fréquemment sous forme d'Assemblée générale citoyenne et, afin de transmettre ce que chacun pense de ce qui est dit, un langage a été conçu.
Les gens présents utilisent ainsi des gestes et des signaux en utilisant leurs mains, leurs bras. L'utilisation de ces signes permet à l'orateur de continuer de parler sans interruption, et au public de pouvoir communiquer son approbation ou son désaccord. cette liste de gestes est à bookmarker si, par le plus grand des hasards, un mouvement similaire débarquerait en France, à la Défense par exemple ? Bon, oui, je sais, il y a un tel mouvement existe mais reste encore très marginal… on verra ce que la suite des évènements nous réserve. source.
Posters from the #Occupy movement – occuprint. LE SAVOIR EST UNE ARME.
99%
Occupy. Indignés. 4chan. Fffff.at. Taking The Bull By The Horns, "Occupy Wall Street" Posters Motivate Campers. On September 17th, a protest organized by several activist group will take Wall Street by storm to protest opposition to the use of corporate money in politics.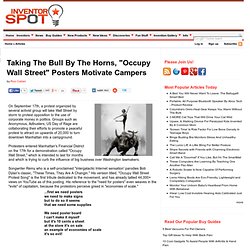 Groups such as Anonymous, Adbusters, US Day of Rage are collaborating their efforts to promote a peaceful protest to attract on upwards of 20,000 to turn downtown Manhattan into a campground. Protesters entered Manhattan's Financial District on the 17th for a demonstration called "Occupy Wall Street," which is intended to last for months and which is trying to curb the influence of big business over Washington lawmakers. Songwriter Remy who is a self-proclaimed "intergalactic Internet sensation' parodies Bob Dylan's classic, "These Times, They Are A Changin. " Occupy Signage. "Occupy Design" symbolise Occupy Wall Street.
Parmi les manifestants de New-York se trouvent un certain nombre de designers.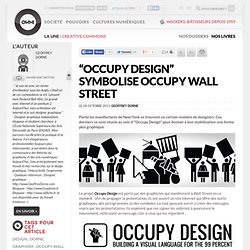 Ces derniers se sont réunis au sein d'"Occupy Design" pour donner à leur mobilisation une forme plus graphique. Le projet Occupy Design est porté par des graphistes qui manifestent à Wall Street en ce moment : afin de propager la protestation, ils ont ouvert un site Internet qui offre des outils graphiques, des pictogrammes ou des symboles. Le tout pouvant servir à créer des messages repris par les protestataires. ANONYMOUS_FR. Protest Signs : OccupyDesign.
Universal Icons : OccupyDesign. OccupyDesign.
---