WINS
End Corruption. Vote Rocky Anderson in 2012. Spirit and Stardust - speech by Dennis Kucinich. The Co-Intelligence Institute CII home // CIPolitics home Spirit and Stardust The Dubrovnik Conference on the Alchemy of Peacebuilding June 4-11, 2002 Sunday, June 9, 2002, 8:45 pm Special Keynote Address by U.S.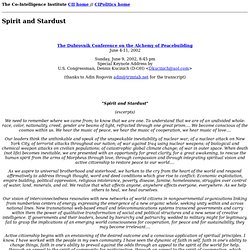 Congressman, Dennis Kucinich (D-OH) <Dkucinich@aol.com> (thanks to Adin Rogovin adin@trimtab.net for the transcript) DeJonge v. Oregon - 299 U.S. 353 (1937. Eugene verdict clarifies legal protections for protesters who turn video cameras on police. View full sizeBeth Nakamura/The Oregonian Occupy Portland protesters, whose revolution has been heavily recorded, keep watch on Nov. 17 as police move in on protesters occupying a Wells Fargo branch at the downtown Standard Insurance Center.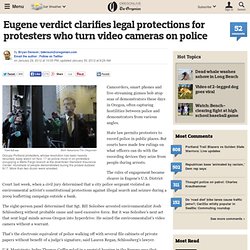 Hundreds of people demonstrated during the protest dubbed N17. More than two dozen were arrested. Anonymous. Beans & Rice. You Gotta Have Coffee. Occuchristmas Part three | Occupy Portland on Blip. Watch Occupy Portland episodes on Blip. We are the 99% We are the 99% is a political slogan widely used by the Occupy movement.[1] It was originally the name of a Tumblr blog page launched in late August 2011 by a 28-year-old New York activist going by the name of "Chris".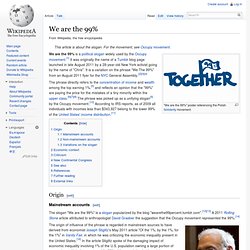 It is a variation on the phrase "We The 99%" from an August 2011 flyer for the NYC General Assembly.[2][3][4] The phrase directly refers to the concentration of income and wealth among the top earning 1%,[5] and reflects an opinion that the "99%" are paying the price for the mistakes of a tiny minority within the upper class.[6][7][8] The phrase was picked up as a unifying slogan[9] by the Occupy movement.[10] According to IRS reports, as of 2009 all individuals with incomes less than $343,927 belong to the lower 99% of the United States' income distribution.[11] Origin[edit] Mainstream accounts[edit] Statement on Academic Freedom and Teachers' Professional Judgment. The following is a message as we received it—verbatim—from Portland Public School (PPS) faculty in response to a panel from Occupy Portland being removed from Astor School.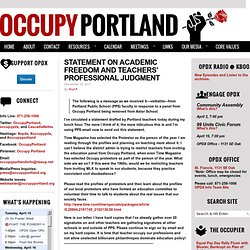 I've circulated a statement drafted by Portland teachers today during my lunch hour. The more I think of it, the more ridiculous this is and I'm using PPS email now to send out this statement. Time Magazine has selected the Protestor as the person of the year. I am reading through the profiles and planning on teaching more about it. Why A Big Bank Fired Me - A Whistleblower's Account of Predatory Lending.
An Open Letter from America's Port Truck Drivers on Occupy the Ports | Coalition for Clean and Safe Ports. We are the front-line workers who haul container rigs full of imported and exported goods to and from the docks and warehouses every day.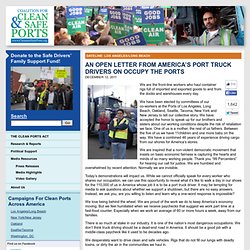 We have been elected by committees of our co-workers at the Ports of Los Angeles, Long Beach, Oakland, Seattle, Tacoma, New York and New Jersey to tell our collective story. We have accepted the honor to speak up for our brothers and sisters about our working conditions despite the risk of retaliation we face. One of us is a mother, the rest of us fathers. Between the five of us we have 11children and one more baby on the way. Www.portlandonline.com/shared/cfm/image.cfm?id=377616. The Saving American Democracy Amendment. Unsettle Portland. Occupy Portland protesters plan to stay in Shemanski Park Sunday night. Brent Wojahn/The OregonianOne tent and sixteen people were at Southwest Main Street and Southwest Park Avenue at 10:30 a.m.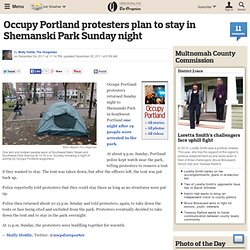 Sunday following a night of activity by Occupy Portland supporters. Occupy Portland protesters returned Sunday night to Shemanski Park in Southwest Portland one night after 19 people were arrested in the park. At about 9 p.m. Sunday, Portland police kept watch near the park, telling protesters to remove a tent if they wanted to stay. The tent was taken down, but after the officers left, the tent was put back up. Portland Police Chief Mike Reese says in a written statement that he won't run for mayor. View full sizeBruce Ely/The OregonianChief Mike Reese has chosen not to run for mayor, just two-and-a-half weeks after he sat in his chief's office saying he was strongly considering a run.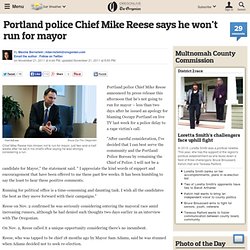 Portland police Chief Mike Reese announced by press release this afternoon that he's not going to run for mayor – less than two days after he issued an apology for blaming Occupy Portland on live TV last week for a police delay to a rape victim's call. "After careful consideration, I've decided that I can best serve the community and the Portland Police Bureau by remaining the Chief of Police. I will not be a candidate for Mayor," the statement said. " I appreciate the kind words of support and encouragement that have been offered to me these past few weeks. It has been humbling to say the least to hear these positive comments. Running for political office is a time-consuming and daunting task.
Leaked Memos
#OccupyLA Wins: LA City Council Offers Downtown Office, Homeless Housing, Farmland! We don't hear a whole lot about #OccupyLA because the City Council has been so cool about it.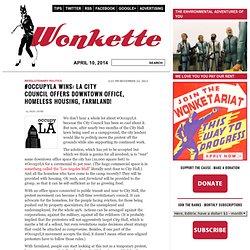 But now, after nearly two months of the City Hall lawn being used as a campground, the city leaders would like to politely move the protest off the grounds while also supporting its continued work. The solution, which has yet to be accepted but which we think is genius for all involved, is to "rent" some downtown office space the city has (10,000 square feet) to #OccupyLA for a ceremonial $1 per year. (The huge commercial space is in something called the "Los Angeles Mall" literally next door to City Hall.) And all the homeless who have come to the camp recently?
---