Random tec
Wireless device converts 'lost' energy into electric power: Metamaterial cells provide electric power as efficiently as solar panels. Using inexpensive materials configured and tuned to capture microwave signals, researchers at Duke University's Pratt School of Engineering have designed a power-harvesting device with efficiency similar to that of modern solar panels.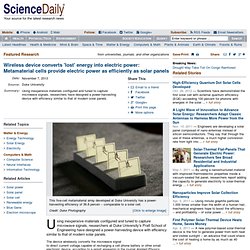 The device wirelessly converts the microwave signal to direct current voltage capable of recharging a cell phone battery or other small electronic device, according to a report appearing in the journal Applied Physics Letters in December 2013. It operates on a similar principle to solar panels, which convert light energy into electrical current. But this versatile energy harvester could be tuned to harvest the signal from other energy sources, including satellite signals, sound signals or Wi-Fi signals, the researchers say. The key to the power harvester lies in its application of metamaterials, engineered structures that can capture various forms of wave energy and tune them for useful applications.
Video. Portable Zombie-Resistant Shelter | buzzbrewery.com. Video. IBM researchers create nanomedicine to kill bacteria where antibiotics fail. IBM and a research group in Singapore have engineered a new kind of synthetic, biodegradable nano particle that could be used to attack bacteria that have become resistant to antibiotics.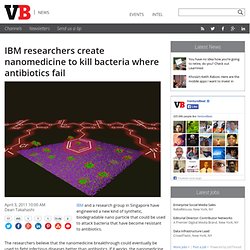 The researchers believe that the nanomedicine breakthrough could eventually be used to fight infectious diseases better than antibiotics. If it works, the nanomedicine could save countless lives and protect people from illnesses that arise from bacterial infections, like staph. Using a trick from chip manufacturing, the researchers figured out how to isolate certain kinds of cells and attack them. That gets around the problem of many drugs today that kill off the good red blood cells at the same time that they eradicate bad cells. The researchers said the synthetic polymers they created can seek out bacteria cells and destroy their membrane walls. A bottle of wastewater could be powering your house by next year. By mimicking the essential process that allows plants to produce energy, an MIT researcher has managed to create electricity out of water more efficiently than conventional solar cells, to the point where one and a half bottles of wastewater could power an entire house for a day.
Plants, being extremely clever, somehow manage to use sunlight to crack water into oxygen and hydrogen. They combine the hydrogen with carbon dioxide to make sugar (which is what I would do, 'cause sugar is good stuff), but we humans have been trying to figure out for about a century how to skip the sugar step and just recombine that oxygen and hydrogen back into water to generate electricity. How To Make A Burning Laser Flashlight (Gadgets) How to turn a Minimag flashlight into a burning laser!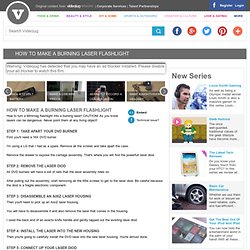 CAUTION! As you know lasers can be dangerous. Blocking a gene stops cancer cells spreading. 24 January 2011Last updated at 11:19 By James Gallagher Health reporter, BBC News Blocking a gene could prevent cancer cells spreading A gene which encourages cancer to move around the body has been discovered by the University of East Anglia.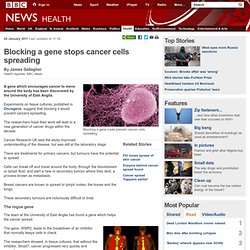 Experiments on tissue cultures, published in Oncogene, suggest that blocking it would prevent cancers spreading. The researchers hope their work will lead to a new generation of cancer drugs within the decade. Electromagnetic Coilgun Doesn't Need a License. Robert Wilsford created an Electromagnetic Coilgun from some very common items that can be found easily on the websites, so you can also try this and make a nice gadget sitting at your home sweet home.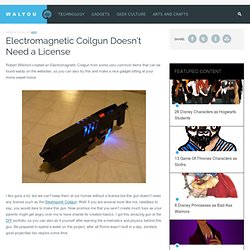 I like guns a lot, but we can't keep them at our homes without a license but this gun doesn't need any license such as the Steampunk Coilgun. Well! If you are arsenal lover like me, needless to say, you would dare to make this gun. New Contact Lenses With LED Displays is Must-See TV, Literally - Technology News by ExtremeTech. We recently profiled a new crop of Augmented Reality video games designed for your mobile phone.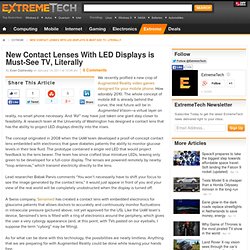 How adorably 2010. The whole concept of mobile AR is already behind the curve, the real future will be in Augmented Vision—a virtual layer on reality, no smart phone necessary. Video: Dust Ball Robotic Vacuum Smartly Sucks Debris As It Tumbles Across Your Floor. Roombas are cute and everything, but when they annoy you, they don't respond well to being kicked in the side.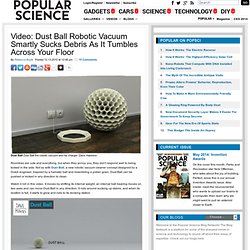 Not so with Dust Ball, a new robotic vacuum cleaner concept designed by a Dutch engineer. Inspired by a hamster ball and resembling a pollen grain, Dust Ball can be pushed or kicked in any direction to clean. EAA Video Player - Your Source for Aviation Videos. Channels Home News & Features AirVenture.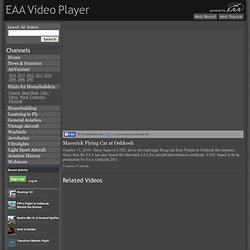 Chicken Powered Steadicam proves poultry has a future in Hollywood (video) If you've decided to use a full-fledged Steadicam in your next indie blockbuster you'd better make sure you have the budget -- they can run upwards of $45,000.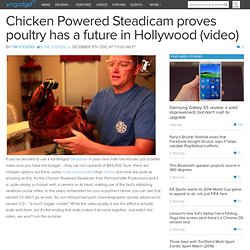 Sure, there are cheaper options out there, some more sophisticated than others, but none are quite as amazing as this. It's the Chicken Powered Steadicam from Pennywhistle Productions and it is, quite simply, a chicken with a camera on its head, making use of the bird's stabilizing vestibulo-ocular reflex. In the video, embedded for your enjoyment below, you can see that version 1.0 didn't go so well.
CES Gadgets: OLEDs Makes for Foldable TV. Dude Builds Snow Plowing Robot Video. Textured substrate increases efficiency of polymer solar cells by 20 percent. Researchers have created a process to produce a light-absorbing layer on textured substrates to improve the efficiency of polymer solar cells (Image: Jeremy Levine Design via Flickr) Image Gallery (2 images) The idea of boosting the performance of solar cells by coating them with a textured substrate is commonly used in silicon-based cells.
The idea is to traps more light so that it bounces around inside the cell instead of reflecting back out, but for a number of reasons, attempts to use textured substrates in polymer solar cells have failed. Now researchers from Iowa State University and the Ames Laboratory have developed a process of producing a thin and uniform light-absorbing layer on textured substrates that improves the efficiency of polymer solar cells by 20 percent. Giant microwave turns plastic back to oil - environment - 26 June 2007.
A US company is taking plastics recycling to another level - turning them back into the oil they were made from, and gas. All that is needed, claims Global Resource Corporation (GRC), is a finely tuned microwave and - hey presto! - a mix of materials that were made from oil can be reduced back to oil and combustible gas (and a few leftovers). Key to GRC's process is a machine that uses 1200 different frequencies within the microwave range, which act on specific hydrocarbon materials. As the material is zapped at the appropriate wavelength, part of the hydrocarbons that make up the plastic and rubber in the material are broken down into diesel oil and combustible gas.
Jem Melts Rock Using Sunshine - Bang Goes The Theory - Series 3, Episode 5 Preview - BBC One. Woody Norris invents amazing things. Seabreacher is pure fun « smalltok. Fishbowl Faucet Encourages Water Conservation - Or Else. So you're a conservationist, eh? Can you prove it? Can you stop washing your hands before this fish runs out of water? For his appropriately titled Poor Little Fishbowl Sink, designer Yan Lu created a very direct incentive to minimize water usage – when you turn the faucet on, the water level in the fishbowl decreases.
It reminds us how precious this resource is, and how our everyday actions can affect the creatures around us.
---