Mysteries
Testing the Multi-Verse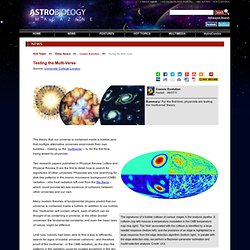 The theory that our universe is contained inside a bubble, and that multiple alternative universes exist inside their own bubbles – making up the ' multiverse ' – is, for the first time, being tested by physicists. Two research papers published in Physical Review Letters and Physical Review D are the first to detail how to search for signatures of other universes. Physicists are now searching for disk-like patterns in the cosmic microwave background (CMB) radiation - relic heat radiation left over from the Big Bang – which could provide tell-tale evidence of collisions between other universes and our own. Many modern theories of fundamental physics predict that our universe is contained inside a bubble. In addition to our bubble, this `multiverse' will contain others, each of which can be thought of as containing a universe.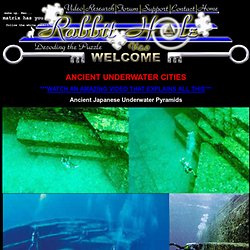 Lost city 'could rewrite history' By BBC News Online's Tom Housden The remains of what has been described as a huge lost city may force historians and archaeologists to radically reconsider their view of ancient human history. Marine scientists say archaeological remains discovered 36 meters (120 feet) underwater in the Gulf of Cambay off the western coast of India could be over 9,000 years old. The vast city - which is five miles long and two miles wide - is believed to predate the oldest known remains in the subcontinent by more than 5,000 years. The site was discovered by chance last year by oceanographers from India's National Institute of Ocean Technology conducting a survey of pollution.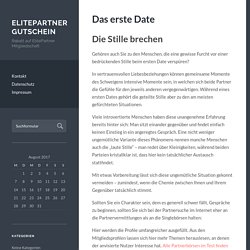 T he Bible tells us that God created Adam and Eve just a few thousand years ago, by some fundamentalist interpretations. Science informs us that this is mere fiction and that man is a few million years old, and that civilization just tens of thousands of years old. Could it be, however, that conventional science is just as mistaken as the Bible stories? There is a great deal of archeological evidence that the history of life on earth might be far different than what current geological and anthropological texts tell us.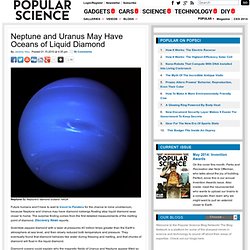 Neptune By Neptune's diamond oceans! NASA Future humans won't have to wait to travel to Pandora for the chance to mine unobtanium, because Neptune and Uranus may have diamond icebergs floating atop liquid diamond seas closer to home.
Neptune and Uranus May Have Oceans of Liquid Diamond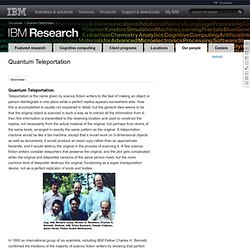 Teleportation is the name given by science fiction writers to the feat of making an object or person disintegrate in one place while a perfect replica appears somewhere else. How this is accomplished is usually not explained in detail, but the general idea seems to be that the original object is scanned in such a way as to extract all the information from it, then this information is transmitted to the receiving location and used to construct the replica, not necessarily from the actual material of the original, but perhaps from atoms of the same kinds, arranged in exactly the same pattern as the original. A teleportation machine would be like a fax machine, except that it would work on 3-dimensional objects as well as documents, it would produce an exact copy rather than an approximate facsimile, and it would destroy the original in the process of scanning it.
The Universe as a Hologram by Michael Talbot Does Objective Reality Exist, or is the Universe a Phantasm? In 1982 a remarkable event took place. At the University of Paris a research team led by physicist Alain Aspect performed what may turn out to be one of the most important experiments of the 20th century. You did not hear about it on the evening news. In fact, unless you are in the habit of reading scientific journals you probably have never even heard Aspect's name, though there are some who believe his discovery may change the face of science.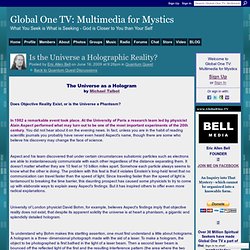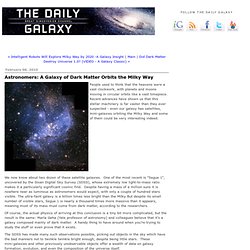 People used to think that the heavens were a vast clockwork, with planets and moons moving in circular orbits like a vast timepiece. Recent advances have shown us that this stellar machinery is far vaster than they ever suspected - even our galaxy has satellites, mini-galaxies orbiting the Milky Way and some of them could be very interesting indeed. We now know about two dozen of these satellite galaxies. One of the most recent is "Segue 1", uncovered by the Sloan Digital Sky Survey (SDSS), whose extremely low light-to-mass ratio makes it a particularly significant cosmic find. Despite having a mass of a million suns it is nowhere near as luminous as astronomers would expect, with only a couple of hundred stars visible.
Astronomers: A Galaxy of Dark Matter Orbits the Milky Way
The Hubble Space Telescope and Keck Observatory images may support the idea that Jupiter is in the midst of violent global climate change. This theory was first proposed in 2004 by Phil Marcus, a professor of mechanical engineering at the University of California, Berkeley. The planet's temperatures may be changing by 15 to 20 degrees Fahrenheit, with the giant planet getting warmer near the equator and cooler near the South Pole. Marcus predicted that large changes would start in the southern hemisphere around 2006, causing the jet streams to become unstable and spawn new vortices as has been proven out by the emergence of new swirling red storms. Jupiter's atmosphere has a zig-zag pattern of twelve jet streams which make up its signature pastel-toned bands.
Is Jupiter Undergoing Massive Climate Change? A Weekend Feature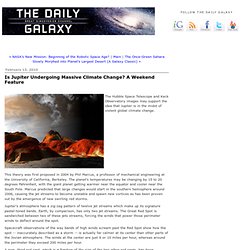 Hide and seek. New calculations suggest that black holes, like the one in this artist's depiction, might not exist in the universe. Credit: V. Beckmann et al./GSFC; ESA If new calculations are correct, the universe just got even stranger.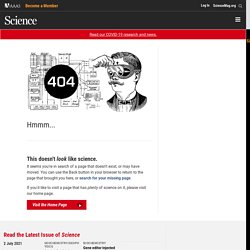 No More Black Holes?
We're not going to bullshit you. Look hard enough, and you can find "amazing" coincidences anywhere. With a whole universe to work with, sometimes the stars are going to align just right. But, even cynical types like us have to admit that sometimes this stuff can get downright creepy . A Terrifyingly Accurate Prediction by Edgar Allan Poe In 1838, future horror-god Edgar Allan Poe released a book called The Narrative of Arthur Gordon Pym of Nantucket , his only full novel.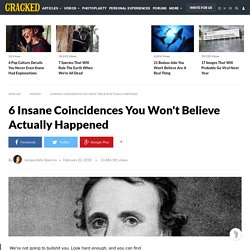 Nice to see the Oscillating Universe Theory finally gaining some ground. This was published over a decade ago and has been backed up with echoes from deep space that would have to have been generated before the Big Bang. When you consider that there are more galaxies than stars in the Milky Way you know you'll never see far enough into space to get a glimpse of scale of the universe. No reason to think that the Big Bang even encompassed a large portion of the universe as a whole.
Tesla inherited from his father a deep hatred of war. Throughout his life, he sought a technological way to end warfare. He thought that war could be converted into, "a mere spectacle of machines." In 1931 Tesla announced to reporters at a press conference that he was on the verge of discovering an entirely new source of energy. Asked to explain the nature of the power, he replied, "The idea first came upon me as a tremendous shock...
Sun Storm transmission mystery