Two
Jack Johnson. OK Go new video (better than the treadmills?) // Current. To Our Faithful Current.com Users: Current's run has ended after eight exciting years on air and online.
The Current TV staff has appreciated your interest, support, participation and unflagging loyalty over the years. Your contributions helped make Current.com a vibrant place for discussing thousands of interesting stories, and your continued viewership motivated us to keep innovating and find new ways to reflect the voice of the people. We now welcome the on-air and digital presence of Al Jazeera America, a new news network committed to reporting on and investigating real stories affecting the lives of everyday Americans in every corner of the country.
You can keep up with what's new on Al Jazeera America and see this new brand of journalism for yourself at. The Science of Popular Music or The Four Chord Song [video] // Current. Amazing Street drummer - One of the best i've seen. Son of Dave covers Daft Punk "Harder,Better,Faster,Stronger" Cab Driver Does Spot-on Michael Jackson Impression. I don't know how many people out there are planning on taking a taxi in Minas Gerias, Brazil in the near future, but if you end up in the area keep your eyes peeled for Jean Walker, because he can do an amazing Michael Jackson impression.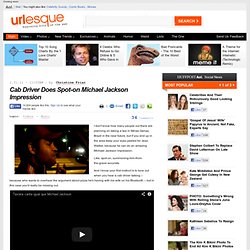 Like, spot-on, summoning-him-from-the-grave accurate. And I know your first instinct is to tune out when you hear a cab driver talking -- because who wants to overhear the argument about pizza he's having with his wife on his Bluetooth -- but in this case you'd really be missing out. Buzzfeed. Ellie Goulding - Lights (Bassnectar Remix) by Bassnectar with APEXvj - StumbleUpon. Student Unveils Instrument Made Out of PVC Pipe, Plays Pop Culture Medley. Nice.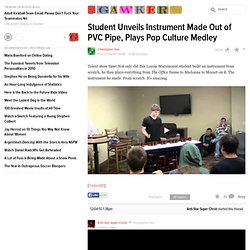 I don't mean to insult the guy, but I've made a few instruments myself. Clearly, he is a skilled percussionist, and he took a page from the Blue Man Group. Again, it's not an insult. The BMG has done a lot of good things with homemade percussion, and it is fun to see someone else run with that ball.
---