Music.
Ludwig van Beethoven - StumbleUpon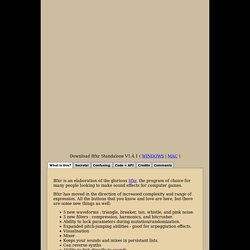 What is this? Bfxr is an elaboration of the glorious Sfxr, the program of choice for many people looking to make sound effects for computer games. Bfxr has moved in the direction of increased complexity and range of expression. All the buttons that you know and love are here, but there are some new things as well: 5 new waveforms : triangle, breaker, tan, whistle, and pink noise. 3 new filters : compression, harmonics, and bitcrusher. Ability to lock parameters during mutation/randomization.
The Black Keys: Rock and roll is dying because people became OK with Nickelback | News | NME.COM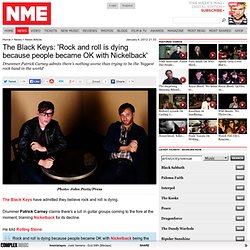 January 4, 2012 21:33 Drummer Patrick Carney admits there's nothing worse than trying to be the 'biggest rock band in the world' The Black Keys have admitted they believe rock and roll is dying. Drummer Patrick Carney claims there's a lull in guitar groups coming to the fore at the moment, blaming Nickelback for its decline. He told Rolling Stone: Rock and roll is dying because people became OK with Nickelback being the biggest band in the world.
WATCH: Iron & Wine &Godless Brother in Love& music video | CHARTattack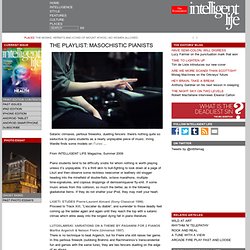 THE PLAYLIST: MASOCHISTIC PIANISTS | More Intelligent Life - StumbleUpon
Satanic climaxes, perilous fireworks, duelling fencers: there's nothing quite so seductive to piano students as a nearly unplayable piece of music. Irving Wardle finds some models on iTunes ... From INTELLIGENT LIFE Magazine, Summer 2009 Piano students tend to be difficulty snobs for whom nothing is worth playing unless it's unplayable. It's a thrill akin to bull-fighting to look down at a page of Liszt and then observe some reckless newcomer or leathery old slogger heading into the minefield of double-flats, octave marathons, multiple time-signatures, and copious droppings of demisemiquaver fly-shit.