Music
DJ with Ableton Live (includes a full warping course) by Mark Cochrane
Audio Tutorials & more
5 Minutes To A Better Mix II: The Fat Fader - TheRecordingRevolution.com
Processing acoustic Guitars with Overloud TH2
Keystation Pro 88 - Cant program buttons, faders in Reason 4, Live 8
#REAPER WEEK | Audio Geek Zine
Last week, myself and PetersonGoodwyn (SoundHow.com and DIYRecordingEquipment.com) shared almost 100 of our top REAPER tips. Day 1 #REAPER tip: My custom theme is based on RADO 4 with transport moved to tophttp://trunc.it/iqn6y Get RADO: http://ow.ly/6YyYu #REAPER tip: User themes can be further customized using the track and mixer layout options (bottom of options menu) in Reaper 4.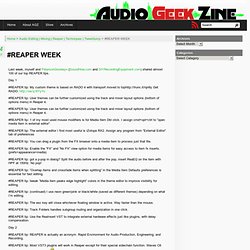 Software and Plug Ins | Audio Production Tips
Buraka Som Sistema - Sound of Kuduro
Buraka Som Sistema - Hangover (BaBaBa)
Reaper Sidechain Compression
Resources
Queen + Tom Chaplin - It's A Hard Life
brian may best solo ever
"BLOG DA SONZERA"
Banda Inglesa De Grande Sucesso Nos Anos 80!!!! FAIXAS 01 (I Just) Died In Your Arms (1986) 02 Any Colour (1986) 03 Fear Of Falling (1986) 04 Everything But My Pride (1989) 05 Contact High (1990) 06 Top Of Your Tongue (1989) 07 One For The Mockingbird (1986) 08 I've Been In Love Before (1986) 09 Life In A Dangerous Time (1986) 10 Don't Look Back (1986) 11 The Scattering (1989) 12 Christians (1989) 13 (I Just) Died In Your Arms (Extended Remix) 14 Reach For The Sky (1989) 15 (Between A) Rock And A Hard Place (1989) 16 If That's The Way You Want It (1992) *DOWNLOAD* (I Just) Died In Your Arms (1986)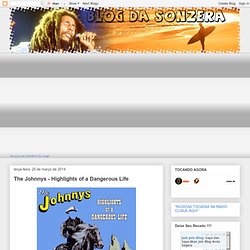 Boy & Bear - Rabbit Song
Descobri recentemente esse álbum, por sugestão de um colega, e fiquei absolutamente apaixonado. Produzido T Bone Burnett (Roy Orbison, Elvis Costello e Wallflowers) os arranjos são elaboradíssimos, mas minimalistas, discretos, elegantes, precisos. O álbum é uma obra de arte! Nunca gostei nem de Led Zepelin, nem da carreira solo de Robert Plant e Jimmy Page. Com excessão de algumas (poucas) canções, sempre os achei musicalmente excessivos, exibicionistas, chatos. No entanto o talento musical e o timbre de Plant casa perfeitamente com a voz agridoce da cantora de blues Alison Krauss, e o resultado é um álbum fantástico: sensível, cativante e de muito bom gosto.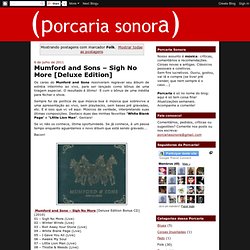 Porcaria Sonora: Folk
Keystation Pro 88 with Ableton Live problem
SYNTHiC4TE | May 18 2012 | 313 MB NOVATION IMPULSE DEMYSTIFIED! Do you use a Novation Impulse keyboard controller? This awesome, in-depth series from studio meister Eli Krantzberg will reveal all of the amazing features and functions found in the Novation Impulse, as well as how it uses Automap to further enhance its operation. Eli starts off the series with tour of the keyboard, loading and saving templates and using transpose and MIDI channels. He then goes deeper into the Impusle by ways of the powerful Automap software.
Novation Impulse Explained TUTORiAL
Impulse 61 de novation é um controlador de teclado USB-MIDI com 61 semi-weighted keys com aftertouch assignable. Ele foi projetado para se sentir como um instrumento ao invés de um computador periférico e responde com mais precisão e de forma "musical" quando disparar um instrumento sintetizador ou software. Além de chaves os controles rotativos controlador recursos oito, nove faders e oito backlit tambor almofadas, juntamente com as rodas de pitch e modulação obrigatórias. Os controles permitem mãos na manipulação de funções DAW, instrumentos virtuais e plug-ins. O software de controle de Automap incluído leva a complicações da atribuindo os controladores com seu recurso de mapeamento instantânea. Características de produto em destaque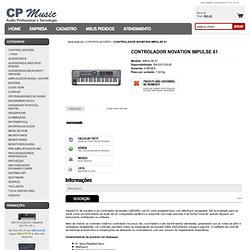 CONTROLADOR NOVATION IMPULSE 61 - CP MUSIC
Novation Impulse 61 Teclado Controlador - Plugue Áudio e Tecnologia
Roland U.S. - PCR-800: USB MIDI Keyboard Controller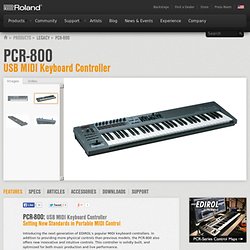 Introducing the next generation of EDIROL's popular MIDI keyboard controllers. In addition to providing more physical controls than previous models, the PCR-800 also offers new innovative and intuitive controls. This controller is solidly built, and optimized for both music production and live performance. 61 velocity-sensitive keys, now with aftertouch50 fully assignable controls, and editor software (Mac & PC)18 velocity padsNew, unique crossfader featureHigh-quality keyboard mechanism, and durable, stable body"Dynamic Mapping" — intelligent assignment of controlsConvenient location of connections on side panelUSB bus-poweredMIDI merge"Cakewalk Production Plus Pack" included (SONAR LE, Project 5 LE, and Dimension LE) 50 x Assignable Controllers The new PCR Series offers all the controls of previous models, but with the addition of even more controls that allow players to maximize the playability and operability of their MIDI hardware and software.
SARAH BLACKWOOD Summer Tour Dates up now! | Músicas Gratuitas, Datas de Tours, Fotos, Vídeos
Bio: SARAH BLACKWOOD grew up listening to her father's rock and roll record collection. When she was twelve years old, her father handed her an acoustic guitar, taught her the basics and the rest, as they say, is history. Her style is influenced by old country and rock music. She's sweet heart with an acoustic guitar singing about love, demons she has faced, and different times in her life that have brought her down, picked her up and made the songs what they are today. Also known as the front-woman for The Creepshow, Sarah has toured all across the world and has honed her live show to an exact and heartwarming science.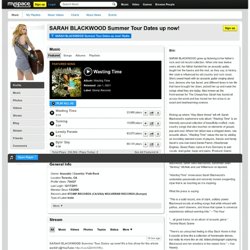 [ORIGINAL]Gotye- Somebody That I Used To Know (feat. Kimbra)- official film clip (HD)(1080p)
Pinduca's Blog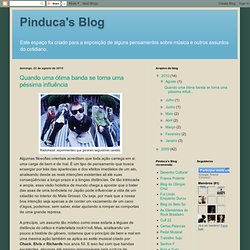 Algumas filosofias orientais acreditam que toda ação carrega em si uma carga de bem e de mal. É um tipo de pensamento que busca enxergar por trás das aparências e dos efeitos imediatos de um ato, analisando desde as reais intenções existentes ali até suas conseqüências a longo prazo e a longas distâncias. De tão intrincada e ampla, essa visão holística de mundo chega a apostar que o bater das asas de uma borboleta no Japão pode influenciar a vida de um cidadão no interior do Mato Grosso. Ou seja, por mais que a nossa boa intenção seja apenas a de conter um vazamento de um cano d'água, podemos, sem saber, estar ajudando a romper as comportas de uma grande represa. A princípio, um assunto tão místico como esse estaria a léguas de distância do cético e materialista rock'n'roll.
AKG K 701 WHITE HEADPHONES: Electronics
Motörhead - Enter Sandman
Black Sabbath - Live 1970 Full Concert - parte 9
Vater Percussion - Jen Lowe - Vater Cajon Brush Demo
STONER TRAIN-The Desert And The Snake
Stoner Train - Alcoholic Story
Motorjesus - Fuel the Warmachine
Smokey Fingers-Crazy Woman
Dr.Z Rt.66 amp turned up
Sidechain Compression for Newbies....in Reaper 3
Reaper Drum Replacement
beat detection in reaper
Drum Editing in Reaper
Pedais de Guitarra e Roteamento no Reaper
Habib Koité - N'ba!
70 Sites Like Blogspot Audiopirate | Audiopirate.blogspot
Plugin Pirate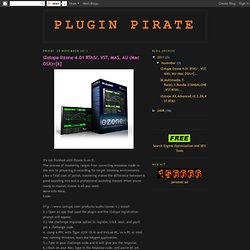 IK.Multimedia.T-RackS.3.Bundle.STANDALONE.VST.RTAS.v3.5.0.x86.x64-ASSiGNThe new T-RackS 3 raises the bar again in high-end DAW mastering and mixing, with a suite of 9 analog modeled and digital Dynamics/EQ processors, full metering suite, an audio quality that is unmatched in software, and scores of new and unique features. All processors and metering module can be combined within the plug-in/standalone suite or are also available as individual plug-ins for more convenient mixing within your DAW, for a truly complete bundle of 12 superior sounding tools (10 individual plug-ins, plug-in suite, standalone suite).Modular High-End Mastering/Mixing Suite of Dynamics and EQ processors, including:
GIRL TALK - ALL DAY - ILLEGAL ART
Havank
Hard & Heavy