Music
DJ with Ableton Live (includes a full warping course) by Mark Cochrane
Audio Tutorials & more
5 Minutes To A Better Mix II: The Fat Fader - TheRecordingRevolution.com
EQ and Compression Techniques For Vocals and Acoustic Guitar
Processing acoustic Guitars with Overloud TH2
Keystation Pro 88 - Cant program buttons, faders in Reason 4, Live 8
#REAPER WEEK | Audio Geek Zine
Last week, myself and PetersonGoodwyn ( SoundHow.com and DIYRecordingEquipment.com ) shared almost 100 of our top REAPER tips. Day 1 #REAPER tip: My custom theme is based on RADO 4 with transport moved to tophttp://trunc.it/iqn6y Get RADO: http://ow.ly/6YyYu #REAPER tip: User themes can be further customized using the track and mixer layout options (bottom of options menu) in Reaper 4.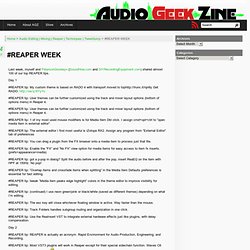 APT have previously analyzed and reviewed most of the limiters on the market, with Fab Filters Pro-L and PSP's Xenon coming out on top. However, there is a newer contender to the already cluttered brick wall limiter market, so does Slate Digital's FG-X prove there is more to gain? (Sorry, even I am embarrassed by that pun). I wanted to beat around the bush for a little bit with some poetic filler information, but quite frankly some of the beauty of this plug-in is in its simplicity. There are no transient modes or attack and release values for the inexperienced engineer to have to worry about, you can just raise the gain and smile at the results. For the intermediately adventurous amongst us, there are low punch and detail knobs to add that little extra depth and clarity. Software and Plug Ins | Audio Production Tips
Buraka Som Sistema - Sound of Kuduro
Buraka Som Sistema - Hangover (BaBaBa)
Reaper Sidechain Compression
Resources
Queen + Tom Chaplin - It's A Hard Life
brian may best solo ever
"BLOG DA SONZERA"
Boy & Bear - Rabbit Song
Descobri recentemente esse álbum, por sugestão de um colega, e fiquei absolutamente apaixonado. Produzido T Bone Burnett ( Roy Orbison , Elvis Costello e Wallflowers ) os arranjos são elaboradíssimos, mas minimalistas, discretos, elegantes, precisos. O álbum é uma obra de arte! Nunca gostei nem de Led Zepelin , nem da carreira solo de Robert Plant e Jimmy Page . Com excessão de algumas (poucas) canções, sempre os achei musicalmente excessivos, exibicionistas, chatos. No entanto o talento musical e o timbre de Plant casa perfeitamente com a voz agridoce da cantora de blues Alison Krauss , e o resultado é um álbum fantástico: sensível, cativante e de muito bom gosto.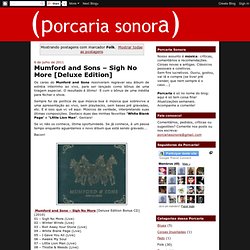 Porcaria Sonora: Folk
Keystation Pro 88 with Ableton Live problem
NOVATION IMPULSE DEMYSTIFIED! Do you use a Novation Impulse keyboard controller? This awesome, in-depth series from studio meister Eli Krantzberg will reveal all of the amazing features and functions found in the Novation Impulse, as well as how it uses Automap to further enhance its operation.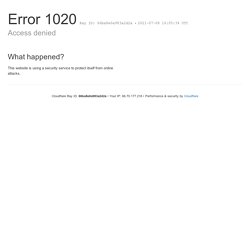 Novation Impulse Explained TUTORiAL
CONTROLADOR NOVATION IMPULSE 61 - CP MUSIC
Novation Impulse 61 Teclado Controlador - Plugue Áudio e Tecnologia
Roland U.S. - PCR-800: USB MIDI Keyboard Controller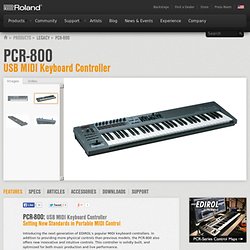 Introducing the next generation of EDIROL's popular MIDI keyboard controllers. In addition to providing more physical controls than previous models, the PCR-800 also offers new innovative and intuitive controls. This controller is solidly built, and optimized for both music production and live performance. 61 velocity-sensitive keys, now with aftertouch 50 fully assignable controls, and editor software (Mac & PC) 18 velocity pads New, unique crossfader feature High-quality keyboard mechanism, and durable, stable body "Dynamic Mapping" — intelligent assignment of controls Convenient location of connections on side panel USB bus-powered MIDI merge "Cakewalk Production Plus Pack" included (SONAR LE, Project 5 LE, and Dimension LE) PCR-Series Interactive Tour PCR-800 QuickTime VR
SARAH BLACKWOOD Summer Tour Dates up now! | Músicas Gratuitas, Datas de Tours, Fotos, Vídeos
[ORIGINAL]Gotye- Somebody That I Used To Know (feat. Kimbra)- official film clip (HD)(1080p)
Pinduca's Blog
AKG K 701 WHITE HEADPHONES: Electronics
Motörhead - Enter Sandman
Black Sabbath - Live 1970 Full Concert - parte 9
Cajón Pithy - Cajón Pithy Inclinado TURBO
Vater Percussion - Jen Lowe - Vater Cajon Brush Demo
STONER TRAIN-The Desert And The Snake
Stoner Train - Alcoholic Story
Motorjesus - Fuel the Warmachine
Smokey Fingers-Crazy Woman
Dr.Z Rt.66 amp turned up
Sidechain Compression for Newbies....in Reaper 3
Reaper Drum Replacement
beat detection in reaper
Drum Editing in Reaper
Pedais de Guitarra e Roteamento no Reaper
Habib Koité - N'ba!
70 Sites Like Blogspot Audiopirate | Audiopirate.blogspot
Plugin Pirate
GIRL TALK - ALL DAY - ILLEGAL ART
Havank is an acoustic rock project evolving two friends, Homer Baroni (vocals) and Mike (acoustic and electric guitars). Started in 2009 simple and unpretentious at our workplace and since then has become our sincere artistic expression. Hope you enjoy. Havank é um projeto de rock acústico que envolve dois amigos, Homer (vocais) e Mike (violão e guitarras). Iniciado em 2009 simples e despretensiosamente dentro do ambiente de trabalho e desde então se transformou em nossa mais sincera expressão artística.
Havank
Rockkk and Rulezzzz
Hard & Heavy