Röyksopp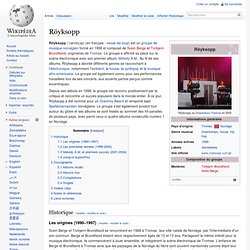 Röyksopp
Un article de Wikipédia, l'encyclopédie libre. Röyksopp /ˈɾøʏksɔp/ (en français : vesse-de-loup) est un groupe de musique norvégien formé en 1998 et composé de Svein Berge et Torbjørn Brundtland, originaires de Tromsø. Le groupe a affirmé sa place sur la scène électronique avec son premier album, Melody A.M..
Robyn None Of Dem (Feat. Röyksopp)
Röyksopp - Eple (Live)
HQ) Röyksopp live at Senkveld. "The Girl and the Robot " featuring Robyn.
Royksopp-what else is there
Röyksopp - Happy Up Here
Röyksopp - Remind me
Röyksopp-Poor Leno
Röyksopp 'Only This Moment'
Röyksopp 'Sparks'
Röyksopp - Two Headed Monster
Coraline & Röyksopp - So Easy