Music Business
ASCAP - Welcome to ASCAP. The worldwide leader in performance royalties, service and advocacy for songwriters, composers and music publishers.
City Hall Records distributes thousands of titles on over a thousand independent record labels. Our catalog is updated daily as our vendors continuously add new items. Using our search features, you can look for an artist, label, category, title, or any combination of the above within a catalog of over 20,000 items. If you are located far from our customers, or prefer to order by mail, there are mail-order dealers who carry our products. If you are interested in Runt group of labels, 4 Men With Beards, DBK Works, Plain Recordings and Water, you may want to check out the Runt site at http://www.runtshop.com .
City Hall Records:Independent Record Distribution since 1973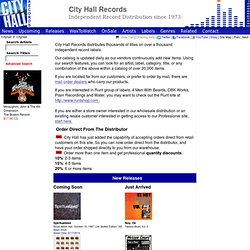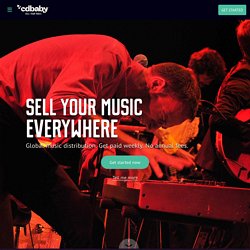 Sell Your Music on Facebook Introducing the easiest way to sell your music from your artist/band Facebook page. $49 / album $12.95 / single NEW! Make More Money From Your Music Introducing CD Baby Pro! • Worldwide Music Distribution • Registration with ASCAP or BMI • Global Royalty Collection IT'S FREE License your music for film, TV, YouTube, and more.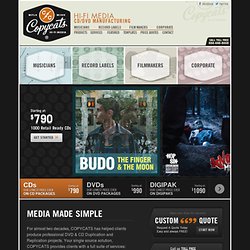 CD Duplication, DVD Duplication, CD/DVD Dupliction, CD/DVD Replication
For almost a decade, COPYCATS has helped clients produce professional DVD & CD Duplication and Replication projects. Your single source solution, COPYCATS provides clients with a full suite of services: • CD/DVD Manufacturing• Short Run DVD & CD Duplication• Digital Download Cards - NEW! • CD Mastering• Graphic Design & Prepress Services • Silk Screen & Offset On-disc Printing• Print & Packaging Solutions• Assembly • Inventory & Fulfillment Services• Contact us today to learn more
Learn More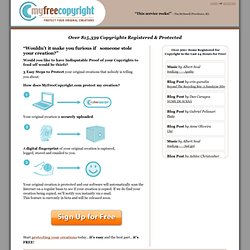 Would you like to have Indisputable Proof of your Copyrights to fend off would be thiefs? 3 Easy Steps to Protect your original creations that nobody is telling you about. How does MyFreeCopyright.com protect my creation? Your original creation is securely uploaded. A digital fingerprint of your original creation is captured, logged, stored and emailed to you.
The Global Language of Business | GS1 US
Copyright all kinds of works: music, literature, software and more
Home | Contact Us | About HFA Management Team Press Area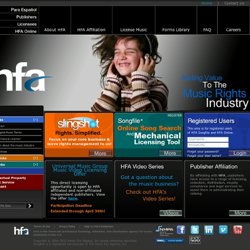 Entertainment Business Plan | MoreBusiness.com
1.0 Executive Summary DJA Records Corp. (DJA) will capitalize on the growing entertainment market across the world through the production and promotion of high quality entertainment. Located in Miami, Florida, the company will become highly profitable through the sale of pre-recorded music product, and ancillary profit centers. DJA will own and control the masters (master copies), copyrights and licenses of its product, which will enable DJA to create immediate revenue streams while growing its music catalog into a multi-million dollar asset. The company has established four record labels to handle a variety of music genres including Pop, Rhythm & Blues, Alternative Rock, Jazz, Gospel, Urban and New Adult Contemporary.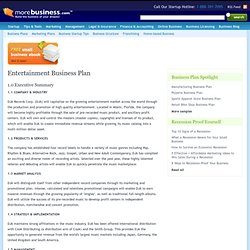 Contact Us Now for a Free Assessment Our experience with media and entertainment ventures spans the following areas: Media & Entertainment Industry Experience
Media and Entertainment Business Plan Consulting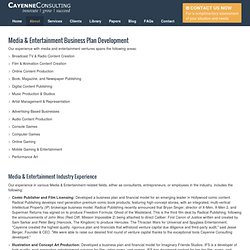 Business Plan Writers, Business Plan Consultant - MasterPlans
How to Create an Entertainment Business Plan
Efficient Sites - web hosting and domain registration
LiveOffBeats.com
Logic Pro | Audiotuts+
Discussion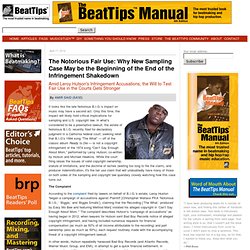 The New Reality About Marketing and Promotion Favors the Artist with a Core Base and Brand…and a Strong Signal See what DJ Premier just did? On a random Thursday afternoon, without any advance notice or promotion, he debuts his new Youtube channel, "Premier Wuz Here," highlighting it with the first installment of his new in-studio rhyme series, "Bars in the Booth," featuring rapper Papoose. The reaction was swift. Cheers, shock, appreciation, and sincere praise abounded throughout social media.
BeatTips: Beatmaking, Making Beats, Hip Hop Production, Hip Hop/Rap Music, Recording Music, Home Recording, Music Education, Music Business, and Music History
SellingBeatsOnline