Music Business
ASCAP - Welcome to ASCAP. The worldwide leader in performance royalties, service and advocacy for songwriters, composers and music publishers.
City Hall Records:Independent Record Distribution since 1973
CD Duplication, DVD Duplication, CD/DVD Dupliction, CD/DVD Replication
Learn More
The Global Language of Business | GS1 US
Copyright all kinds of works: music, literature, software and more
Entertainment Business Plan | MoreBusiness.com
1.0 Executive Summary DJA Records Corp. (DJA) will capitalize on the growing entertainment market across the world through the production and promotion of high quality entertainment. Located in Miami, Florida, the company will become highly profitable through the sale of pre-recorded music product, and ancillary profit centers. DJA will own and control the masters (master copies), copyrights and licenses of its product, which will enable DJA to create immediate revenue streams while growing its music catalog into a multi-million dollar asset. The company has established four record labels to handle a variety of music genres including Pop, Rhythm & Blues, Alternative Rock, Jazz, Gospel, Urban and New Adult Contemporary.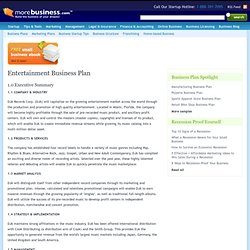 Contact Us Now for a Free Assessment Our experience with media and entertainment ventures spans the following areas: Media & Entertainment Industry Experience
Media and Entertainment Business Plan Consulting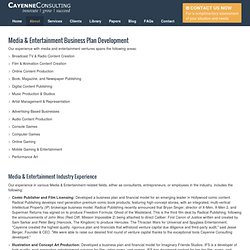 Business Plan Writers, Business Plan Consultant - MasterPlans
How to Create an Entertainment Business Plan
Efficient Sites - web hosting and domain registration
LiveOffBeats.com
Logic Pro | Audiotuts+
Discussion
BeatTips: Beatmaking, Making Beats, Hip Hop Production, Hip Hop/Rap Music, Recording Music, Home Recording, Music Education, Music Business, and Music History
SellingBeatsOnline