WEB museos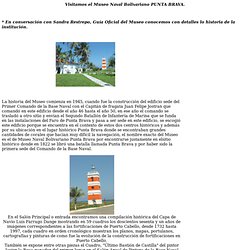 Untitled Document
Visitamos el Museo Naval Bolivariano PUNTA BRAVA. * En conversación con Sandra Restrepo, Guía Oficial del Museo conocemos con detalles lo historia de la institución.
El buque-escuela ARC Gloria, insignia de Colombia. La Armada de la República de Colombia (ARC), también conocida como Armada Nacional, es la fuerza militar marítima legítima, de la República de Colombia. A través del empleo de su poder naval, contribuye a garantizar la independencia de la Nación, mantener la integridad territorial, la defensa del Estado y sus Instituciones en su jurisdicción: las zonas marítimas en el Pacífico y el Atlántico, zonas fluviales del interior del país y algunas áreas terrestres de su responsabilidad. Está constituida aproximadamente por 34.600[1] [2] militares, de los cuales alrededor de 24.000 hacen parte del Cuerpo de Infantería de Marina. Historia[editar · editar código]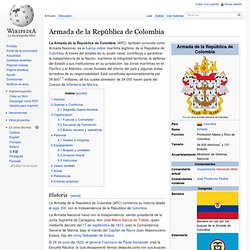 Armada de la República de Colombia
Inicio - Armada Nacional de Colombia
Escudo Heráldico de la Armada Nacional - Armada Nacional de Colombia
===== Museo Naval del Perú =====
"Museo Marítimo Nacional extendió su horario de visita durante el verano" El Museo Marítimo Nacional, te invita a disfrutar de un enriquecido recorrido por la historia, en donde podrás conocer acerca de nuestro desarrollo histórico, de gloriosos personajes y de hechos Leer mas "Conmemoración de los 125 años de la edición de "Azul", de Rubén Darío" El pasado martes 30 de julio en dependencias del Museo Marítimo Nacional se llevó a cabo la ceremonia en conmemoración de los 125 años de la publicación "Azul", libro de Leer mas ¿Sabías qué?...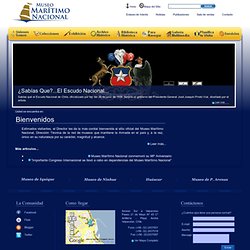 Museo Naval y Maritimo | Archivo y Biblioteca Histórica de la Armada
EL MUSEO NAVAL DE EL CARIBE Cartagena, Colombia EL MUSEO NAVAL DE EL CARIBE, en Cartagena, Colombia, desde el siglo 16, esta localizado dentro del área de la ciudad amurallada, y entre el baluarte de San Francisco Javier y el Monasterio, Iglesia y Museo de San Pedro Claver. EL MUSEO NAVAL DE EL CARIBE tiene permanentes exhibiciones relacionadas con: la historia Militar Naval de Cartagena de Indias, Navegación Universal, la fuerza Naval Colombiana, incluyendo información actual y renovada. Adicionalmente representaciones de la era Colonial y los primeros periodos Republicanos. El museo tiene dos alas grandes, separados por dos jardines, y unas escaleras que llevan al segundo piso.
Museo Naval del Caribe - Cartagenainfo.com - Cartagena de Indias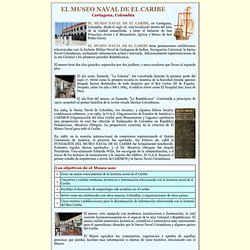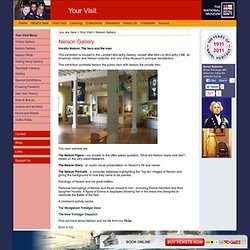 The Nelson Gallery | Your Visit | Royal Naval Museum at Portsmouth Historic Dockyard
you are here > Your Visit > Nelson Gallery Horatio Nelson: The hero and the man This exhibition is housed in the Lambert McCarthy Gallery, named after Mrs Lily McCarthy CBE, an American citizen and Nelson collector, and one of the Museum's principal benefactors. This exhibition contrasts Nelson the public hero with Nelson the private man. The main exhibits are:
you are here > Your Visit A special exhibition in the 20th Century Gallery from 26th April 2008 until further notice. A window onto the real experiences of the Navy's people - in combat and under stress, doing their day-to-day work, at rest and play, at home and abroad, at sea and on land - during a century of almost continuous conflict and rapid technological and social change.
Sea Your History:20th Century Royal Navy
An Introduction to the NEW HMS Victory Exhibition
Colecciones
Las colecciones son para los Museos su razón de ser: sin colección no se justifica su existencia. El Museo Marítimo Nacional no solamente conserva las colecciones que exhibe y Ud. puede apreciar tanto en la muestra permanente como a través de la visita virtual sino que además mantiene, en depósitos especializados, colecciones que son permanentemente evaluadas y/o intervenidas para su conservación Por un lado, el patrimonio museográfico de elementos supera los 3.000 objetos tridimensionales: armamento, banderas, maquetas de buques, medallas, monedas, uniformes, etc. Y, por otro, las colecciones de documentos y bibliografía se presentan como el complemento fundamental para reconstituir la historia representada en los objetos. Se organiza en una colección de más de 30.000 volúmenes, entre los que se destacan libros y publicaciones periódicas, manuscritos, grabados, películas, bitácoras, historiales, fotografías, negativos etc.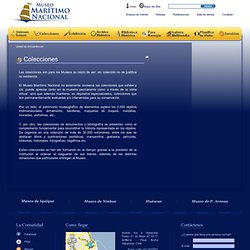 Set in the heart of the new Sammy Ofer Wing, Voyagers tells the story of Britain and the sea, illustrating the contemporary significance of maritime histories and the personal stories of our island nation. The gallery, designed by Real Studios, contains over 200 objects representing the extraordinary depth and range of the Museum's collection. Voyagers also features a dynamic audio-visual installation created by The Light Surgeons, using bespoke software developed by Flightphase. Visitor information
Voyagers: Britons and the sea : Exhibitions : Visit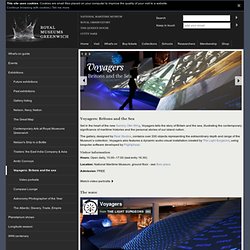 Región de Murcia Digital - Arte y Cultura - Monográficos
Inicio Portal Museo Naval - Inicio Museo Naval de Madrid - Naval Museum - Spanish Navy - Defense Department - Spain Government - Armada Española
FOTOS DE EXPOSICIÓN DE LA RECONQUISTA DE VIGO - QUIÑONES DE LEÓN - P1 - Vigo en fotos - Galicia en imágenes - Fotos de la Ría de Vigo, Rías Baixas, Pontevedra - Galicia - España - Turismo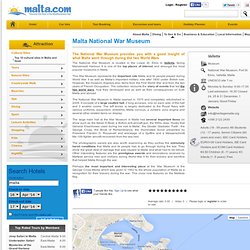 The National War Museum is located in the Lower St. Elmo in Valletta, facing Marsamxett Harbour. It is one of the top places of interest and amongst the most popular museums in Malta. This War Museum represents the important role Malta and its people played during World War II as well as Malta's important military role after 1800 under British rule. However, the museum displays also items from the First World War and from the two years of French Occupation. The collection recounts the story of events that led the two world wars, how they developed and as well as their consequences on both Malta and abroad.
National War Museum - Valletta, Malta
Smithsonian Museum of American History - The Price of War Exhibit