Musées+réseaux-sociaux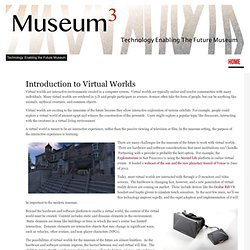 Virtual worlds are interactive environments created in a computer system. Virtual worlds are typically online and involve communities with many individuals. Many virtual worlds are rendered in 3-D and people participate as avatars. Avatars often take the form of people, but can be anything like animals, mythical creatures, and common objects. Virtual worlds are exciting to the museums of the future because they allow interactive exploration of various exhibits.
files/Research_report_PACE.pdf
Research: Social Media Audiences and the Museum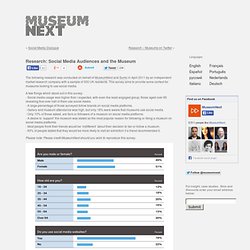 The following research was conducted on behalf of MuseumNext and Sumo in April 2011 by an independent market research company with a sample of 500 UK residents. This survey aims to provide some context for museums looking to use social media.
Speaking Digitally About Exhibits
es: Not Nothings — Sean Redmond
« Best of the Web awards » 2014: 2 innovations françaises sélectionnées parmi les 60 finalistes La 18ème édition de la conférence «Museums and the Web» se déroule à Baltimore du 2 au 5 avril. Les trois jours de conférences, discussions, démonstrations et débats (que nous relaierons sur ce site) se termineront comme chaque année...
Réseaux sociaux :: Club Innovation & Culture CLIC France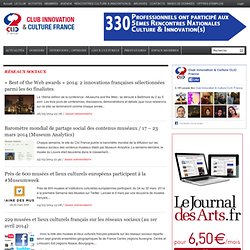 MuseumPics
Ask a Curator - September 1st 2010
Museums_on_twitter_2011
Twitter et les musées….oui ou non ? et pourquoi ?!
wtfirl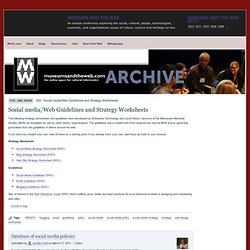 The following strategy worksheets and guidelines were developed by Enterprise Technology and Local History Services at the Minnesota Historical Society (MHS) as templates for use by other history organizations. The guidelines were created both from experiences here at MHS and by glomming good ideas from the guidelines of others around the web. If you have not created your own, look at these as a starting point, if you already have your own, add these as tools to your arsenal. Strategy Worksheet
Social media/Web Guidelines and Strategy Worksheets | conference.archimuse.com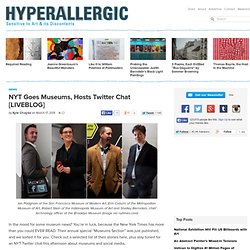 Ian Padgham of the San Francisco Museum of Modern Art, Erin Coburn of the Metropolitan Museum of Art, Robert Stein of the Indianapolis Museum of Art and Shelley Bernstein, chief technology officer at the Brooklyn Museum (image via nytimes.com) In the mood for some museum news? You're in luck, because the New York Times has more than you could EVER READ.
NYT Goes Museums, Hosts Twitter Chat