Musées+réseaux-sociaux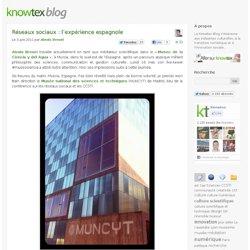 Réseaux sociaux : l'expérience espagnole | Knowtex Blog
Alexis Brexel travaille actuellement en tant que médiateur scientifique dans le « Museo de la Ciencia y del Agua », à Murcia, dans le sud-est de l'Espagne, après un parcours atypique mêlant philosophie des sciences, communication et gestion culturelle. Lundi 16 mai, son live-tweet #museociencia a attiré notre attention. Voici ses impressions suite à cette journée. Six heures du matin, Murcia, Espagne. Pas bien réveillé mais plein de bonne volonté, je prends mon train direction le Musée national des sciences et techniques (MUNCYT) de Madrid, lieu de la conférence sur les réseaux sociaux et les CCSTI.
files/Research_report_PACE.pdf
Research: Social Media Audiences and the Museum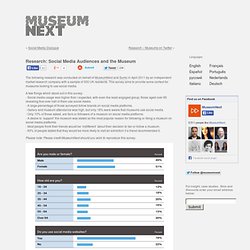 The following research was conducted on behalf of MuseumNext and Sumo in April 2011 by an independent market research company with a sample of 500 UK residents. This survey aims to provide some context for museums looking to use social media.
Jennifer S. Altman for The New York Times CONNECTIONS Francesca Merlino, 25, and Todd Florio, 35, using social media at the American Museum of Natural History.
Speaking Digitally About Exhibits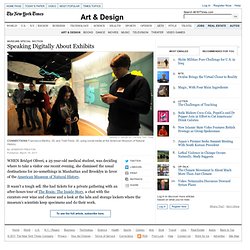 es: Not Nothings — Sean Redmond
Baromètre mondial de partage social des contenus muséaux / 6 – 12 janvier 2014 (Museum Analytics) Chaque semaine, le site du Clic France publie le baromètre mondial de la diffusion sur les réseaux sociaux des contenus muséaux établi par Museum Analytics. La semaine dernière, aucun musée français n'était présent dans ce classement.
Réseaux sociaux :: Club Innovation & Culture CLIC France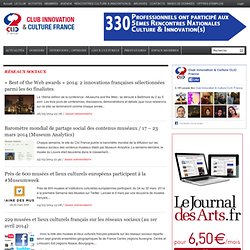 MuseumPics
Ask a Curator - September 1st 2010
Museums_on_twitter_2011
Twitter et les musées….oui ou non ? et pourquoi ?!
wtfirl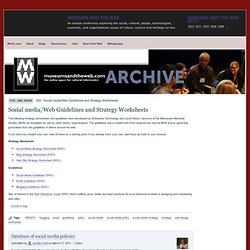 The following strategy worksheets and guidelines were developed by Enterprise Technology and Local History Services at the Minnesota Historical Society (MHS) as templates for use by other history organizations. The guidelines were created both from experiences here at MHS and by glomming good ideas from the guidelines of others around the web. If you have not created your own, look at these as a starting point, if you already have your own, add these as tools to your arsenal. Strategy Worksheet
Social media/Web Guidelines and Strategy Worksheets | conference.archimuse.com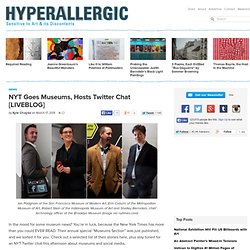 Ian Padgham of the San Francisco Museum of Modern Art, Erin Coburn of the Metropolitan Museum of Art, Robert Stein of the Indianapolis Museum of Art and Shelley Bernstein, chief technology officer at the Brooklyn Museum (image via nytimes.com) In the mood for some museum news? You're in luck, because the New York Times has more than you could EVER READ.
NYT Goes Museums, Hosts Twitter Chat