Musées Californie Museums
Napa Valley Museum | Art, History and Environment
Laguna Art Museum – Laguna Beach, CA
Scripps College : Ruth Chandler Williamson Gallery
California African American Museum - Home Page
Home
Welcome to the Irvine Museum dedicated to the preservation and display of California art of the Impressionist period 1890 - 1930.
California Center For The Arts — Home
Hammer Museum
The Haggin Museum, Stockton, California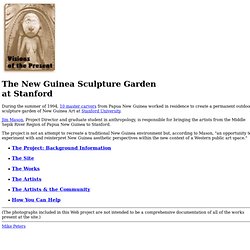 During the summer of 1994, 10 master carvers from Papua New Guinea worked in residence to create a permanent outdoor sculpture garden of New Guinea Art at Stanford University. Jim Mason, Project Director and graduate student in anthropology, is responsible for bringing the artists from the Middle Sepik River Region of Papua New Guinea to Stanford.
The New Guinea Sculpture Garden at Stanford
Queen Califia's Magical Circle Garden
wildlingmuseum
MOLAA | Home
Art Museums in California
Sonoma Valley Museum of Art – Sonoma CA
Upcoming Events Thursday, January 23 | 5:00 - 11:00 PMFirst Art After Hours of Spring 2014 Read More >Saturday, January 25 | 5:00 - 7:00 PMOpening Reception: Mowry Baden: Dromedary Mezzanine Read More >Saturday, January 25 | 5:00 - 7:00 PMOpening Reception: Portraits, Abstractions, and the In-Between: Gathering the Work of Frederick Hammersley Read More >Saturday, January 25 | 5:00 - 7:00 PMOpening Reception: Project Series 48: Andrea Bowers: #sweetjane Read More > Recent News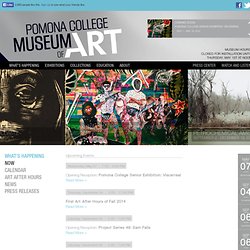 College : Museum of Art
USC Fisher Museum of Art
di Rosa
Sonoma County Museum | Arts and History museum in Santa Rosa, California
Bakersfield Museum of Art :
Home » Norton Simon Museum
Home
Berkeley Art Museum and Pacific Film Archive
Korean American Museum
The Museum of Art & History at the McPherson Center - Splash
Triton Museum of Art
The Magnes Collection of Jewish Art and Life
MAK Center Los Angeles
The de Saisset Museum at Santa Clara University - Spring exhibitions and programs at the de Saisset
Santa Barbara Museum of Art > home
Home | The Paley Center for Media
Museum of Art | Westmont College
UAM - UCSB University Art Museum
Claremont Museum of Art
Home | Japanese American National Museum
Website
The Huntington Library
Fresno Art Museum - Home Page
Craft and Folk Art Museum
Rosicrucian Egyptian Museum in San Jose houses the largest collection of Egyptian artifacts on exhibit in western North America
intro
Yerba Buena Center for the Arts | Contemporary Art & Performance
Monterey Museum of Art
San Jose Museum of Quilts and Textiles
San Jose Museum of Art
Museum of Performance & Design
SSU Art Gallery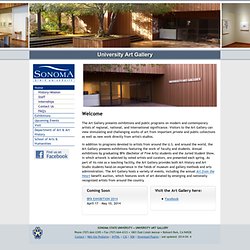 Welcome The Art Gallery presents exhibitions and public programs on modern and contemporary artists of regional, national, and international significance. Visitors to the Art Gallery can view stimulating and challenging works of art from important private and public collections as well as new work directly from artist's studios.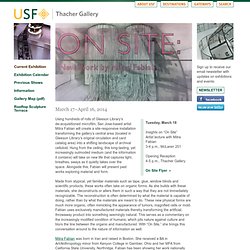 William Keith, Eadweard Muybridge, Carleton Watkins and John Muir August 26–December 13, 2013 Events
Thacher Gallery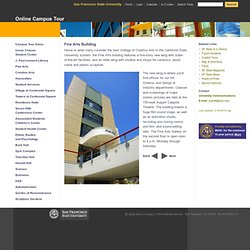 Home to what many consider the best College of Creative Arts in the California State University system, the Fine Arts building features a five-story new wing with state-of-the-art facilities, and an older wing with studios and shops for ceramics, wood, metal and plastic sculpture. The new wing is where you'll find offices for our Art, Cinema, and Design & Industry departments. Classes and screenings of major motion pictures are held at the 150-seat August Coppola Theatre.
Campus Tour Fine Arts Building - San Francisco State University
Erreur de chargement de la page
Pasadena Museum of California Art in Los Angeles
Museum of Craft and Folk Art
The Italian American Museum of San Francisco: preserving the heritage of Italian Americans for future generations through art exhibitions, language classes, cultural programs, films, feste, and more! |  Museo Italo Americano
Home | Contemporary Jewish Museum
Long Beach Museum of Art
Pacific Asia Museum
The Museum of Photographic Arts
Museum of Contemporary Art San Diego - MCASD
Mingei International Museum | Folk Art * Craft * Design
Robert V.Fullerton ART MUSEUM,
CCAS Exhibitions
Timken Museum, Balboa Park, San Diego, CA
San Diego Museum of Art
San Diego Art Institute
Charles M. Schulz Museum and Research Center
UCR Sweeney Art Gallery
Riverside Art Museum :: Home
UCR/California Museum of Photography
REDLANDS HISTORICAL GLASS MUSEUM
Home Page
Palm Springs Art Museum
Carnegie Art Museum - Home
Oceanside Museum of Art-North San Diego County Art Museum
Oakland Museum of California
Erreur de chargement de la page
Skirball Cultural Center - Welcome to the Skirball Cultural Center
Home | Autry National Center
ON ROUTE-66LIGHTS: MONA Teams With WEHO
Corita Art Center--Art and Activism of Sister Mary Corita
Home > Architecture and Design Museum > Los Angeles
index
The Clark Center for Japanese Art and Culture
City of Fullerton - Fullerton Museum
The Art of Seating: 200 Years of American Design Open to the public through December 31, 2013 The Art of Seating is organized by the Museum of Contemporary Art, Jacksonville in collaboration with the Thomas H. and Diane DeMell Jacobsen Ph.D.