Musées Californie Museums
Napa Valley Museum | Art, History and Environment. Laguna Art Museum – Laguna Beach, CA. Scripps College : Ruth Chandler Williamson Gallery. California African American Museum - Home Page. LACMA Home. Home. Welcome to the Irvine Museum dedicated to the preservation and display of California art of the Impressionist period 1890 - 1930. California Center For The Arts — Home. Hammer Museum. The J. Paul Getty Museum. The Haggin Museum, Stockton, California.
The New Guinea Sculpture Garden at Stanford. During the summer of 1994, 10 master carvers from Papua New Guinea worked in residence to create a permanent outdoor sculpture garden of New Guinea Art at Stanford University.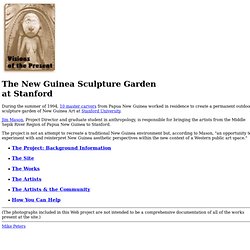 Jim Mason, Project Director and graduate student in anthropology, is responsible for bringing the artists from the Middle Sepik River Region of Papua New Guinea to Stanford. The project is not an attempt to recreate a traditional New Guinea environment but, according to Mason, "an opportunity to experiment with and reinterpret New Guinea aesthetic perspectives within the new context of a Western public art space. " (The photographs included in this Web project are not intended to be a comprehensive documentation of all of the works present at the site.) Mike Peters. Queen Califia's Magical Circle Garden. Wildlingmuseum. MOLAA | Home. Art Museums in California. Sonoma Valley Museum of Art – Sonoma CA. College : Museum of Art.
Upcoming Events Wednesday, May 07 | 7:00 - 9:00 PMOpening Reception: Pomona College Senior Exhibition: Viscerreal Read More >Thursday, September 04 | 5:00 - 11:00 PMFirst Art After Hours of Fall 2014 Read More >Saturday, September 06 | 5:00 - 7:00 PMOpening Reception: Project Series 49: Sam Falls Read More >Saturday, September 06 | 5:00 - 7:00 PMOpening Reception: Allied Against AIDS: Sue Coe's AIDS PortfolioRead More > Recent News.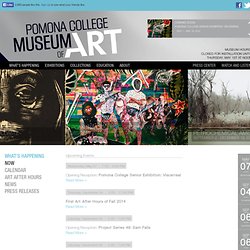 USC Fisher Museum of Art. Di Rosa. Sonoma County Museum | Arts and History museum in Santa Rosa, California. Bakersfield Museum of Art : Home » Norton Simon Museum. Home. Berkeley Art Museum and Pacific Film Archive. Korean American Museum. The Museum of Art & History at the McPherson Center - Splash. Triton Museum of Art. The Magnes Collection of Jewish Art and Life. MAK Center Los Angeles. The de Saisset Museum at Santa Clara University - Spring exhibitions and programs at the de Saisset. Santa Barbara Museum of Art > home. Home | The Paley Center for Media. MOCA | The Museum of Contemporary Art, Los Angeles. Museum of Art | Westmont College. UAM - UCSB University Art Museum. Claremont Museum of Art. Home | Japanese American National Museum. Website.
The Huntington Library. Fresno Art Museum - Home Page. Craft and Folk Art Museum. Rosicrucian Egyptian Museum in San Jose houses the largest collection of Egyptian artifacts on exhibit in western North America. Intro. Yerba Buena Center for the Arts | Contemporary Art & Performance. Monterey Museum of Art. San Jose Museum of Quilts and Textiles. San Jose Museum of Art. Museum of Performance & Design. SSU Art Gallery. Welcome The Art Gallery presents exhibitions and public programs on modern and contemporary artists of regional, national, and international significance.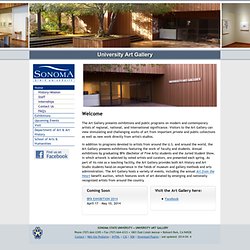 Visitors to the Art Gallery can view stimulating and challenging works of art from important private and public collections as well as new work directly from artist's studios. Thacher Gallery. March 17–April 16, 2014 Tuesday, March 18 Insights on "On Site" Artist lecture with Mitra Fabian 3-4 p.m., McLaren 251.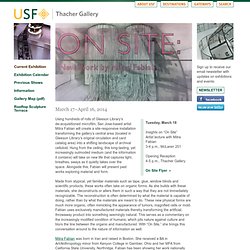 Campus Tour Fine Arts Building - San Francisco State University. Home to what many consider the best College of Creative Arts in the California State University system, the Fine Arts building features a five-story new wing with state-of-the-art facilities, and an older wing with studios and shops for ceramics, wood, metal and plastic sculpture.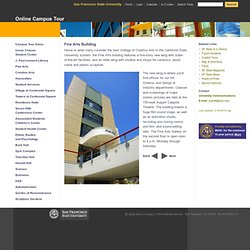 The new wing is where you'll find offices for our Art, Cinema, and Design & Industry departments. Classes and screenings of major motion pictures are held at the 150-seat August Coppola Theatre. Erreur de chargement de la page. Pasadena Museum of California Art in Los Angeles. Museum of Craft and Folk Art. The Italian American Museum of San Francisco: preserving the heritage of Italian Americans for future generations through art exhibitions, language classes, cultural programs, films, feste, and more! |  Museo Italo Americano.
Home | Contemporary Jewish Museum. Cartoon Art Museum. Long Beach Museum of Art. Asian Art Museum of San Francisco. San Francisco Museum of Modern Art (SFMOMA) Legion of Honor. De Young Museum | de Young Museum. Pacific Asia Museum. The Museum of Photographic Arts. Museum of Contemporary Art San Diego - MCASD. Mingei International Museum | Folk Art * Craft * Design. Robert V.Fullerton ART MUSEUM, CCAS Exhibitions. Timken Museum, Balboa Park, San Diego, CA. San Diego Museum of Art. San Diego Art Institute. Charles M. Schulz Museum and Research Center.
UCR Sweeney Art Gallery. Riverside Art Museum :: Home. UCR/California Museum of Photography. REDLANDS HISTORICAL GLASS MUSEUM. Home Page. Palm Springs Art Museum. Carnegie Art Museum - Home. Oceanside Museum of Art-North San Diego County Art Museum. Oakland Museum of California. Erreur de chargement de la page. Skirball Cultural Center - Welcome to the Skirball Cultural Center. Home | Autry National Center. ON ROUTE-66LIGHTS: MONA Teams With WEHO. Corita Art Center--Art and Activism of Sister Mary Corita.
Home > Architecture and Design Museum > Los Angeles. Index. From Sept. 2013 to Jan. 2014, our Tumblr is dedicated to MatterApp: Pyramidial, a collaboration between the UAM, DESN 360A, and Oliver Hess of Materials & Applications, an LA-based nonprofit that strives to increase public participation in the built environment.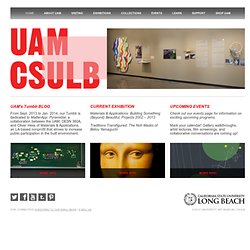 Materials & Applications: Building Something (Beyond) Beautiful, Projects 2002 – 2013 Traditions Transfigured: The Noh Masks of Bidou Yamaguchi Check out our events page for information on exciting upcoming programs. Mark your calendar! Gallery walkthroughs, artist lectures, film screenings, and collaborative conversations are coming up! The Clark Center for Japanese Art and Culture. City of Fullerton - Fullerton Museum. Memories of World War II: Photographs from the Archives of the Associated PressOpen to the public through April 13, 2014 Almost two hundred reporters and photographers fanned out around the globe to cover World War II for The Associated Press, the world's largest news service.
Five reporters lost their lives. Seven others won Pulitzer Prizes, including Joe Rosenthal, who clambered up Iwo Jima's to take the flag-raising photo that became the emblem of American victory and one of the most famous photos of all time. As the main source of war news for most of the nation's newspapers, The AP offered Americans a daily view of the conflict through photographs by its own photographers and by photographers in the U.S.
Armed Services, as well as images from the world press that otherwise would not have been seen.
---