Musées Californie Museums
History & Spotlight Galleries are open Tuesday-Saturday from 10am-4pm free of charge while the Main Gallery is closed through January 17 for installation of Thinking Outside the Bottle. Opening Reception: Thinking Outside the BottleJanuary 17 from 5:30-7pmfree for Members; $5 for Non-Members Napa Valley Museum's winter exhibition explored the multi-talented people behind our region's celebrated wine. Rarely relegating themselves to one creative outlet, these winemakers, viticulturists and wintery owners are also painters, sculptors and ceramicists. The exhibition offers an exploration of artistic passions of the people behind the wine. Film Screening: SommJanuary 23 at 7pmfree for Members; $10 for Non-Members Four men will do anything to pass the most difficult test you've NEVER heard of…SOMM takes the viewer on a humorous, emotional and illuminating look into a mysterious world- the Court of Master Sommeliers and the massively intimidating Master Sommelier Exam.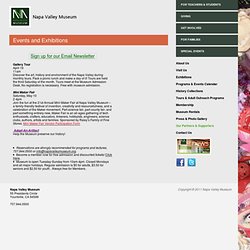 Napa Valley Museum | Art, History and Environment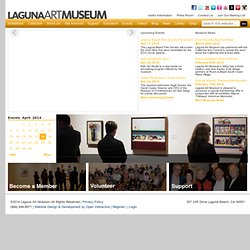 Laguna Art Museum - Laguna Beach, CA Upcoming Events Laguna Beach Film Society Presents Llyn Foulkes: One Man BandJan. 16, 2014An intimate portrait of an artist battling his own demons as well as the perceived demons of the art world.Kids' Art Studio: JanuaryJan. 19, 2014Drop-in art-making activities for children and their families. Talk and Book Signing with Mark A.
Laguna Art Museum – Laguna Beach, CA
Scripps College : Ruth Chandler Williamson Gallery
California African American Museum - Home Page
Home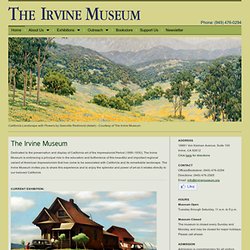 Dedicated to the preservation and display of California art of the Impressionist Period (1890-1930), The Irvine Museum is embracing a principal role in the education and furtherance of this beautiful and important regional variant of American Impressionism that has come to be associated with California and its remarkable landscape. The Irvine Museum invites you to share this experience and to enjoy the splendor and power of art as it relates directly to our beloved California. California Scene Paintings: 1920s-1970s January 18-May 8, 2014 Help cultivate culture in today's children by exposing them to art. Visit our bookstore where we offer books, DVDs and notecards.
Welcome to the Irvine Museum dedicated to the preservation and display of California art of the Impressionist period 1890 - 1930.
California Center For The Arts — Home
Hammer Museum
The Haggin Museum, Stockton, California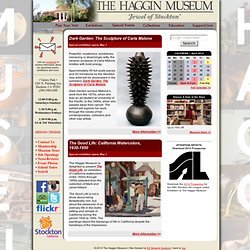 Enjoy an evening of world music performed by Loki Rhythm, a group of diverse Central Valley musicians (mostly Stocktonians) whose sound reflects the deep cultural history of local communities. This performance is included with regular admission, as part of the museum's 1st & 3rd Thursdays series, featuring complimentary wine and snacks beginning at 6:30 p.m. Seating is limited, and will be provided on a first-come, first-served basis.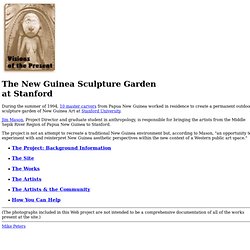 During the summer of 1994, 10 master carvers from Papua New Guinea worked in residence to create a permanent outdoor sculpture garden of New Guinea Art at Stanford University. Jim Mason, Project Director and graduate student in anthropology, is responsible for bringing the artists from the Middle Sepik River Region of Papua New Guinea to Stanford. The project is not an attempt to recreate a traditional New Guinea environment but, according to Mason, "an opportunity to experiment with and reinterpret New Guinea aesthetic perspectives within the new context of a Western public art space." (The photographs included in this Web project are not intended to be a comprehensive documentation of all of the works present at the site.) Mike Peters
The New Guinea Sculpture Garden at Stanford
Queen Califia's Magical Circle Garden
wildlingmuseum
Friday Nights at MOLAA – Latin American Lifestyles Fri., April 11 | 7:00pm Learn about Latin American beverages made using traditional fermentation processes that are rich in health benefits. Friday Nights at MOLAA – En La Noche Fri., April 18 | 6:00pm Kick-start your weekend at En La Noche and enjoy an evening of art, food, drink, music and more with friends and other like-minded cultural enthusiasts! Art Chat and Book Signing with Salomon Grimberg
MOLAA | Home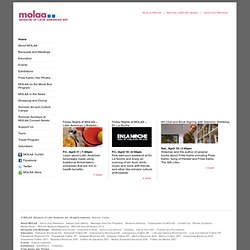 Art Museums in California
Sonoma Valley Museum of Art – Sonoma CA
Upcoming Events Thursday, January 23 | 5:00 - 11:00 PMFirst Art After Hours of Spring 2014 Read More >Saturday, January 25 | 5:00 - 7:00 PMOpening Reception: Mowry Baden: Dromedary Mezzanine Read More >Saturday, January 25 | 5:00 - 7:00 PMOpening Reception: Portraits, Abstractions, and the In-Between: Gathering the Work of Frederick Hammersley Read More >Saturday, January 25 | 5:00 - 7:00 PMOpening Reception: Project Series 48: Andrea Bowers: #sweetjane Read More > Recent News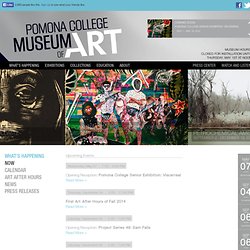 College : Museum of Art
USC Fisher Museum of Art
Inspired by a seminal work in the di Rosa collection by William T. Wiley, Beatnik Meteors presents an exciting group of contemporary regional artists who share an interest in creating platforms for collaborative work. Reflecting on a distinct moment in the 1960s and 1970s when artists increasingly placed film, video, …read more di Rosa teams up with Yerba Buena Center for the Art's monthly ConVerge program series, taking Beatnik Meteors on the road to participate in an evening exploring collaborative authorship and generative platforms in art making today.
di Rosa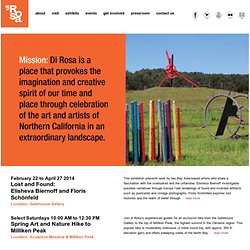 Sonoma County Museum | Arts and History museum in Santa Rosa, California
Bakersfield Museum of Art :
Home » Norton Simon Museum
Home
Berkeley Art Museum and Pacific Film Archive
Korean American Museum
The Museum of Art & History at the McPherson Center - Splash
Triton Museum of Art
The Magnes Collection of Jewish Art and Life
MAK Center Los Angeles
The de Saisset Museum at Santa Clara University - Spring exhibitions and programs at the de Saisset
Santa Barbara Museum of Art > home
Home | The Paley Center for Media
Museum of Art | Westmont College
UAM - UCSB University Art Museum
Claremont Museum of Art
Home | Japanese American National Museum
Website
The Huntington Library
Fresno Art Museum - Home Page
Craft and Folk Art Museum
Rosicrucian Egyptian Museum in San Jose houses the largest collection of Egyptian artifacts on exhibit in western North America
intro
Yerba Buena Center for the Arts | Contemporary Art & Performance
Monterey Museum of Art
San Jose Museum of Quilts and Textiles
San Jose Museum of Art
Museum of Performance & Design
SSU Art Gallery
Thacher Gallery
Campus Tour Fine Arts Building - San Francisco State University
Erreur de chargement de la page
Pasadena Museum of California Art in Los Angeles
Museum of Craft and Folk Art
The Italian American Museum of San Francisco: preserving the heritage of Italian Americans for future generations through art exhibitions, language classes, cultural programs, films, feste, and more! |  Museo Italo Americano
Home | Contemporary Jewish Museum
Long Beach Museum of Art
Pacific Asia Museum
The Museum of Photographic Arts
Museum of Contemporary Art San Diego - MCASD
Mingei International Museum | Folk Art * Craft * Design
Robert V.Fullerton ART MUSEUM,
CCAS Exhibitions
Timken Museum, Balboa Park, San Diego, CA
San Diego Museum of Art
San Diego Art Institute
Charles M. Schulz Museum and Research Center
UCR Sweeney Art Gallery
Riverside Art Museum :: Home
UCR/California Museum of Photography
REDLANDS HISTORICAL GLASS MUSEUM
Home Page
Palm Springs Art Museum
Carnegie Art Museum - Home
Oceanside Museum of Art-North San Diego County Art Museum
Oakland Museum of California
Erreur de chargement de la page
Skirball Cultural Center - Welcome to the Skirball Cultural Center
Home | Autry National Center
ON ROUTE-66LIGHTS: MONA Teams With WEHO
Corita Art Center--Art and Activism of Sister Mary Corita
Home > Architecture and Design Museum > Los Angeles
index
The Clark Center for Japanese Art and Culture
City of Fullerton - Fullerton Museum