Mp3
Your Free Internet Recorder!
Pollux: Automatically Organize and Fix Your Music Library
gettin' taggy wit it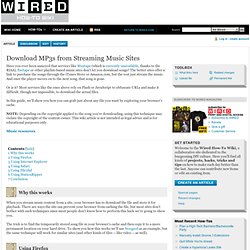 Download MP3s from Streaming Music Sites
From Wired How-To Wiki Have you ever been annoyed that services like Muxtape (which is currently unavailable , thanks to the RIAA), Favtape or other playlist-based music sites don't let you download songs? The better sites offer a link to purchase the songs through the iTunes Store or Amazon.com, but the rest just stream the music. And once the player moves on to the next song, that song is gone. Or is it?