Motorcycle
Blitz Motorcycles - Home
edwige_fenech_laverda.jpg (900×772)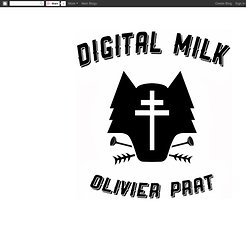 Leopold Geb, Painter, Illustrator, Graffiti Artist. After studying at art school, Geb created his universe around the theme of still lifes staging the macabre and the occult. Of a dark nature, Geb works on a primitive color palette from black to white and following through the different nuances of grey, searching for light in the shadows.
DIGITAL MILK
Hoverbike
Vintage Cycle Service on Vimeo
Deus Customs
I discovered Matt Darwon through his blog Machined and we became friends quite quickly: this australian architects has started another life building great motorcycle like Vincent, Norton, Rudge, Triumph, Guzzis and this last beautyfull 900SS Ducati. You can imagine that this mix between architecture and motorcycle culture suits perfectly to us! Issue #1 is about this legendary Ducati: very high quality photography and a story by Paul d'Orleans
LE CONTAINER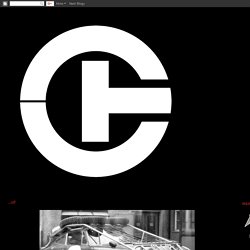 MUSIC VIDEO RIDING SEPTEMBER on Vimeo
Last day, Marty from Redstar Garage , dropped me a mail with this two bobbed Trumps. Usually when it's time to talk about old Triumph's i tend to be super critical and really conservative. But with this hardtail frames and gorgeous details I'm just looking and cannot tell anything. Pure beauties.
CustomZone - The custom side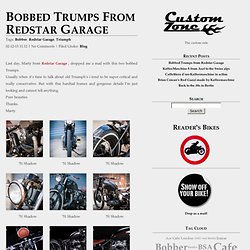 tc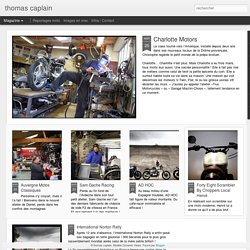 En réalisant son scrambler sur une moto moderne, Hervé lui a donné ce qu'il a de plus brut : l'esprit chopper ! « Le chop, c'est un truc indéfinissable. La liberté à l'état brut. L'esprit tourné vers la route sur des motos uniques, sans aucune contrainte, ni dans la tête, ni sur la moto ! C'est comme ça que j'aime bosser.
As the lines blur between the different styles of custom bike building and builders become more adventurous, it's getting much harder to simply label a custom motorcycle as a Cafe Racer, Tracker, Bobber, etcetera. While this latest build by CRO motorcycles is a self proclaimed Cafe Racer many may argue otherwise (and I'm sure a few of my Facebook followers will!) but personally I think it's evolution at work. If you want to build a period correct Cafe Racer you'd probably never consider a BMW as a donor let alone one released in the late 70's. As older bikes get older and are either falling to bits or cost an arm and a leg to buy we're all looking for alternatives. Bikes like BMW's R65 are available at a good price and offer solid performance and reliability, but using one as the base for a Cafe Racer means it's sometimes necessary to bend the rules.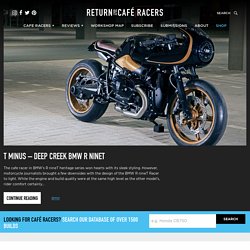 Cafe Racers, Bobbers, Trackers, custom motorcycle parts and builders.
Bon c'est l'hsitoire d'un type qui se pécho un T5 pour tuer le temps en attendant de finir les prépas dans le garage et qui est contacté par TT magazine pour un sujet sur les Speed Triple en raison de la mise en vente du bouzin sur le bon coin, 4 mois après...En couv mon speed, raisonnablement la tête du proprio et de sa bestiole à l'intérieur... Tout ça pour quoi? ben quoi qu'on se le dise, le Speed est une SUPER meule..la preuve, elle t'apporte le journaliste à la maison sans rien avoir bricolé sur ta meule.. Non, sans déc' cette meule est une très, mais alors très bonne meule, pour qui veut s'éclater pour 3000€..la mienne est en vente à 3500, à débattre..
DIRTY BOOTS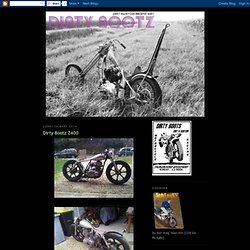 Cafe Beemers
Herr Funk's Yamaha TW125 Some motorcycles just scream fun. Before the Honda Grom there was the Yamaha TW125: A low-riding dual-sport bike that can't decide if it belongs on the beach or the farm. With low gearing and big tires, it's also at home on potholed city streets—as Maximilian Funk has found.
Cafe racers, custom motorcycles and bobbers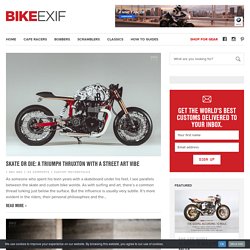 bubble visor
southsiders
Our friend Matt Darwon "Matt Machine" from Australia has been for long now in the classic and custom bike scene. He's a skilled builder and the long hours spent in his garage wrenching motors have developped an ability for spotting details . It is maybe a reason why the idea came to start a new kind of magazine focusing on one bike per issue. The Issue one will talk about the iconic 900SS Ducati.
The Vintagent
It's true there's an essay in every photo, but the story's always better when the image is packed with exceptional machinery and good clues to the date.. The 1953 Chevrolet Bel Air convertible in the background was brand new when this shot was taken at the Bonneville Salt Flats, and the Vincent Black Lightning (#9) in the photo is a famous machine which changed configuration dramatically by 1954... so I'm fairly certain we're gazing from the top of a ladder through a magic window onto September 4th, 1953. Marty Dickerson is being push-started at the head of the line, on his infamous 'Blue Bike'; he is about to break the magic 150mph barrier for a 'Class C' production machine on one run, while his record average was 147mph...all the more impressive as the rules limited machines to 90 octane pump fuel and an 8:1compression ratio. Dickerson's record stood from this day in 1953 until 1973, when a Kawasaki Z1 broke it (at 155mph).