Motorcycle
Blitz Motorcycles - Home
edwige_fenech_laverda.jpg (900×772)
DIGITAL MILK
Hoverbike
Vintage Cycle Service on Vimeo
Deus Customs
I discovered Matt Darwon through his blog Machined and we became friends quite quickly: this australian architects has started another life building great motorcycle like Vincent, Norton, Rudge, Triumph, Guzzis and this last beautyfull 900SS Ducati. You can imagine that this mix between architecture and motorcycle culture suits perfectly to us! Issue #1 is about this legendary Ducati: very high quality photography and a story by Paul d'Orleans
LE CONTAINER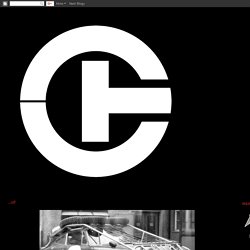 MUSIC VIDEO RIDING SEPTEMBER on Vimeo
Last day, Marty from Redstar Garage , dropped me a mail with this two bobbed Trumps. Usually when it's time to talk about old Triumph's i tend to be super critical and really conservative. But with this hardtail frames and gorgeous details I'm just looking and cannot tell anything. Pure beauties.
CustomZone - The custom side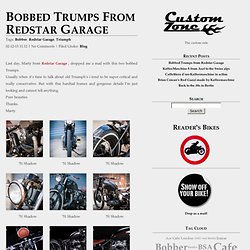 tc
It's been a bit quiet around here of late, but never fear I am back into the swing of regular updates as of today. Why the blog silence you ask? Well for starters I've just spent the last 4 months building the Kustom Kommune workshop with my business partner Jimmy Goode and I've been too knackered to sit in front of the computer after 12 hours on the tools, then we hosted Oil Stained Brain #2 at the start of November which was awesome but very time consuming, I also wrapped up the second issue of Tank Moto with the team at Fuel Press and I've just returned home from the Yokohama Mooneyes Hot Rod & Customs show in Japan (AMAZING!!!). While it's been disappointing to have not updated the site as much as I'd like I now have plenty of awesome things to share with you from all these adventures, so get ready for some great features in the coming weeks. Thanks for your ongoing support and devoted readership.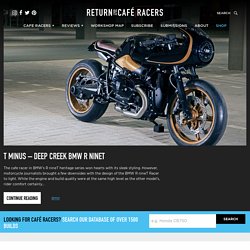 Cafe Racers, Bobbers, Trackers, custom motorcycle parts and builders.
Bon c'est l'hsitoire d'un type qui se pécho un T5 pour tuer le temps en attendant de finir les prépas dans le garage et qui est contacté par TT magazine pour un sujet sur les Speed Triple en raison de la mise en vente du bouzin sur le bon coin, 4 mois après...En couv mon speed, raisonnablement la tête du proprio et de sa bestiole à l'intérieur... Tout ça pour quoi? ben quoi qu'on se le dise, le Speed est une SUPER meule..la preuve, elle t'apporte le journaliste à la maison sans rien avoir bricolé sur ta meule.. Non, sans déc' cette meule est une très, mais alors très bonne meule, pour qui veut s'éclater pour 3000€..la mienne est en vente à 3500, à débattre..
DIRTY BOOTS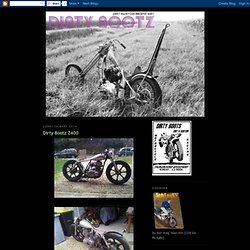 Cafe Beemers
Herr Funk's Yamaha TW125 Some motorcycles just scream fun. Before the Honda Grom there was the Yamaha TW125: A low-riding dual-sport bike that can't decide if it belongs on the beach or the farm. With low gearing and big tires, it's also at home on potholed city streets—as Maximilian Funk has found.
Cafe racers, custom motorcycles and bobbers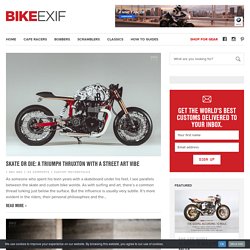 bubble visor
southsiders
Our friend Matt Darwon "Matt Machine" from Australia has been for long now in the classic and custom bike scene. He's a skilled builder and the long hours spent in his garage wrenching motors have developped an ability for spotting details . It is maybe a reason why the idea came to start a new kind of magazine focusing on one bike per issue. The Issue one will talk about the iconic 900SS Ducati.
The Vintagent
There are several de facto motorcycle conventions around the world, but none quite like the annual Las Vegas motorcycle auction week in early January. There isn't a swap meet or evening entertainment, not a banquet or panel discussion or even art show, although elements of all these can be found at Vegas. The focus is the auctions, even though hundreds of people arrive with no intention of bidding on anything, content to meet friends from distant places. Some buy bikes they weren't expecting, some take home bikes they expected to sell...such is the unpredictable mystery of the auction process. What can we glean from this year's auctions?