Motor racing vintage
OldRacingCars.com - racing car history
Classic Car Auctions | Gooding and Company
Race Sign Specialists - Vinyl Graphics for Trailers, Race Cars and Street Cars and Paint Protection Film from 3Mreg;
Vintage Motorsport - The Journal of Motor Racing History
Special Posters Wanted
Racing decals & emblems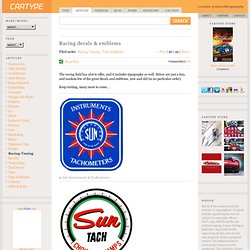 The racing field has alot to offer, and it includes typography as well. Below are just a tiny, and random few of the great decals and emblems, new and old (in no particular order). Keep visiting, many more to come... Sun Instruments & Tachometers.
PeterQuinn Photos
Eoin Young's Motor Memorabilia
Ferrari Cartier Watch, Vintage Trophies, Nascar and F1 Racing Merchandise
Charity Signed Stamp Covers
Vic Elford: official web site
From Interlagos - The dominance of the Williams prompts McLaren to release the MP4-7 ahead of schedule. continue reading… Yes, Nico Rosberg knows where to go, for classic F1 video action! continue reading… From Montreal - A classic battle between the 'fab-four', with a certain Finnish driver, continually throwing spanners in the works. continue reading… From Monte Carlo - A threat of rain before the race, caused many to roll the dice. continue reading… From Suzuka - High-drama for the the leading contenders, presents opportunities for those down the order. continue reading…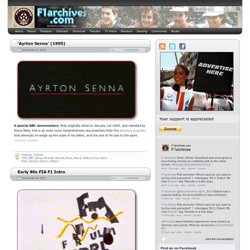 The Home of Classic F1 Video.
Large Scale Models - The Car Experience - Collector Motorsport Gallery
Ferrari Gauld Mine by Graham Gauld
The Modern Motor Car Three Dimensional Engineering Cut Out Displays | Automobilia Planet
OldRacingCars.com - racing car history