Motor racing vintage
OldRacingCars.com - racing car history. OldRacingCars.com - racing car history. Classic Car Auctions | Gooding and Company.
Bodycard 0008
Race Sign Specialists - Vinyl Graphics for Trailers, Race Cars and Street Cars and Paint Protection Film from 3Mreg; Vintage Motorsport - The Journal of Motor Racing History. Special Posters Wanted. Racing decals & emblems. The racing field has alot to offer, and it includes typography as well.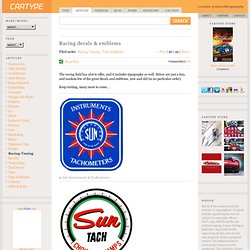 Below are just a tiny, and random few of the great decals and emblems, new and old (in no particular order). Keep visiting, many more to come... Sun Instruments & Tachometers. Motor Sport Memorabilia. MOTOR RACING INTERESTS. PeterQuinn Photos. Eoin Young's Motor Memorabilia. Ferrari Cartier Watch, Vintage Trophies, Nascar and F1 Racing Merchandise. THE GOLDEN ERA OF GP RACING - MAIN DIRECTORY. Charity Signed Stamp Covers. Vic Elford: official web site. Large Scale Models - The Car Experience - Collector Motorsport Gallery. Ferrari Gauld Mine by Graham Gauld.
---