Motor racing vintage
OldRacingCars.com - racing car history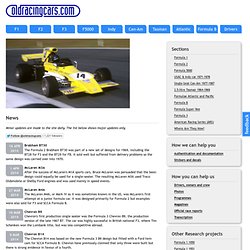 Minor updates are made to the site daily. The list below shows major updates only. 22 Sep 2013 McLaren M18 updates The successor to the M10 series was a bit of a flop but eight were still built.
OldRacingCars.com - racing car history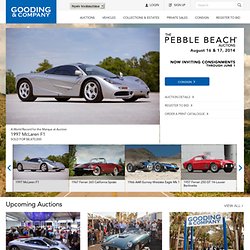 Classic Car Auctions with Gooding & Company Consign: An Introduction Lot 134 – 1929 Bentley Speed Six Grafton Coupe Lot 136 – 1956 Maserati 150S Jay Leno's 2012 Fiat 500 Prima Edizione
Classic Car Auctions | Gooding and Company
Race Sign Specialists - Vinyl Graphics for Trailers, Race Cars and Street Cars and Paint Protection Film from 3Mreg;
Vintage Motorsport - The Journal of Motor Racing History
Special Posters Wanted
Racing decals & emblems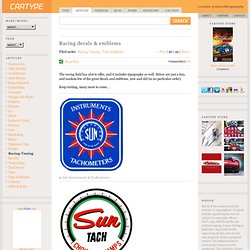 The racing field has alot to offer, and it includes typography as well. Below are just a tiny, and random few of the great decals and emblems, new and old (in no particular order). Keep visiting, many more to come... Sun Instruments & Tachometers.
PeterQuinn Photos
Eoin Young's Motor Memorabilia
Ferrari Cartier Watch, Vintage Trophies, Nascar and F1 Racing Merchandise
Charity Signed Stamp Covers
Vic Elford: official web site
Large Scale Models - The Car Experience - Collector Motorsport Gallery
Ferrari Gauld Mine by Graham Gauld