MOOCs
Welcome to the MOOC team on Pearltrees! We aim to build a vibrant set of links and resources about MOOCs, with the goal of making some sense of and identify patterms within the various types of these learning communinties and experiences called MOOCs. debmorrison Feb 24
Whether you are looking for a master's degree program, computer science classes, a K-12 curriculum, or GED study program, this list gives you a look at 50 websites that promise education for free. From databases that organize over 1,000,000 students throughout 16 universities, to a small library of documents for those interested in history, the opportunities for free online learning continue to expand as the Internet becomes a crucial component in education. 1.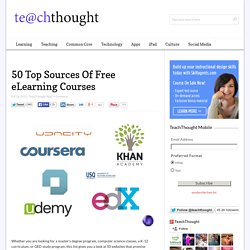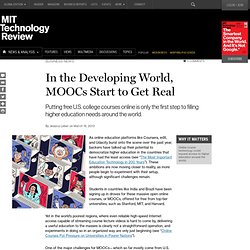 How MOOCs Could Meet the Challenge of Providing a Global Education
As online education platforms like Coursera, edX, and Udacity burst onto the scene over the past year, backers have talked up their potential to democratize higher education in the countries that have had the least access (see " The Most Important Education Technology in 200 Years "). These ambitions are now moving closer to reality, as more people begin to experiment with their setup, although significant challenges remain. Students in countries like India and Brazil have been signing up in droves for these massive open online courses, or MOOCs, offered for free from top-tier universities, such as Stanford, MIT, and Harvard.
Digital Learning Transition - FI
The DLT MOOC-Ed will help you understand the potential of digital learning, assess progress and set future goals for your school or district, and plan how you and your colleagues will proceed to achieve those goals. It is designed for school and district leaders involved in planning and implementing K-12 digital learning initiatives. We recommend that members of school or district planning teams participate together, but individual educators are also welcome. NOTE: You will need a Google Account to register for DLT MOOC-Ed. If you do not have a Google or Gmail account, you can create a Google Account by going to the Account Creation page.
U. of California faculty union says MOOCs undermine professors' intellectual property
Faculty union officials in California worry professors who agree to teach free online classes could undermine faculty intellectual property rights and collective bargaining agreements. The union for faculty at the University of California at Santa Cruz said earlier this month it could seek a new round of collective bargaining after several professors agreed to teach classes on Coursera , the Silicon Valley-based provider of popular massive open online classes, or MOOCs. The Santa Cruz Faculty Association 's concern highlights an emerging tension as professors begin to teach MOOCs and, in turn, become academic stars to tens of thousands of students who sign up for the free classes. Santa Cruz is the only UC campus to have a unionized tenure-track faculty, so the exchange there is perhaps unique, but the issues there are not.
Massive Open Online Courses Prove Popular, if Not Lucrative Yet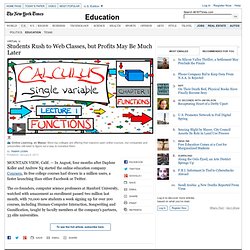 The co-founders, computer science professors at Stanford University, watched with amazement as enrollment passed two million last month, with 70,000 new students a week signing up for over 200 courses, including Human-Computer Interaction, Songwriting and Gamification, taught by faculty members at the company's partners, 33 elite universities. In less than a year, Coursera has attracted $22 million in venture capital and has created so much buzz that some universities sound a bit defensive about not leaping onto the bandwagon. Other approaches to online courses are emerging as well. Universities nationwide are increasing their online offerings, hoping to attract students around the world. New ventures like Udemy help individual professors put their courses online. Harvard and the Massachusetts Institute of Technology have each provided $30 million to create edX.
During the past decade, the distribution of content over the Internet and its consumption on computers and mobile devices has disrupted several industries -- newspapers, book publishing, music and films, among others. Now education joins that list, thanks to the emergence of massive open online courses, or MOOCs. These courses, which are offered for free to tens of thousands of students, cover topics ranging from artificial intelligence and computer science to music and poetry appreciation. As millions of students around the world flock to participate in MOOCs, universities are being compelled to rethink what it means to teach and to learn in a networked, globally connected world. During the past 18 months, many educational institutions have initiated or joined ventures that can help them explore, experiment in and gradually understand this phenomenon.
MOOCs on the Move: How Coursera Is Disrupting the Traditional Classroom
How To Build MOOC's that Fail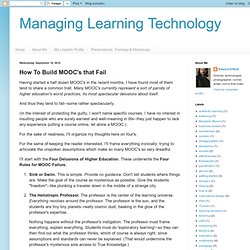 Having started a half dozen MOOC's in the recent months, I have found most of them tend to share a common trait. Many MOOC's currently represent a sort of parody of higher education's worst practices, its most spectacular delusions about itself. And thus they tend to fail--some rather spectacularly. (In the interest of protecting the guilty, I won't name specific courses. I have no interest in insulting people who are surely earnest and well-meaning in life--they just happen to lack any experience putting a course online, let alone a MOOC.) For the sake of neatness, I'll organize my thoughts here on four's.
Review of "Computational Investing, Part I" taught by Tucker Balch « the augmented trader
This is a summary of survey responses for students who may be interested in taking the second offering of this course starting February 22, 2013. It is based on survey responses by 2,350 students who enrolled in Fall 2012. Related articles Overview If you are considering to take the course, please take a look at the results of this survey.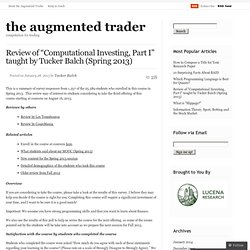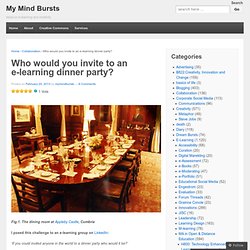 i 1 Vote Fig.1. The dining room at Appleby Castle , Cumbria I posed this challenge to an e-learning group on LinkedIn : 'If you could invited anyone in the world to a dinner party who would it be?'
Who would you invite to an e-learning dinner party? | My Mind Bursts
We read in a New York Times lead editorial -- http://www.nytimes.com/2013/02/19/opinion/the-trouble-with-online-college.html?hp&_r=0 -- that online learning does not work very well. Or we read or hear, from numerous sources, that MOOCs (as one form of online learning) are either the wave of the future or, maybe, the end of college as we know it. Confusion reigns. How should we think about the accelerated growth in online learning opportunities and MOOCs -- Massive Open Online Courses?
Batson Blog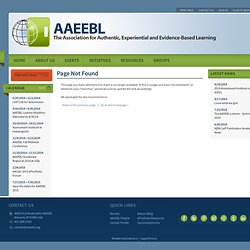 I don't usually like to title a post with negative connotations, but there is no way to put a positive spin on my experience with the MOOC I'm enrolled in through Coursera , Fundamentals of Online Education: Planning and Application. The course so far is a disaster, 'a mess' as numerous students have called it. Ironically, the learning outcome of the course is to create our own online course. To be fair, there are some good points to the course, but there are significant factors contributing to a frustrating course experience for students, myself included. Group Chaos There are three key factors contributing to this course calamity and all link to the group assignment.
News-of-the-Week: Coursera Professor Quits, Making Degrees Cheaper without MOOCs, and Open Data Day
In this 'Need-to-Know' blog post series my goal is to share noteworthy stories with readers that speak of need-to-know developments within higher education and K-12 that have the potential to influence, challenge and/or transform the traditional model of education. Screenshot of Coursera's new interactive tool that shows the global student base, as well as the university partners. From Coursera's blog.
In this 'Need-to-Know' blog post series I aim to share noteworthy stories with readers that speak of developments within higher education and K-12 that have potential to influence, challenge and/or transform the traditional model of education. This week there were two interesting developments in the education news —I've briefly summarized each, highlighted key need-to-know points, and included links that will take readers to sites that will provide multiple perspectives on the issues. The announcements are significant enough that at some level educators will likely encounter the topics in discussions, meetings or learning communities. 1) "A Bill of Rights and Principles for Learning in the Digital Age" This 'Bill' released this week, was not put forth by an organization or institution as one might think, but by a group of twelve: educators, technologists and journalists including Sebastian Thrun, founder of Udacity .
Need-to-Know News of the Week: A 'Bill' to Protect Online Students and a MOOC2Degree Program
White Paper- Making Sense of MOOCs
UPDATE 08.14.2012: This week marks the launch of MOOC MOOC , and given the insane amount of content that's already been produced, we're going to hold off on updating this ongoing list o' links. You can join in here , learn more here or follow along here . We've been following the MOOC (Massive Open Online Course) movement for a couple years now because we and our clients are all engaged in online learning at some level, be it totally online, flipped or hybrid, or just lecture capture for on-demand replay. This spring, we had the opportunity to talk to many of our 1000 higher education clients at our Mediasite User Conference and other events like Sloan-C and UBTech .
The Community Course: A MOOC Alternative
Massive Open Online Courses in the Developing World
Online Courses Look for a Business Model
What Part of MOOC Don't You Understand?
Arizona universities looking at free online courses to complement traditional offerings
ACE to Assess Potential of MOOCs, Evaluate Courses for Credit-Worthiness
American Council on Education
Gates foundation and ACE go big on MOOC-related grants
Gates Seeks Development of Remedial Ed MOOCs
The real economics of massive online courses (essay)
Massive Open Online Course -- A Threat Or Opportunity To Universities?
Will MOOCs Promote Superstar Teaching Over Superstar Research At Princeton And Other Ivy Universities?
What could possibly go wrong with MOOCs? The Seven Deadly Sins as Strategy « Innovate.EDU
Could MOOCs lead to the decline of branch campuses?
Innovating Education
Playing the Role of MOOC Skeptic: 7 Concerns
Site-based testing deals strengthen case for granting credit to MOOC students
MOOCs, MOCCs, and HarvardX
Essay on what MOOCs are missing to truly transform higher education
Overblown-Claims-of-Failure Watch: How Not to Gauge the Success of Online Courses - Rebecca J. Rosen
Before You Jump on the Bandwagon.... - Commentary
Pushing Through The Perils of Teaching Online
Here a MOOC, There a MOOC: But Will It Work for Freshman Composition? - Wired Campus
New Forms of Assessment: measuring what you contribute rather than what you collect
Big MOOC Coursera Moves Closer to Academic Acceptance
Moody's: Massive open online courses carry mixed credit implications for Higher Ed 12.09
California to Give Web Courses a Big Trial
Online university for the masses!
Slouching Towards Bethlehem: Unpacking the MOOC as Buzzword
Earning college credit for MOOCs through prior learning assessment
Faculty groups consider how to respond to MOOCs
Tips for college leaders to make online programs work