FRAMEWORKS
10 New Frameworks for Mobile Web App Developers
One certain limitation in Web development is time and how long it takes to get things up and running. Thankfully, frameworks and libraries can help us focus on creating rather than figuring stuff out. Here, we've collected 10 frameworks and libraries that will help you save up your time and energy to create the actual website or application and make your web development more effective. 1. DHTMLX Touch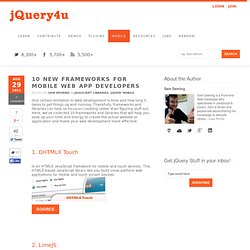 Take advantage of the strengths of PhoneGap. Build great apps powered by open web standards. Cut down on development time by re-using your existing web dev skills, frameworks and tools. Get all the benefits of cross-platform development while building apps just the way you like.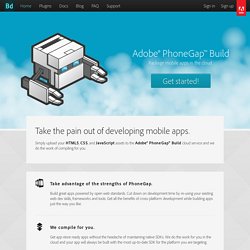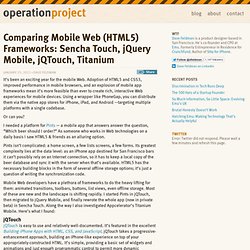 Comparing Mobile Web (HTML5) Frameworks: Sencha Touch, jQuery Mobile, jQTouch, Titanium « InterfaceThis - Dave Feldman rants about product design
It's been an exciting year for the mobile Web. Adoption of HTML5 and CSS3, improved performance in mobile browsers, and an explosion of mobile app frameworks mean it's more feasible than ever to create rich, interactive Web experiences for mobile devices. Using a wrapper like PhoneGap, you can distribute them via the native app stores for iPhone, iPad, and Android —targeting multiple platforms with a single codebase. Or can you? I needed a platform for Pints — a mobile app that answers answer the question, "Which beer should I order?" As someone who works in Web technologies on a daily basis I saw HTML5 & friends as an alluring option.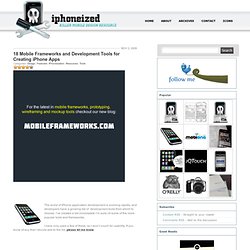 The world of iPhone application development is evolving rapidly, and developers have a growing list of development tools from which to choose. I've created a list (incomplete I'm sure) of some of the more popular tools and frameworks. I have only used a few of these, so I won't vouch for usability. If you know of any that I should add to the list, please let me know.
18 Mobile Frameworks and Development Tools for Creating iPhone Apps
iphone - iWebkit vs. JQTouch vs. iUI