Mobile developments
Expert SEO, Olivier Andrieu publie aujourd'hui un ebook dédié au référencement des sites mobiles dans la collection JDN Premium. Extraits. Le Web mobile est la nouvelle terre promise des créateurs de sites et, peut-être bientôt, des référenceurs. Ce vaste territoire encore peu colonisé offre de nombreuses possibilités en matière de positionnement marketing.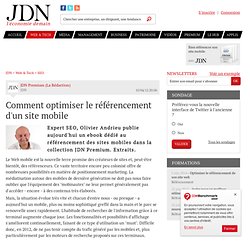 Create World Class HTML5 Apps & Web Apps with the XDK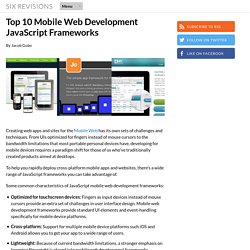 Creating web apps and sites for the Mobile Web has its own sets of challenges and techniques. From UIs optimized for fingers instead of mouse cursors to the bandwidth limitations that most portable personal devices have, developing for mobile devices requires a paradigm shift for those of us who've traditionally created products aimed at desktops. To help you rapidly deploy cross-platform mobile apps and websites, there's a wide range of JavaScript frameworks you can take advantage of.
This article has been updated. A more current list of tools can be found here: "30+ Tools for Building Mobile Apps." Please visit that page instead! These days, everyone wants to build their own iPhone applications, but not everyone knows how write the code necessary in order to create them. Fortunately, there are now a number of tools that allow non-developers the ability to create their own iPhone apps without knowing programming or scripting.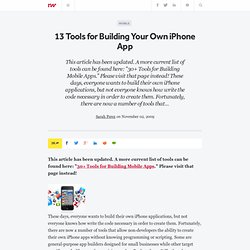 iPad & iPhone publishing apps | YUDU
Easi-App If you are looking for an affordable entry-point app designed for both iOS and Android, our Easi-App product is a great starting point. The app acts as a container holding a number of your publications.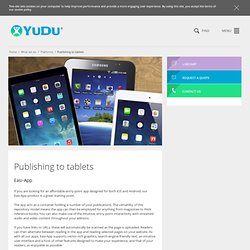 Sencha Touch Kitchen Sink The Kitchen Sink is an app that showcases all of the UI widgets, data features, animations, themes, and touch events offered by Sencha Touch. The app also features an easy way to view the live source of each demo — making it a great introduction to the framework. The Kitchen Sink works on both phones and tablets and can also be previewed in any WebKit-based browser, such as Apple Safari or Google Chrome. View the Kitchen Sink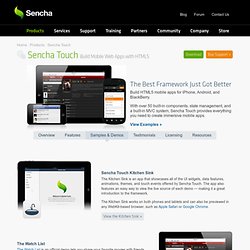 What is jQuery? jQuery is a fast, small, and feature-rich JavaScript library. It makes things like HTML document traversal and manipulation, event handling, animation, and Ajax much simpler with an easy-to-use API that works across a multitude of browsers.
iPhone Pinch Gestures