Onlinetools
Urban Dictionary, August 4: Stall stall. Online Search Tools. Google. Google. Recorded Future - Temporal & Predictive Analytics Engine, Media Analytics & News Analysis. Ask something... - www.mshd.net. Web tools/APIs 2. Public Records - State Records – County Records - Find People | Publicrecordfinder.com.
Google Cloud. The 101 Most Useful Websites on the Internet. 06 Apr 2014 The 101 Most Useful Websites on the Internet is a frequently updated list of lesser-known but wonderful websites and cool web apps. couch mode print story Here are some of the most useful websites on the internet that you may now know about.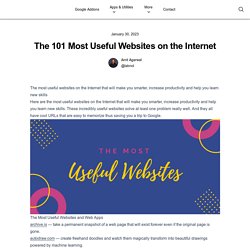 These web sites, well most of them, solve at least one problem really well and they all have simple web addresses (URLs) that you can memorize thus saving you a trip to Google. Web Analytics. Content Curation - Tools.
---