Ministries
Richard Roberts :: Oral Roberts Ministries | Bringing the Saving, Healing, Delivering Power of Jesus to the World for over 60 years!
Rick Warren - Home
Morris Cerullo World Evangelism | Welcome
Pastor Benny Hinn - Benny Hinn Ministries
Freedom Ministries -- Jesus is King -- Go for it! - Testimonies
Lester Sumrall
John Hagee Ministries
Home - International Christian Ministries In this section we offer a concise directory of Christian ministries from around the world, all arranged by category. Only ministries that have an international or global reach are listed in this section. Select a category below to begin your search.
Christian Ministry Directory | The Jesus Site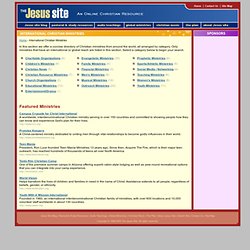 Marilyn and Sarah
Zola Levitt Ministries
Welcome to the official website of Evangelist Jimmy Swaggart, containing details of the Family Worship Center and the SonLife Broadcasting Network, including direct links to the websites of Frances Swaggart, Evangelist Donnie Swaggart, Pastor Gabriel Swaggart and other extensions of the ministry. The website also contains our 'Shop', where you can make online purchases of JSM merchandise such as The Expositor's Study Bibles, Music, Preaching & Teaching CD's, DVD's, Study Guides, Commentaries, and Books. The anointed teaching, preaching and music of Jimmy Swaggart, Donnie Swaggart, Gabriel Swaggart, and the ministers and musicians of Family Worship Center can now be accessed 24hrs a day through Jimmy Swaggart Ministries' SonLife Broadcasting Network, experience the difference today!
Jimmy Swaggart Ministries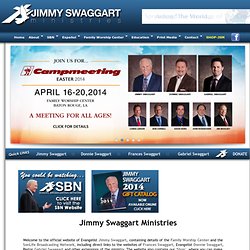 The Directory of the Ministry is a guide to congregations, agencies, and personnel choosing to be identified with a fellowship presently known as Christian Churches and Churches of Christ and historically referred to as the "Restoration Movement" led in its earliest American expressions by Thomas Campbell, Alexander Campbell, Barton W. Stone, and Walter Scott, among others. Congregations in this fellowship have generally chosen not to be identified with the denomination corporately known as The Christian Church (Disciples of Christ) and have chosen not to make the use of musical instruments in church meetings a test of fellowship.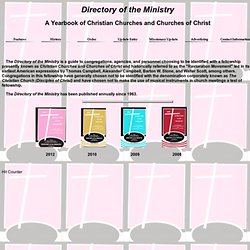 Directory of the Ministry
Robert Tilton Ministries
An excerpt from Robert Tilton's free book, "Oh Lord, I Pray Send Now Prosperity""While we do not look at the things which are seen, but at the things which are not seen. For the things which are seen are temporary, but the things which are not seen are eternal (II Corinthians 4:18)" Meditation: Look beyond the obvious.
Word Of Life Center || Shreveport, Louisiana
ywam.org / Home - YWAM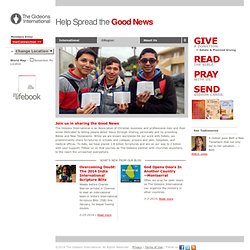 More than Missionaries The Gideons International is an interdenominational association of Christian business and professional men who are members of Protestant/evangelical churches. Our members are dedicated to saving the lost through personal witnessing and the distribution of God's Word in more than 190 countries around the world. The majority of Gideons live and serve in their local communities, making us very effective and efficient because . . .
The Gideon's International
Christ for all Nations: Reinhard Bonnke, evangelist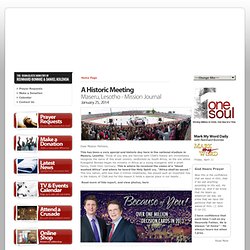 Dear Mission Partners, This has been a very special and historic day here in the national stadium in Maseru, Lesotho. Those of you who are familiar with CfaN's history will immediately recognize the name of this small country, landlocked by South Africa, as the one where Evangelist Bonnke began his ministry in Africa as a young evangelist with a small family, fresh from Germany. This is where he received the vision of a "blood washed Africa" and where he heard the Holy Spirit cry, "Africa shall be saved." This tiny nation, with less than 2-million inhabitants, has played such an important role in the history of CfaN and for this reason it holds a special place in our hearts...
LIFE TODAY | LIFE Outreach International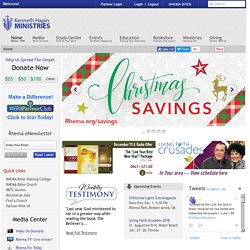 Kenneth Hagin Ministries - Rhema Store - Rhema Bible
FAMILY BUIDERS: Lessons for the Whole Family During Easter Christians celebrate Easter as the anniversary of the resurrection of the Lord Jesus Christ. But the holiday also serves as a reminder to believers of all ages that they also are resurrected with Christ!
Jesse Duplantis Ministries
Kenneth Copeland Ministries - Celebrating 45 Years of Victory!
The 700 Club with Pat Robertson | CBN.com Christian Broadcasting Network