Ministries
Richard Roberts :: Oral Roberts Ministries | Bringing the Saving, Healing, Delivering Power of Jesus to the World for over 60 years!
Rick Warren - Home
Morris Cerullo World Evangelism | Welcome
Pastor Benny Hinn - Benny Hinn Ministries
Freedom Ministries -- Jesus is King -- Go for it! - Testimonies
Lester Sumrall
John Hagee Ministries
Home - International Christian Ministries
Christian Ministry Directory | The Jesus Site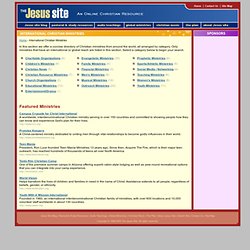 Marilyn and Sarah
Zola Levitt Ministries
Jimmy Swaggart Ministries
Directory of the Ministry
Robert Tilton Ministries
Word Of Life Center || Shreveport, Louisiana
ywam.org / Home - YWAM
The Gideon's International
Christ for all Nations: Reinhard Bonnke, evangelist
LIFE TODAY | LIFE Outreach International
Kenneth Hagin Ministries - Rhema Store - Rhema Bible
Jesse Duplantis Ministries
Kenneth Copeland Ministries - Celebrating 45 Years of Victory!
The 700 Club with Pat Robertson | CBN.com Christian Broadcasting Network