MineCraft
Welcome everyone, what we are looking to do it build the best and if possible most organized collection of all things minecraft lets see if this is possible :D cronus87 May 7
Video Clips (mod vids are in mod Ptree)
Minecraft is a game about breaking and placing blocks. At first, people built structures to protect against nocturnal monsters, but as the game grew players worked together to create wonderful, imaginative things. It can also be about adventuring with friends or watching the sun rise over a blocky ocean.
Minecraft Direct Download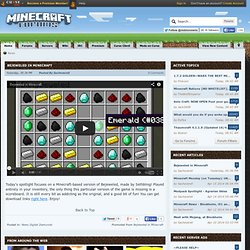 magib's map creates the game in more ways than one; aside from having the ability to place your ships as you see fit, and the usual "take shots at where you think their ships are" mechanics which are standard, his map also spawns a ship model for every ship a player deploys, which will get "shot" with deployed TNT on a hit. It's crazy fun! If you want to try out this insane map for yourself, be sure to drop by the Battleship thread, which has the download links. Enjoy!
REGISTER NOW