MindOnSite
Le partage des fichiers via un réseau Wifi est une des techniques les plus confortables et pratiques notamment pour les téléphones mobiles dont le principe est de mobilité l'exige. Pour un appareil Iphone il existe plusieurs applications gratuites qui nous facilitent l'envoi des fichiers surtout les photos que je voudrais partager avec vous. 1° Wifi Photo Sharing: est une application gratuite qui permet à ses utilisateurs de partager leurs photos via le réseau Wifi sans aucun autre outil installé. 2° Photo File Share: cette application permet d'envoyer des photos via le meme réseau Wifi ou le bluetooth. Facile à utiliser, il suffit de vérifier l'existence de deux appareils sur le réseau, selectionner la photo à envoyer et cliquer sur "send photo".3° Photo Sender Lite est une autre belle application plus performante dans l'envoi des photos via son appareil Iphone.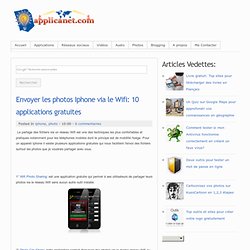 Envoyer les photos Iphone via le Wifi: 10 applications gratuites
Untitled Document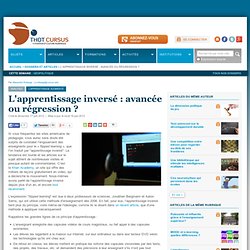 L'apprentissage inversé : avancée ou régression ?
Si vous fréquentez les sites américains de pédagogie, vous aurez sans doute été surpris de constater l'engouement des enseignants pour le « flipped learning », que l'on traduit par "apprentissage inversé". La tendance est lourde et les articles sur le sujet attirent de nombreuses visites et presque autant de commentaires. C'est la Khan Academy, un site qui offre des milliers de leçons gratuitement en vidéo, qui a déclenché le mouvement. Nous-mêmes avons parlé de l'apprentissage inversé depuis plus d'un an, et encore tout récemment. L'expression "flipped learning" est due à deux professeurs de sciences, Jonathan Bergmann et Aaron Sams, qui ont utilisé cette méthode d'enseignement dès 2006.
Personal Learning Environment | iTeachU
Information Fluency provides a model for educational activities; the Personal Learning Environment (PLE) is the place where those activities happen. Just as learning activities and their products map to the three areas that comprise Information Fluency, those activities and their products can be mapped to different tools and resources. About the "PLE" Personal The PLE is personal because the people, applications, tools, resources, and services are chosen to match our individual, idiosyncratic needs.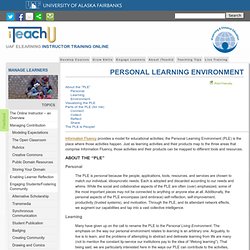 Personal Learning Environments
Congreso Internacional Formacion Madrid 2012
What The Most Successful People Do Before Breakfast
Ruth Clark Claims "Games Don't Teach"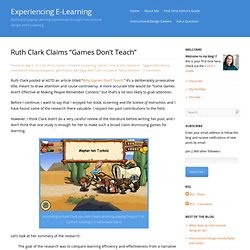 Ruth Clark posted at ASTD an article titled "Why Games Don't Teach." It's a deliberately provocative title, meant to draw attention and cause controversy. A more accurate title would be "Some Games Aren't Effective at Making People Remember Content," but that's a lot less likely to grab attention. Before I continue, I want to say that I enjoyed her book, eLearning and the Science of Instruction, and I have found some of the research there valuable. I respect her past contributions to the field.
To be an effective designer it helps to understand how people learn | Clive on Learning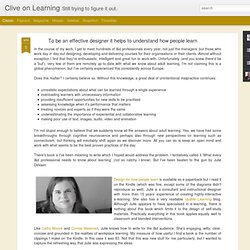 In the course of my work, I get to meet hundreds of l&d professionals every year, not just the managers, but those who work day in day out designing, developing and delivering courses for their organisations or their clients. Almost without exception I find that they're enthusiastic, intelligent and great fun to work with. Unfortunately (and you knew there'd be a 'but'), very few of them are remotely up-to-date with what we know about adult learning. I'm not claiming this is a global phenomenon, but I've certainly experienced this consistently across Europe. Does this matter? I certainly believe so.
It's not about knowledge transfer
In 2009 I listened to Peter Senge's keynote address at the CSTD national conference. His research findings showed that the average life expectancy of large companies is about 30 years, but some are over 200 years old, and the key driver for their longevity is organizational learning. Individual learning in organizations is irrelevant, as work is almost never done by one person alone. Knowledge, Senge said, is the capacity for effective action (know how) and it is the only aspect of knowledge that really matters in business and life. Value is created by teams and mostly by networks of people. While learning may be generated in teams, this type of knowledge comes and goes.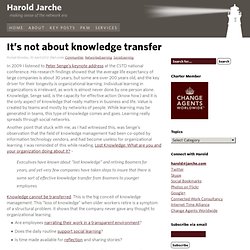 Six years ago few people believed that informal learning made much of a difference. Today's common wisdom is that most workplace learning is experiential, unplanned, social, and informal. Informal learning tops many training department agendas. Companies are attracted by the low price tag. However, few of them are doing much systematically.
The new workplace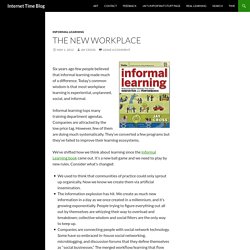 The Future of Work and Learning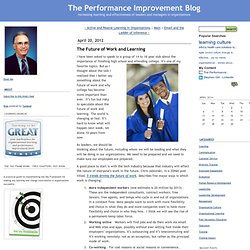 I have been asked to speak to a group of 14 to 16 year olds about the importance of finishing high school and attending college. It's one of my favorite topics. But as I thought about the talk I realized that I better say something about the future of work and why college has become more important than ever.
« Comment m'y prendre pour qu'ils s'approprient cette nouvelle notion, ce nouveau geste professionnel, de la manière la plus efficiente possible ?»... questionnement incessant du formateur, de l'intervenant, dans la préparation de sa formation. Comment apprendre à apprendre ?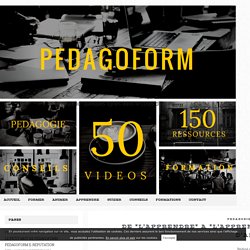 http://flirtingwelearning.files.wordpress.com/2011/09/adult-learning1.jpg
The Streaming Source.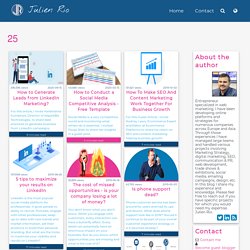 Each business, association, website, blog needs promotion. Rare are those which can rely only on Words of Mouth and natural refering. Except if you are a big corporation with sufficient funds to advertise on TV, you will certainly search for cheap but efficient ways to promote your actions. When you search the internet for ways to promote your website, you'll be advised by almost everybody to use a forum. However, before you start, you'll first need to know how to use this powerful tool. Step 1.
How to use a forum for promotion JulienRio.com
The rise of the introvert
Between a third and a half of the people you manage are not fulfilling their potential. The way they think, the way they communicate, and the way they work are at odds with modern business culture. And it is getting worse.
Figuring out the return on investment (ROI) for a learning management system (LMS) is not an easy task. But, it is import to understand the value the right learning platform can provide and the benefits to employee performance. To make finding the ROI for your training investment easier, I have added a handy calculator to the end of this article.
Learning 2.0 Actualités sur le groupe
Ten LMS Features Most L&D Experts Don't Really Care About
e-learning – Le temps du 3.0
7 Strategies to Make Your Online Teaching Better
Le Blended Learning, nouvel horizon de MindOnSite