Mind Tools (quizzes, tips)
Wix Review 2014 | Create Your Own Stunning Website. If building a beautiful and interactive website is a priority for you, based on our Wix review, Wix is a good website builder candidate for you to consider.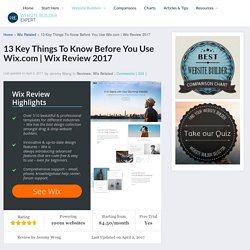 If you have a look at some of the website examples that are created by Wix, they're beautiful and professional. It's pleasantly surprising that these websites are created by non-professional web designers – which is why Wix is a builder that you may want to test. In our Wix review, we found that they offer you a lot of different functions, which results in a slightly steeper learning curve. But it's not bad at all, as it only took me about 20 minutes to get a really good handle on its functions, as their "Help" function is well thought out and works really well (more below).
Wix currently has over 44 million registered users, with about 45,000 new users joining everyday. Brain Fitness and Cognitive Health Authority: Market Research and Advisory Services. Minimizing Distractions - Online Time Management Training from MindTools. Managing Your Work Environment Email is just one of many distractions that can affect your productivity. © iStockphoto/joxxxxjo.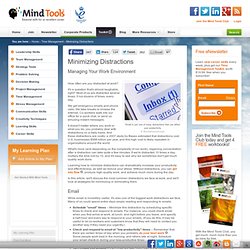 Improve Your Concentration - Time Management Training from MindTools. Achieving Focus Amid Distractions You and your task: nothing else. © iStockphoto/jhorrocks How many times have you sat at your desk and tried to focus on a task, only to find that your mind is wandering?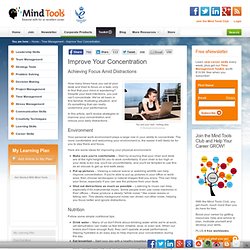 Despite your best intentions, you just can't concentrate. We've all been in this familiar, frustrating situation, and it's something that can really undermine your performance. Mind Hacks. Sharp Brains. Brain Teasers: selection of best adult brain games for attention, memory, planning, visual, logic, corporate, math, and more. Below you can find the Top 50 Brain Teasers and Games that Sharp­Brains read­ers have enjoyed the most.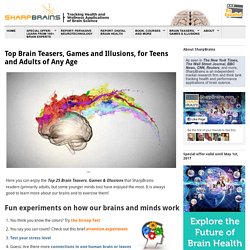 It is always good to learn about our brains and to exer­cise them! This is our selec­tion of fun and enlight­en­ing brain teasers for adults of any age. Fun exper­i­ments on how our brains work 1. Memory Improvement Techniques - Improve Your Memory with MindTools. Use your whole mind to remember. © iStockphoto/Yakobchuk The tools in this section help you to improve your memory.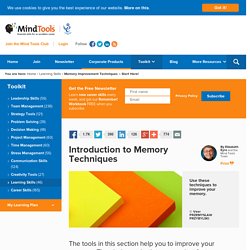 They help you both to remember facts accurately and to remember the structure of information. The tools are split into two sections. Mind Tools - Management Training, Leadership Training and Career Training. Mind Tools - Management Training, Leadership Training and Career Training.
---