Mind and Memory
Visual mapping in the brain
Picower: 1 Skull + 2 Brains = 4 Objects in Mind. Hack Your Brain: Improving Memory with Dirty Pictures « How-To News. If you're interested in nabbing superhero memory strength, the secret behind training your brain is not necessarily what you might expect.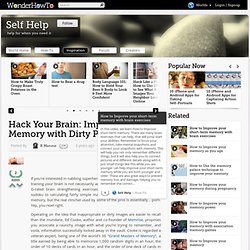 Your standard G-rated brain strengthening exercises range from crossword puzzles to sudoku to calculating fairly simple math problems to improve short term memory, but the real clincher used by some of the pros is essentially... porn. Yep, you read right. Biofeedback. Biofeedback is the process of gaining greater awareness of many physiological functions primarily using instruments that provide information on the activity of those same systems, with a goal of being able to manipulate them at will.[1][2] Some of the processes that can be controlled include brainwaves, muscle tone, skin conductance, heart rate and pain perception.[3] Biofeedback may be used to improve health, performance, and the physiological changes that often occur in conjunction with changes to thoughts, emotions, and behavior.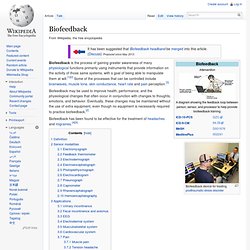 Eventually, these changes may be maintained without the use of extra equipment, even though no equipment is necessarily required to practice biofeedback.[2] Biofeedback has been found to be effective for the treatment of headaches and migraines.[4][5] Definition[edit] Tactile-Kinestheti. Tactile-Kinesthetic Learners Making up about 5% of the population, tactile and kinesthetic learners absorb information best by doing, experiencing, touching, moving or being active in some way.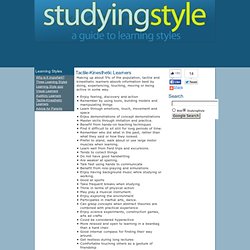 Enjoy feeling, discovery and action Remember by using tools, building models and manipulating things Learn through emotions, touch, movement and space Enjoy demonstrations of concept demonstrations Master skills through imitation and practice. Benefit from hands-on teaching techniques Find it difficult to sit still for long periods of time. Remember who did what in the past, rather than what they said or how they looked. Prefer to stand, walk about or use large motor muscles when learning. Intelligence News. The Ten Most Revealing Psych Experiments. Psychology is the study of the human mind and mental processes in relation to human behaviors - human nature.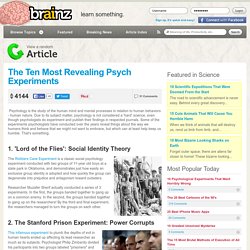 Due to its subject matter, psychology is not considered a 'hard' science, even though psychologists do experiment and publish their findings in respected journals. Some of the experiments psychologists have conducted over the years reveal things about the way we humans think and behave that we might not want to embrace, but which can at least help keep us humble. That's something. The Psych Files Podcast — Psychology podcast and resources for students and educators.
Welcome to WWW.ZOE7.COM_ Consciousness, Hallucinogens, Hyperspace and Beyond. 02.22.2010 - An afternoon nap markedly boosts the brain's learning capacity. If you see a student dozing in the library or a co-worker catching 40 winks in her cubicle, don't roll your eyes.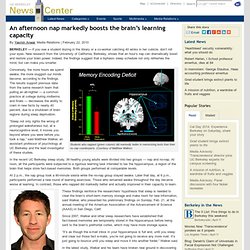 New research from the University of California, Berkeley, shows that an hour's nap can dramatically boost and restore your brain power. Indeed, the findings suggest that a biphasic sleep schedule not only refreshes the mind, but can make you smarter. Students who napped (green column) did markedly better in memorizing tests than their no-nap counterparts. (Courtesy of Matthew Walker) Explorers. Perfect Pitch - Psychologists Find Perfect Pitch More Common in. To make memories, new neurons must erase older ones. Short-term memory may depend in a surprising way on the ability of newly formed neurons to erase older connections.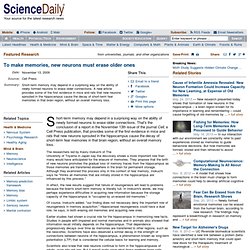 That's the conclusion of a report in the November 13th issue of the journal Cell, a Cell Press publication, that provides some of the first evidence in mice and rats that new neurons sprouted in the hippocampus cause the decay of short-term fear memories in that brain region, without an overall memory loss. The researchers led by Kaoru Inokuchi of The University of Toyama in Japan say the discovery shows a more important role than many would have anticipated for the erasure of memories. They propose that the birth of new neurons promotes the gradual loss of memory traces from the hippocampus as those memories are transferred elsewhere in the brain for permanent storage.
A Drug That Could Give You Perfect Visual Memory. Eidetic memory. Overview[edit] The ability to recall images in great detail for several minutes is found in early childhood (between 2% and 10% of that age group) and is unconnected with the person's intelligence level.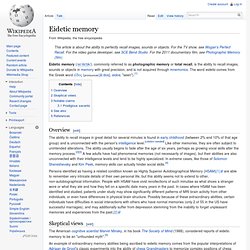 [citation needed] Like other memories, they are often subject to unintended alterations. The ability usually begins to fade after the age of six years, perhaps as growing vocal skills alter the memory process.[2][3] A few adults have had phenomenal memories (not necessarily of images), but their abilities are also unconnected with their intelligence levels and tend to be highly specialized. In extreme cases, like those of Solomon Shereshevsky and Kim Peek, memory skills can actually hinder social skills.[4] Persons identified as having a related condition known as Highly Superior Autobiographical Memory (HSAM)[1] are able to remember very intricate details of their own personal life, but this ability seems not to extend to other, non-autobiographical information.
---