Militarization of Police
As the Occupy Movement and the other parts of the world protest, the US is showing it's true colors: fascism and censorship. With the pepper spraying of the women @ OWS, the two vets hurt in Oakland, the tactics used on various Occupy groups, sadly I needed to create a separate tree for this ongoing event. kathologist Nov 27
Get flash to fully experience Pearltrees
May 15, 2013 | Like this article? Join our email list: Stay up to date with the latest headlines via email. The manhunt for the Boston Marathon bombing suspects offered the nation a window into the stunning military-style capabilities of our local law enforcement agencies.
6:55 p.m. — After a two-hour standoff, 42-year-old Markell Greene surrendered peacefully to police after they tried to arrest him on several felony warrants. Sheriff's deputies were watching Greene in the 10000 block of Natalie Court NE. Greene fled from his house and barricaded himself in a house next door. The neighbor's house was empty and Greene was coaxed out by SWAT team and crisis negotiators.
The American Civil Liberties Union (ACLU) has launched a nationwide campaign to assess police militarization in the United States. Starting Wednesday, ACLU affiliates in 23 states are sending open records requests to hundreds of state and local police agencies requesting information about their SWAT teams, such as how often and for what reasons they're deployed, what types of weapons they use, how often citizens are injured during SWAT raids, and how they're funded. More affiliates may join the effort in the coming weeks. Additionally, the affiliates will ask for information about drones, GPS tracking devices, how much military equipment the police agencies have obtained through programs run through the Pentagon and the Department of Homeland Security, and how often and for what purpose state National Guards are participating in enforcement of drug laws.
May 3, 2012 | Like this article? Join our email list: Stay up to date with the latest headlines via email. Today is an ugly anniversary in American history: 42 years ago, National Guardsman opened fire on anti-Vietnam protesters at Ohio's Kent State University, killing four students.
November 18, 2011 | Like this article? Join our email list: Stay up to date with the latest headlines via email.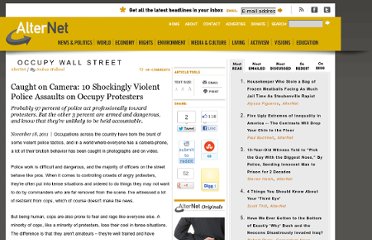 US citizens of all political persuasions are still reeling from images of unparallelled police brutality in a coordinated crackdown against peaceful OWS protesters in cities across the nation this past week . An elderly woman was pepper-sprayed in the face; the scene of unresisting, supine students at UC Davis being pepper-sprayed by phalanxes of riot police went viral online; images proliferated of young women – targeted seemingly for their gender – screaming, dragged by the hair by police in riot gear; and the pictures of a young man, stunned and bleeding profusely from the head, emerged in the record of the middle-of-the-night clearing of Zuccotti Park. But just when Americans thought we had the picture – was this crazy police and mayoral overkill, on a municipal level, in many different cities? – the picture darkened.
Oct. 17, 2011 Albuquerque International Sunport Security Checkpoint: I pass a camera crew filming the ticket counter. I stop and consider telling them what I am about to do, but decide against it. They probably won't care. Instead, I wheel my baggage to the security area.
At approximately 1:20 a.m ET Tuesday morning, Police allegedly attacked protesting U.S. military veterans and arrested 50 others with Occupy Boston. The Boston Globe reports that arrested protesters were "put on [their] stomach, cable-tied, and dragged off …" The AP reports the police were sent in to protect $150,000 worth of newly-planted shrubs at the Rose Fitzgerald Kennedy Greenway, site of a large Occupy Boston contingent.
Thanks for helping me keep this pearl up-to-date by kathologist Apr 18
what if police would coördinate raids on democr/repuli meetings?