US / Saudi Relations
The Nature of Oil: Reconsidering American Power in the Middle East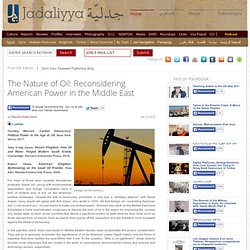 Timothy Mitchell, Carbon Democracy: Political Power in the Age of Oil. New York: Verso, 2011. Toby Craig Jones, Desert Kingdom: How Oil and Water Forged Modern Saudi Arabia. Cambridge: Harvard University Press, 2010.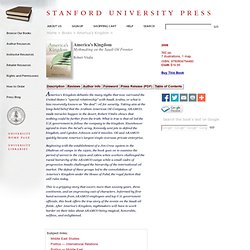 "America's Kingdom comes as a pleasant surprise... a scholarly and readable book on the interaction between Saudi society and Aramco, the US oil giant that had its beginnings when the Saudi government granted its first concessions to Standard Oil of California in 1933. Combining history with political anthropology, Vitalis sheds a bright light on the origins and less savory aspects of the Saudi-US relationship."—London Review of Books
America's Kingdom: Mythmaking on the Saudi Oil Frontier - Robert Vitalis
From Arab Nationalism to OPEC
Professor Madawi Al Rasheed
Of Saudi Arabia and US policy
This BeastWeek piece by Eli Lake touches on the important topic of the Saudi-led counter-revolution and US policy: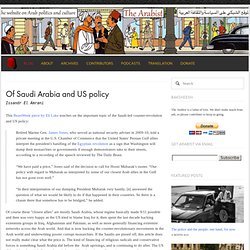 US Saudi Relations - A Deadly triangle?