US / Saudi Relations
The Nature of Oil: Reconsidering American Power in the Middle East. Timothy Mitchell, Carbon Democracy: Political Power in the Age of Oil.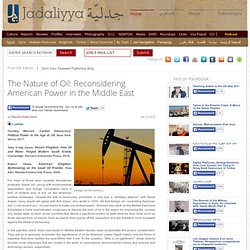 New York: Verso, 2011. Toby Craig Jones, Desert Kingdom: How Oil and Water Forged Modern Saudi Arabia. Cambridge: Harvard University Press, 2010. America's Kingdom: Mythmaking on the Saudi Oil Frontier - Robert Vitalis. "America's Kingdom comes as a pleasant surprise... a scholarly and readable book on the interaction between Saudi society and Aramco, the US oil giant that had its beginnings when the Saudi government granted its first concessions to Standard Oil of California in 1933.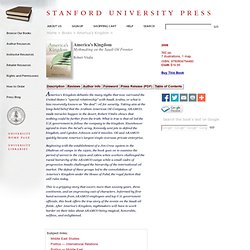 Combining history with political anthropology, Vitalis sheds a bright light on the origins and less savory aspects of the Saudi-US relationship. "—London Review of Books. From Arab Nationalism to OPEC. Professor Madawi Al Rasheed. Salman al-Awdah: In the shadow of revolutions The Middle East in London Magazine April-May 2013 Madawi Al-Rasheed charts how religious scholars in Saudi Arabia reacted and adapted to the Arab uprisings There is nothing that prompts us to encourage revolution as it is enshrined in danger... .It just comes when profound reform has stumbled.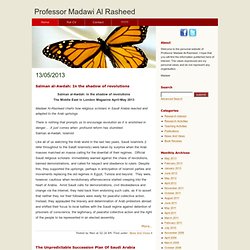 Salman al-Awdah, Islamist Like all of us watching the Arab world in the last two years, Saudi Islamists (I refer throughout to the Salafi Islamists) were taken by surprise when the Arab masses marched en masse calling for the downfall of their regimes. Of Saudi Arabia and US policy. This BeastWeek piece by Eli Lake touches on the important topic of the Saudi-led counter-revolution and US policy: Retired Marine Gen.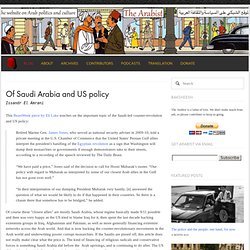 James Jones, who served as national security adviser in 2009-10, told a private meeting at the U.S. Chamber of Commerce that the United States' Persian Gulf allies interpret the president's handling of the Egyptian revolution as a sign that Washington will dump their monarchies or governments if enough demonstrators take to their streets, according to a recording of the speech reviewed by The Daily Beast. US Saudi Relations - A Deadly triangle? U.S. - Saudi.
---