Sociology
Sonal - Logiciel de retranscription d'entretiens.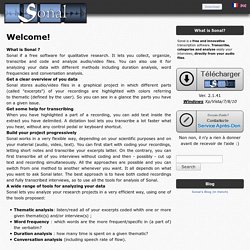 What is Sonal ? Sonal if a free software for qualitative research. It lets you collect, organize, transcribe and code and analyze audio/video files. You can also use it for analyzing your data with different methods including duration analysis, word frequencies and conversation analysis. Get a clear overview of you data
Un cambio de época está requiriendo una transformación radical de la política, que ya no puede limitarse a administrar el estancamiento. La filosofía política está llamada a transformar la democracia haciéndola más compleja, volviéndola a pensar en un contexto caracterizado por una triple complejidad: la que procede del creciente número de actores que participan en ella de manera interdependiente, la de las lógicas (eficacia, legitimidad, solidaridad, prevención) y los tiempos (financiero, constitucional, comunicativo, medioambiental) que deben ser tenidos en cuenta y la legitimidad que se deriva de los conocimientos que hay que movilizar para tomar las decisiones oportunas.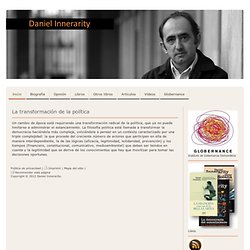 Daniel Innerarity
UOC - Web de la producció científica del professor Manuel Castells
"Take a look. No matter who you are, you are bound to find something that will drive you crazy." —The New York Times, January 14, 2014