Self dev
Hacking Knowledge: 77 Ways to Learn Faster, Deeper, and Better. If someone granted you one wish, what do you imagine you would want out of life that you haven't gotten yet?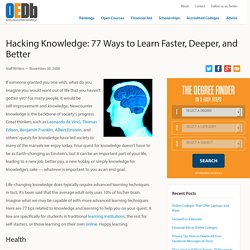 For many people, it would be self-improvement and knowledge. New knowledge is the backbone of society's progress. The Little Book of Procrastination Remedies | zen habits. Post written by Leo Babauta.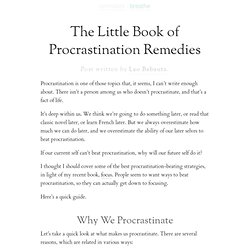 Procrastination is one of those topics that, it seems, I can't write enough about. There isn't a person among us who doesn't procrastinate, and that's a fact of life. It's deep within us. 15 Simple Ways to Overcome Anger. Courtesy of ThinkSimpleNow.com Can you recall the last time you were really angry at someone?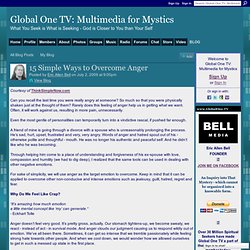 So much so that you were physically shaken just at the thought of them? Rarely does this feeling of anger help us in getting what we want. 28 Dignified Ways to Impress Everyone Around You. Post written by: Marc Chernoff Email Far more often than any of us like to admit, our actions are driven by an inner desire to impress other people.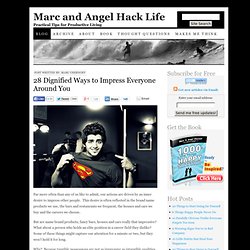 60 Ways To Make Life Simple Again. Email When we were young life was easier, right?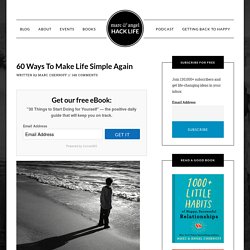 I know sometimes it seems that way. But the truth is life still is easy. 10 simple ways to save yourself from messing up your life. 10 Simple Truths Smart People Forget. Email Some of the smartest people I know continuously struggle to get ahead because they forget to address a few simple truths that collectively govern our potential to make progress.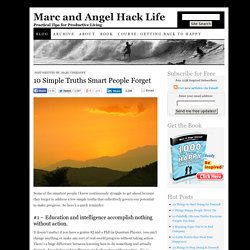 So here's a quick reminder: #1 – Education and intelligence accomplish nothing without action. It doesn't matter if you have a genius IQ and a PhD in Quantum Physics, you can't change anything or make any sort of real-world progress without taking action. There's a huge difference between knowing how to do something and actually doing it. 30 Habits that Will Change your Life. Developing good habits is the basic of personal development and growth.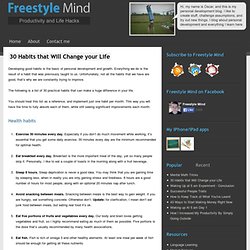 Everything we do is the result of a habit that was previously taught to us. Unfortunately, not all the habits that we have are good, that's why we are constantly trying to improve. 101 Ways To Live Your Life To The Fullest. By Celes on Aug 21, 2010 | ShareThis Email This Post "Your time is limited, don't waste it living someone else's life.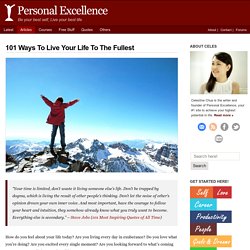 Don't be trapped by dogma, which is living the result of other people's thinking. 30 Ways to Live Life to the Fullest. "Begin at once to live and count each separate day as a separate life."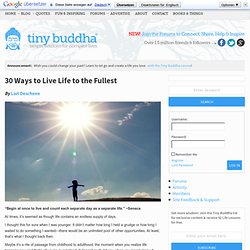 ~Seneca At times, it's seemed as though life contains an endless supply of days. I thought this for sure when I was younger. It didn't matter how long I held a grudge or how long I waited to do something I wanted—there would be an unlimited pool of other opportunities. At least, that's what I thought back then.
---