Meditation
Urban Dharma - Buddhism in America
Meditation for beginners
The strange thing is that when I was 15, I meditated quite a bit. I was dealing with some anger issues (mostly anger about being a teenager in a not-challenging-enough school system whose friends had started to act in inexplicable ways) and I'm not sure how I learned about it, but I had a regular practice for almost a year. Fast-forward 18 years, and I have a regular practice going again, but barely engaged in the practice in the interim. Beginning to meditate again was a challenge, and it took almost a year of knowing I should, wanting to, and planning on doing it before I finally started down the path. I'm a believer in the positive effects of meditation, because I remember them from when I was 15; I could go from the throes of an almost-hysterical freak-out to relative calm in less than 15 minutes, using breathing and visualization.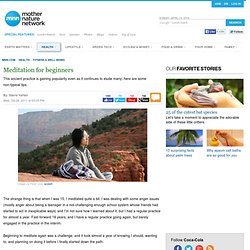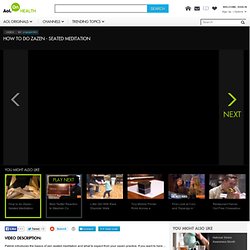 Hi, I am Patrick and today we are talking about Zazen and how to do it. Meditation isn't just for buddhas or monks; it's for everybody that can be done at almost any time. So let's get started. When you sit, you are going to want to elevate your pelvis. The most useful thing for this is something like a Zafu, it's a round Japanese shape. But honestly anything will work, a pillow folded in half, a rolled up blanket is just as good.
What is Meditation? Answers from a Master email deeshan Children's books of magical stories for kids of all ages.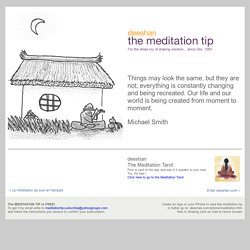 World Prayers - Meditations Index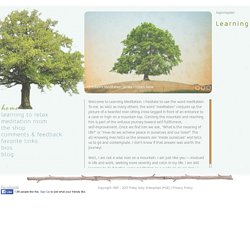 Our Pledge to Privacy Learning Meditation.com values the trust its visitors place in it. To honor this trust, Learning Meditation.com follows the highest standards and guidelines when using and safeguarding customer information that is given to the company. Collection and Use of Customer Information Learning Meditation.com does not rent, sell or exchange personal information about its customers. Access to personal information about Learning Meditation.com customers is restricted to Learning Meditation.com and all businesses that accept Learning Meditation.com payment vehicles. Learning Meditation.com gathers only the customer information that is needed to administer its business, provide superior service and communicate offers on merchandise and services that Learning Meditation.com believes will be of interest to its customers. Learning Meditation.com limits access to visitor information to parties who need this information to carry out business functions only.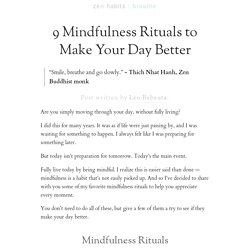 "Smile, breathe and go slowly." - Thich Nhat Hanh, Zen Buddhist monk Post written by Leo Babauta. Are you simply moving through your day, without fully living?
Interview with Pancho Ramos-Stierle by Vlad Moskovski I can't remember where I first met Pancho, but he is the kind of person that makes an impression. You can never forget Pancho once you have met him, and in a strange way everyone he interacts with takes a little bit of Pancho with them when they part. He is one of the kindest and most giving people I have ever met. You can see it in his posture, his words, his shinning eyes and beautiful smile.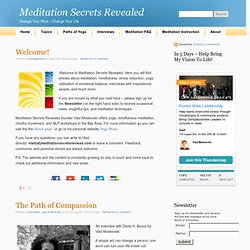 Meditation Secrets Revealed