Celtic Mythology
Get flash to fully experience Pearltrees
Celtic mythology is the mythology of Celtic polytheism , the religion of the Iron Age Celts . [ 1 ] Like other Iron Age Europeans, the early Celts maintained a polytheistic mythology and religious structure.
Branchs of Celtic Mythology
The reverse side of a British bronze mirror, 50 BC - 50 AD, showing the spiral and trumpet decorative theme of the late "Insular" La Tène style Celtic art is the art associated with the peoples known as Celts ; those who spoke the Celtic languages in Europe from pre-history through to the modern period, as well as the art of ancient peoples whose language is uncertain, but have cultural and stylistic similarities with speakers of Celtic languages.
Stone Celtic crosses , such as this, are a major source of our knowledge of Celtic knot design. Carpet page from Lindisfarne Gospels, showing knotwork detail. Almost all of the folios of the Book of Kells contain small illuminations like this decorated initial.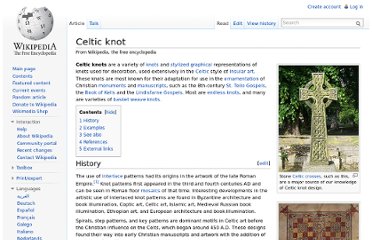 Here are some examples of Celtic knots and how to draw them yourself. Celtic knots are patterns representing ropes or threads tied in a knot.
In the visual arts , interlace is a decorative element found in medieval art .