Rar
P7ZIP
p7zip is a port of 7za.exe for POSIX systems like Unix (Linux, Solaris, OpenBSD, FreeBSD, Cygwin, AIX, ...), MacOS X and also for BeOS and Amiga. 7za.exe is the command line version of 7-zip, see http://www.7-zip.org/. 7-Zip is a file archiver with highest compression ratio. Since 4.10, p7zip (like 7-zip) supports little-endian and big-endian machines.
Ez7z
keka - the free Mac OS X file archiver
OptiPNG Home Page
Ziplight - Search ZIP Files with Spotlight
StuffIt Expander 12 for Macintosh - Compress Everything — Even Photos!
UnRarX - Mac OS X RAR Extraction Utility
What's New! Universal Binary version of UnRarX is now available. Version 2.2 includes current universal binary versions of unrar and par2 command line applications. UnRarX now includes automatic update functionality thanks to Sparkle Framework by Andy Matuschak.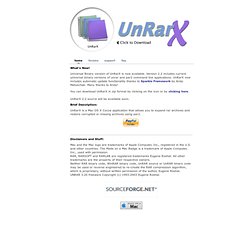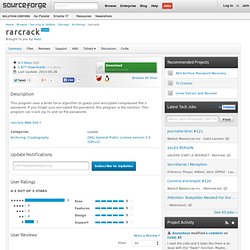 rarcrack
★ 3.5 Stars (104) 2,203 Downloads (This Week) Last Update: Download rarcrack-0.2.tar.bz2 Browse All Files BSD Linux This program uses a brute force algorithm to guess your encrypted compressed file\'s password.