Logging
TraceTool 9: The Swiss-Army knife of trace A C#, C++, Delphi, ActiveX and Java trace framework and a trace viewer: Tail, outputDebugString, event log, and with Log4J, Log4Net, and Microsoft Enterprise Instrumentation Framework (EIF) support. This also comes with full support for Pocket PC development (C++ and DotNet). Introduction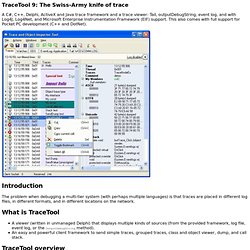 TraceTool 8: The Swiss-Army knife of trace - The Code Project - C# Programming
Bare Metal Software > BareTail - Free tail for Windows
DTrace is a comprehensive dynamic tracing framework for the Solaris™ Operating Environment. DTrace provides a powerful infrastructure to permit administrators, developers, and service personnel to concisely answer arbitrary questions about the behavior of the operating system and user programs. The Solaris Dynamic Tracing Guide describes how to use DTrace to observe, debug, and tune system behavior.
DTrace at OpenSolaris.org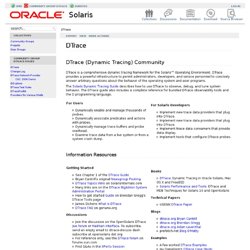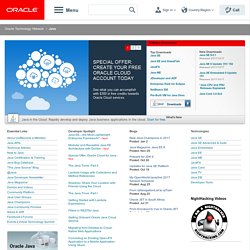 Oracle Oracle Oracle Technology Network > Java Challenge Win A Trip to JavaOne 2014 Build an application for the Internet of Things (IoT) Developer Challenge for a trip for you and two other team members to win a trip to JavaOne.