Special Interest Project: Shipping
College project urls on shipping
Data: Impacts. Sustainable Shipping Home - Site Home Page. B9 Shipping. B9 Shipping is accelerating, through collaboration, the development of 100% renewably powered commercially and technically viable sailing hybrid cargo ships.
They are commercially viable today and future proofed for a 30 year lifespan. The concept design for the B9 Ship B9 Shipping is part of the B9 Energy group of companies, a UK based business, founded by David Surplus, which has been pioneering renewable energy solutions for more than 20 years. gCaptain - Maritime & Offshore.
Sulphur emissions by ships - Transport Committee. 1 Introduction 1.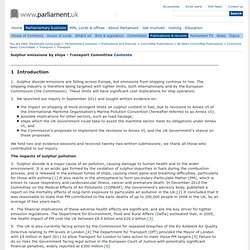 Sulphur dioxide emissions are falling across Europe, but emissions from shipping continue to rise. The shipping industry is therefore being targeted with tighter limits, both internationally and by the European Commission (the Commission). Home. Home. Shipping Emissions Abatement and Trading | encouraging and facilitating the efficient reduction of harmful emissions to air from shipping.
ESPO - European Sea Ports Organisation - Welcome. The global economic cycle and satellite-derived NO2 trends over shipping lanes. The case for scrubbers | World Bunkering. Chris Leigh-Jones From July 2010, ships entering northern European waters will be required to produce emissions no higher than the equivalent of burning a 1.0% sulphur marine fuel.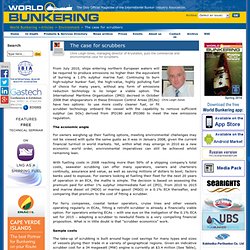 Continuing to burn high-sulphur bunker fuel, the high-value, highly polluting fuel of choice for many years, without any form of emissions reduction technology is no longer a viable option. The International Maritime Organization (IMO) decreed in October 2008 that shipoperators in these Emission Control Areas (ECAs) have two options: to use more costly cleaner fuel, or fit scrubber technology onboard the vessel with the capability to remove sufficient sulphur (as SOx) derived from IFO180 and IFO380 to meet the new emissions regulation. The economic angle. ISSUES - BUNKER FUELS. At the second part of the fifteenth session of the AWG-LCA, Parties continued their work on cooperative sectoral approaches and sector-specific actions (agenda item 3biv).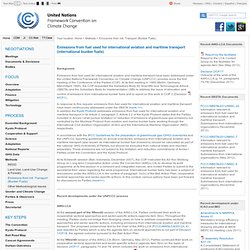 Throughout the meeting, Parties could not bridge their diverging views on how to address cooperative sectoral approaches and sector specific actions, including emissions from international aviation and maritime transport. The proposed compromise text by the chair of the AWG-LCA (FCCC/AWGLCA/2012/L.4) was rejected by Parties which is why the agenda item on sectoral approaches is not part of Decision 1/CP.18, the agreed outcome pursuant to the Bali Action Plan. OSPAR Commission.
Intertanko. Recovered shipping emissions. MONAE - Monitoring Plan for Water Quality and Ecology. Law & Sea | Home. International Convention for the Prevention of Pollution from Ships (MARPOL) ​The International Convention for the Prevention of Pollution from Ships (MARPOL) is the main international convention covering prevention of pollution of the marine environment by ships from operational or accidental causes.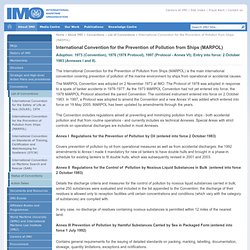 The MARPOL Convention was adopted on 2 November 1973 at IMO. The Protocol of 1978 was adopted in response to a spate of tanker accidents in 1976-1977. As the 1973 MARPOL Convention had not yet entered into force, the 1978 MARPOL Protocol absorbed the parent Convention. The combined instrument entered into force on 2 October 1983. In 1997, a Protocol was adopted to amend the Convention and a new Annex VI was added which entered into force on 19 May 2005.
ISSUU. DNV Maritime. DNV GL - unrivalled expertise across all ship segments The combined expertise of DNV GL focuses on your needs: safety, tradability and total cost of operation.
Today, we deliver the full range of services for classification, certification, statutory services, verification and advisory - to designers, yards, manufacturers, owners, operators and other stakeholders of all ship types. Operational discharge - Detecting illegal discharge. Visual aerial detection.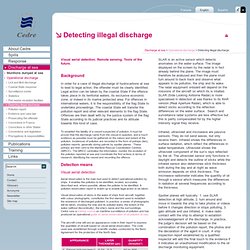 Remote sensing. Tools of the future. Background In order for a case of illegal discharge of hydrocarbons at sea to lead to legal action, the offender must be clearly identified. Coordinates : A resource on positioning, navigation and beyond » Blog Archive » Oil spills pollution. Wikipedia: Environmental impact of shipping. A cargo ship discharging ballast water into the sea.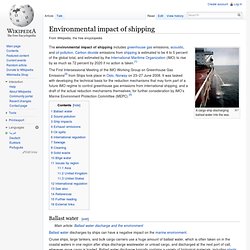 The environmental impact of shipping includes greenhouse gas emissions, acoustic, and oil pollution. Carbon dioxide emissions from shipping is estimated to be 4 to 5 percent of the global total, and estimated by the International Maritime Organization (IMO) to rise by as much as 72 percent by 2020 if no action is taken.[1] Wikipedia : Crude oil washing. Crude oil washing (COW) is washing out the residue from the tanks of an oil tanker using the crude oil cargo itself, after the cargo tanks have been emptied.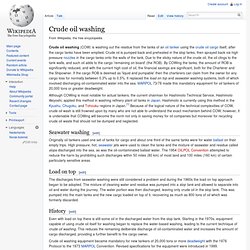 Crude oil is pumped back and preheated in the slop tanks, then sprayed back via high pressure nozzles in the cargo tanks onto the walls of the tank. Due to the sticky nature of the crude oil, the oil clings to the tank walls, and such oil adds to the cargo 'remaining on board' (the ROB). IMO: Crude Oil Washing. ​Crude oil washing (COW) is a system whereby oil tanks on a tanker are cleaned out between voyages not with water, but with crude oil - the cargo itself.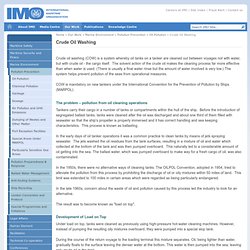 The solvent action of the crude oil makes the cleaning process far more effective than when water is used. (There is usually a final water rinse but the amount of water involved is very low.) The system helps prevent pollution of the seas from operational measures. COW is mandatory on new tankers under the International Convention for the Prevention of Pollution by Ships (MARPOL). The problem – pollution from oil cleaning operations. Low Sulphur Fuels. Dryad Maritime Intelligence Services. MarineLink. Transport & Environment. National Atmospheric Emissions Inventory.
This section of the website contains all the published NAEI reports. The "Other important reports" section contains links to useful reports that are on this website. Search for reports by keywords, author or date » Most Recent 10 Reports 1. Trade Winds. Blogs. SSA Marine has been quietly moving along and has made significant strides at Long Beach Commercial shipping supremo says the West Coast must look at wider horizons Initially, such inspections were done on an ad hoc basis A look at the heartland, Great Lakes, the Seaway and inland infrastructure, too.
It's good news, bad news and a time for head scratching, too. Department for Transport. Evidence based report submitted by key stakeholders in the shipping industry about differential pay for seafarers on grounds of nationality. Published: 09 June 2010 Includes an investigation into the disappearance of the M.V. Derbyshire oil tanker and an inquiry into safety on the river Thames. Includes information for those considering a career at sea, tonnage tax training commitment forms and the Government's response to the Freight Study Group's report into increasing freight traffic on inland waterways. Committee on Climate Change.
CleanSeaNet Homepage. Solar-powered Ship. EmailEmail Nippon Yusen KK and Nippon Oil Corp are working on the world's first solar powered ship … well, at least partially solar powered, they are saying. What? A hybrid ship? The two companies want to put solar panels on top of the 60,000-ton ship that are capable of generating 40 kilowatts of electricity each. The ship will carry Toyota cars. Freedom Ship. Skysails & Top 10 Green Ship Designs.
---