Mapping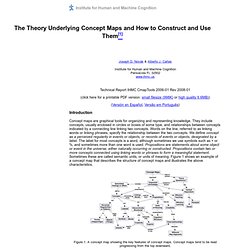 Technical Report IHMC CmapTools 2006-01 Rev 2008-01
For me it's an ideal tool to represent interesting Information, grow it on à natural way and exchange it with the people in the network. by boymans Jun 3
Het concept van een mentale kaart (Engels: mental map), geeft aan hoe de persoonlijke perceptie van een persoon is van zijn geografische omgeving, de manier waarop hij zijn ruimtelijke omgeving structureert. Het is geen geografische kaart, maar een representatie van het cognitieve beeld dat een individu in zijn gedachten heeft. Hoewel dit onderwerp meer op zijn plaats lijkt bij de sociale wetenschappen , wordt dit onderwerp meestal bestudeerd door geografen om te bepalen hoe het publiek subjectief plaatsen waarneemt.
Mentale kaart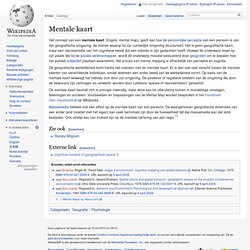 The concept of a mental map may refer to a person's personal point-of-view perception of their own world. Although this kind of subject matter would seem most likely to be studied by fields in the social sciences , this particular subject is most often studied by modern day geographers in order to determine from the public such subjective qualities as personal preference and practical uses of geography like driving directions. Mass media also has a virtually direct effect on a person's mental map of the geographical world. [ 1 ] The perceived geographical dimensions of a foreign nation (relative to one's own nation) may often be heavily influenced by the amount of time and relative news coverage that the news media may spend covering news events from that foreign region.
Mental mapping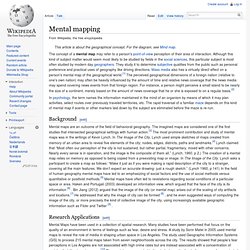 Handbook on Knowledge Management ...
Home - Knowledge Maps - Mind Maps of SharePoint Functionality
http://hbo-kennisbank.uvt.nl/cgi/av/show.cgi?fid=2734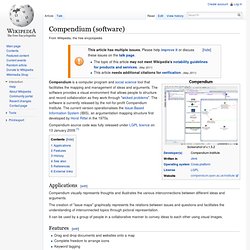 Compendium is a computer program and social science tool that facilitates the mapping and management of ideas and arguments. The software provides a visual environment that allows people to structure and record collaboration as they work through " wicked problems ". The software is currently released by the not-for-profit Compendium Institute.
Compendium (software)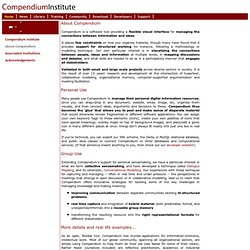 Compendium Institute - About Compendium
About Compendium Compendium is a software tool providing a flexible visual interface for managing the connections between information and ideas .