Tor-alternativen
Proxy sites. Alternative zu TOR - Hier finden Sie TOR Alternativen. Internet Freedom | Hide My Ass! Free Proxy and Privacy Tools - Surf The Web Anonymously. I2P Network. The Freenet Project. Vtunnel. JonDonym. Home Page - www.SecurityXploded.com. Sniffer hijacks secure traffic from unpatched iPhones. News July 27, 2011 12:55 PM ET Computerworld - Almost anyone can snoop the secure data traffic of unpatched iPhones and iPads using a recently-revised tool, a researcher said today as he urged owners to apply Apple's latest iOS fix.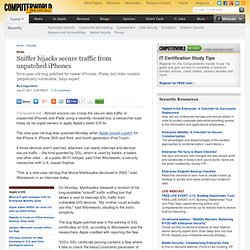 The nine-year-old bug was quashed Monday when Apple issued a patch for the iPhone 4, iPhone 3GS and third- and fourth-generation iPod Touch. If those devices aren't patched, attackers can easily intercept and decrypt secure traffic -- the kind guarded by SSL, which is used by banks, e-tailers and other sites -- at a public Wi-Fi hotspot, said Chet Wisniewski, a security researcher with U.K. -based Sophos. JAP -- ANONYMITY & PRIVACY. [ English | German ] Protection of Privacy on the Internet JAP (called JonDo in the scope of the commercial JonDonym anonymous proxy servers - AN.ON remains free of charge) makes it possible to surf the internet anonymously and unobservably.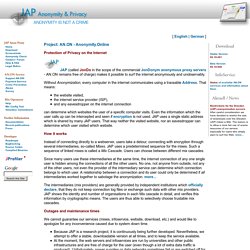 Without Anonymization, every computer in the internet communicates using a traceable Address. That means: the website visited, the internet service provider (ISP), and any eavesdropper on the internet connection can determine which websites the user of a specific computer visits. Web Browser for Anonymous Communication - silvertunnel.org. Anonimity. How to Become Anonymous on the Internet Using Tor. The internet is a scary place, and if you're like me, you don't want anyone tracking you or learning your search habits.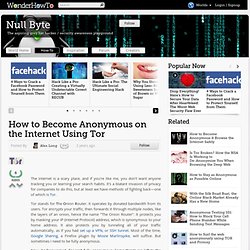 It's a blatant invasion of privacy for companies to do this, but at least we have methods of fighting back—one of which is Tor. Tor stands for The Onion Router. Torservers.net - Tor Exit Node & Bridge hosting. Secret-Internet.
---