Tor-alternativen
Tor ist ein Softwareprojekt, das dir hilft, dich gegen die Analyse der Verbindungsdaten zu schützen. Diese Analyse ist eine Form der Überwachung von Netzwerken, die die persönliche Freiheit und Privatsphäre wie auch vertrauliche Geschäftsbeziehungen und die allgemeine Sicherheit gefährdet. Verbindungen werden durch ein verteiltes Netzwerk von Servern geleitet. Diese Server, genannt Onion Router, werden von Privatpersonen betrieben und schützen dich vor Webseiten, die Profile deiner Interessen... Anonym Surfen Datenschutz ist der Schlüsselbegriff im Programm der Piraten-Fraktion.
Alternative zu TOR - Hier finden Sie TOR Alternativen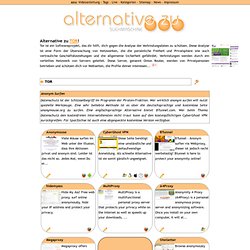 Internet Freedom |
Hide My Ass! Free Proxy and Privacy Tools - Surf The Web Anonymously
Home Page - www.SecurityXploded.com
Sniffer hijacks secure traffic from unpatched iPhones
News July 27, 2011 12:55 PM ET Computerworld - Almost anyone can snoop the secure data traffic of unpatched iPhones and iPads using a recently-revised tool, a researcher said today as he urged owners to apply Apple's latest iOS fix. The nine-year-old bug was quashed Monday when Apple issued a patch for the iPhone 4, iPhone 3GS and third- and fourth-generation iPod Touch. If those devices aren't patched, attackers can easily intercept and decrypt secure traffic -- the kind guarded by SSL, which is used by banks, e-tailers and other sites -- at a public Wi-Fi hotspot, said Chet Wisniewski, a security researcher with U.K.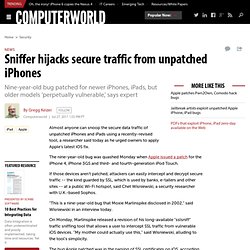 [ English | German ] Protection of Privacy on the Internet JAP (called JonDo in the scope of the commercial JonDonym anonymous proxy servers - AN.ON remains free of charge) makes it possible to surf the internet anonymously and unobservably. Without Anonymization , every computer in the internet communicates using a traceable Address . That means: the website visited, the internet service provider (ISP), and any eavesdropper on the internet connection can determine which websites the user of a specific computer visits.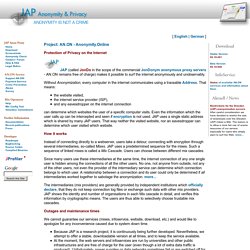 Web Browser for Anonymous Communication - silvertunnel.org
The internet is a scary place, and if you're like me, you don't want anyone tracking you or learning your search habits. It's a blatant invasion of privacy for companies to do this, but at least we have methods of fighting back—one of which is Tor . Tor stands for T he O nion R outer.
How to Become Anonymous on the Internet Using Tor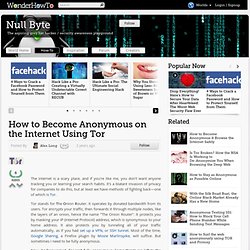 torservers.net - Tor Exit Node & Bridge hosting