BlinkM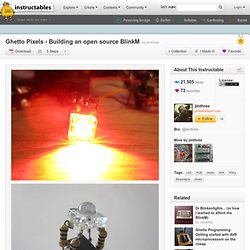 Ghetto Pixels - Building an open source BlinkM
The key components for a Ghetto pixel are an LED, a Microcontroller, and some current limiting resistors.
CyzRgb - codalyze - CYZ_RGB: An alternative firmware for [http://thingm.com/products/blinkm BlinkM] - A software playground
Version Beta 1 BlinkM is a Smart LED produced by ThingM : BlinkM is a "Smart LED", a networkable and programmable full-color RGB LED for hobbyists, industrial designers, prototypers, and experimenters.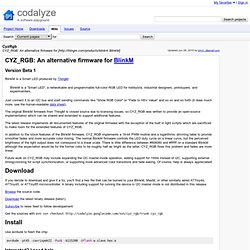 THE Processing SOFTWARE IS PROVIDED TO YOU "AS IS," AND WE MAKE NO EXPRESS OR IMPLIED WARRANTIES WHATSOEVER WITH RESPECT TO ITS FUNCTIONALITY, OPERABILITY, OR USE, INCLUDING, WITHOUT LIMITATION, ANY IMPLIED WARRANTIES OF MERCHANTABILITY, FITNESS FOR A PARTICULAR PURPOSE, OR INFRINGEMENT. WE EXPRESSLY DISCLAIM ANY LIABILITY WHATSOEVER FOR ANY DIRECT, INDIRECT, CONSEQUENTIAL, INCIDENTAL OR SPECIAL DAMAGES, INCLUDING, WITHOUT LIMITATION, LOST REVENUES, LOST PROFITS, LOSSES RESULTING FROM BUSINESS INTERRUPTION OR LOSS OF DATA, REGARDLESS OF THE FORM OF ACTION OR LEGAL THEORY UNDER WHICH THE LIABILITY MAY BE ASSERTED, EVEN IF ADVISED OF THE POSSIBILITY OR LIKELIHOOD OF SUCH DAMAGES. By downloading the software from this page, you agree to the specified terms.
Did you know you can run Arduino programs on tiny BlinkM Smart LEDs? It might make BlinkM the smallest Arduino so far. To use a BlinkM as an Arduino, all you need is the free Arduino software, a low-cost AVR programmer, some wire, and a BlinkM.
BlinkM Smart LED as the Smallest Arduino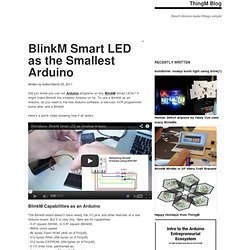 New BlinkMSequencer Features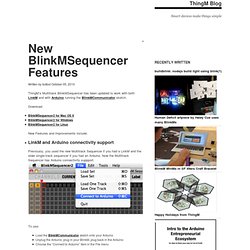 ThingM's Multitrack BlinkMSequencer has been updated to work with both LinkM and with Arduino running the BlinkMCommunicator sketch.
/ - linkm - LinkM -- BlinkM controller / programmer and general USB-to-I2C adapter