BlinkM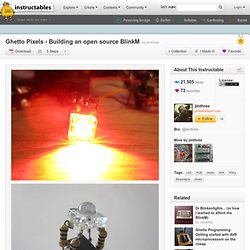 Ghetto Pixels - Building an open source BlinkM
Unless you've been living under a digital rock for the last few years, or just simply aren't interested in flashing lights, you'll already know about the awesomeness that is the BlinkM from ThingM.
CyzRgb - codalyze - CYZ_RGB: An alternative firmware for [http://thingm.com/products/blinkm BlinkM] - A software playground
Version Beta 1 BlinkM is a Smart LED produced by ThingM: BlinkM is a "Smart LED", a networkable and programmable full-color RGB LED for hobbyists, industrial designers, prototypers, and experimenters.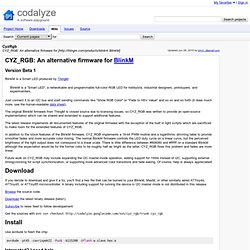 Did you know you can run Arduino programs on tiny BlinkM Smart LEDs? It might make BlinkM the smallest Arduino so far. To use a BlinkM as an Arduino, all you need is the free Arduino software, a low-cost AVR programmer, some wire, and a BlinkM.
BlinkM Smart LED as the Smallest Arduino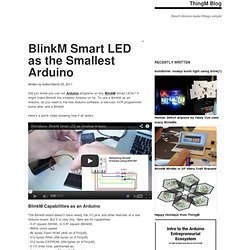 New BlinkMSequencer Features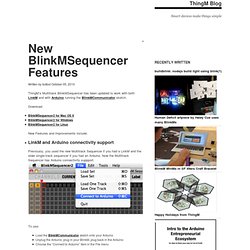 ThingM's Multitrack BlinkMSequencer has been updated to work with both LinkM and with Arduino running the BlinkMCommunicator sketch.
/ - linkm - LinkM -- BlinkM controller / programmer and general USB-to-I2C adapter