BlinkM
Ghetto Pixels - Building an open source BlinkM. Unless you've been living under a digital rock for the last few years, or just simply aren't interested in flashing lights, you'll already know about the awesomeness that is the BlinkM from ThingM.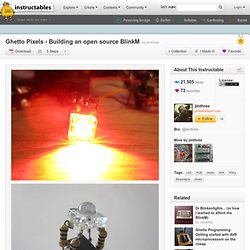 It's a very small PCB featuring a high power LED that responds very easily and cleanly to commands you give it. Devices like BlinkM's are often referred to as LED Pixels, because they can be linked together in fairly long chains, but still remain individually addressable (you can set the colour of each one to be different). Right now, I'd like to give out mad props to ThingM and todbot, without whom there would be no BlinkM, and the world (or at least youtube) would be a much less colourful place.
The aim of this instructable is not to take business away from ThingM, in almost all cases I would encourage you to buy a blinkM or two if you need them in your project, but there are some reasons why it's good to have alternatives and these are the ones I'm thinking of: CyzRgb - codalyze - CYZ_RGB: An alternative firmware for [ BlinkM] - A software playground. Version Beta 1 BlinkM is a Smart LED produced by ThingM: BlinkM is a "Smart LED", a networkable and programmable full-color RGB LED for hobbyists, industrial designers, prototypers, and experimenters.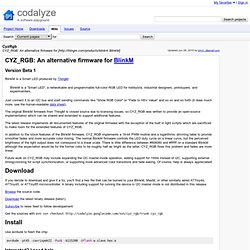 Download. BlinkM Smart LED as the Smallest Arduino. Did you know you can run Arduino programs on tiny BlinkM Smart LEDs?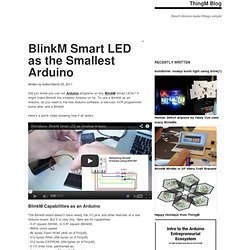 It might make BlinkM the smallest Arduino so far. To use a BlinkM as an Arduino, all you need is the free Arduino software, a low-cost AVR programmer, some wire, and a BlinkM. New BlinkMSequencer Features. ThingM's Multitrack BlinkMSequencer has been updated to work with both LinkM and with Arduino running the BlinkMCommunicator sketch.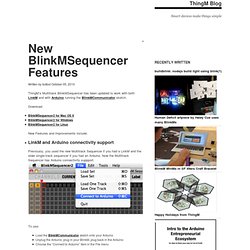 Download: New Features and improvements include: LinkM and Arduino connectivity supportPreviously, you used the new Multitrack Sequencer if you had a LinkM and the older single-track sequencer if you had an Arduino. Now the Multitrack Sequencer has Arduino connectivity suppport. / - linkm - LinkM -- BlinkM controller / programmer and general USB-to-I2C adapter.
---