Créer des e-books
Step-by-Step: How to Create a Collaborative Class eBook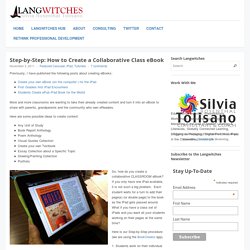 Previously, I have published the following posts about creating eBooks: More and more classrooms are wanting to take their already created content and turn it into an eBook to share with parents, grandparents and the community who own eReaders. Here are some possible ideas to create content: Any Unit of StudyBook Report AnthologyPoem AnthologyVisual Quotes CollectionCreate your own TextbookEssay Collection about a Specific TopicDrawing/Painting CollectionPortfolio So, how do you create a collaborative CLASSROOM eBook?
"I was looking for a way to give our authors a simple, powerful way to edit and create books and Booktype is it! " Alessandro De Giorgi Youcanprint.it "Booktype is becoming the ideal platform for open publishing. With the booksprint methodology, Booktype enabled us generate the Spending Data Handbook in a few days, while remaining open to feedback and development."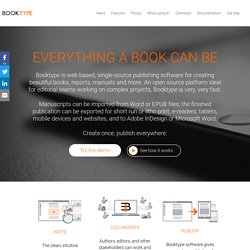 Votre établissement scolaire est équipé de tablettes numériques ou de liseuses électroniques et d'ordinateurs PC Windows. Comment créer des supports pédagogiques avec un PC Windows pour les exploiter sur une la tablette numérique ou une liseuse électronique ? Le format ePUB est conçu pour faciliter la mise en page du contenu, le texte affiché étant ajusté pour optimiser la lecture sur les "readers" de livres numériques (liseuses électroniques, tablettes numériques et ordinateurs).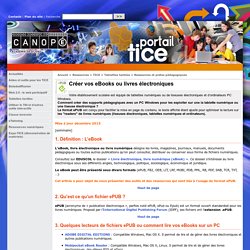 is an OpenOffice.org extension that creates an file from any document openable by the OOo Word Processor. Just simply one click, you can obtain a well formatted, easy readable ePub file from almost any document. W2E is an ePub creator. Simply write your document with the OOo Word Processor and W2E will make an ePub file using the best traditional typographic rules, by applying a predefined style sheet (CSS). If you need a good ePub document and you can use the OOo Writer Word Processor, W2E is your tool.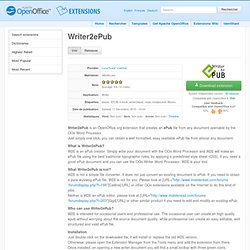 Créer vos eBooks ou livres électroniques
Project code moved to Github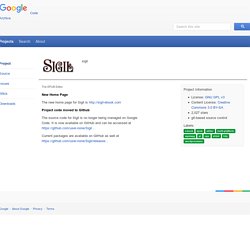 ePuper is a freeware tool for authoring epub files from web sources for windows. Basically ePuper was written to bring online newspapers to an offline ebook reader. ePuper has an interface you can create plugins for that converts your favourite web page to an epub file. ePuper is simple.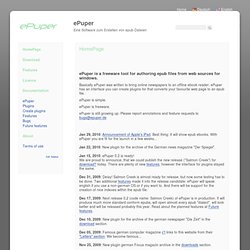 ePuper
Our site has been redesigned The Infogrid Pacific site has been extensivly redesigned. If you are seeing this page it is probably because of an outdated link. Use the navigation bars above to go directly to the pages in the new site. Return to the Infogrid Pacific home page...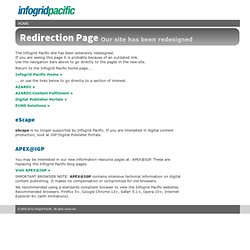 Infogrid Pacific