Living labs
Réseau CILL | Le réseau du commerce international des living labs. 2 | 2013 Varia. Living Lab the Neighbourhood. Medea has three so called Living Labs, and the work carried out within Living Lab the Neighbourhood deals with social innovation and collaborative services.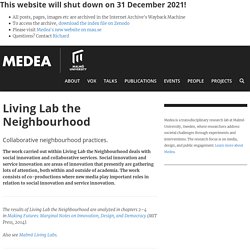 Social innovation and service innovation are areas of innovation that presently are gathering lots of attention, both within and outside of academia. The work consists of co-productions where new media play important roles in relation to social innovation and service innovation. The Neighbourhood aims at creating a co-production and innovation environment for collaborative services and social innovation anchored in a geographic environment that today seldom is associated with social and economic growth.
If you're interested in taking part in our activities, please contact lab manager Per-Anders Hillgren. MindLab. Living labs. Living Labs : Art et culture,contributionà l'innovation durable et aux stratégies post-carbone Initié par l'ARENE en prolongement de la stratégie post-carbone du territoire de Fontainebleau, SAC LAB - Fontainebleau explore le champ de la contribution de l'art et de la culture à l'innovation durable et aux stratégies post-carbone à travers un certain nombre de leviers et de thématiques : La co-contruction, La culture en tant qu'outil d'implication des citoyens et des utilisateurs finaux, La reconnaissance des savoirs traditionnels en tant que source d'innovation sociale et écologique, La valorisation des personnes détentrices de ces connaissances dans les processus d'innovation et l'évolution des usages,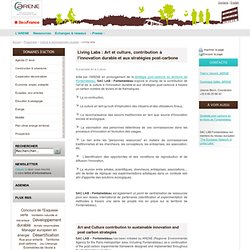 Projets retenus.
LL public
LL_Desrosiers-Developpement. Jouce. Smart cities. Pays. Les "co-" Living Lab. FI-PPP | The Future. Now. ROSANVALLON Jérémie. IDF. Pirene Lab - Living Lab rural - Alta Montaña.
---