Living labs
Présentation La présence des PME françaises est largement sous dimensionnée par rapport à celle des autres pays occidentaux. Si nos organismes officiels sont bien adaptés aux grands groupes, ils peinent à appréhender les particularités PME françaises. Dans le cadre de notre Living Lab, nous souhaitons expérimenter des solutions pour les accompagner plus efficacement dans leurs démarches en Chine.
Réseau CILL | Le réseau du commerce international des living labs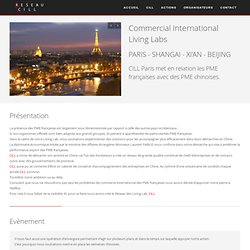 2 | 2013 Varia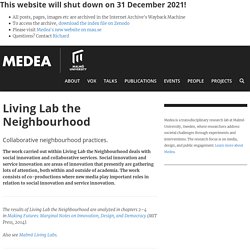 Living Lab the Neighbourhood
Medea has three so called Living Labs, and the work carried out within Living Lab the Neighbourhood deals with social innovation and collaborative services. Social innovation and service innovation are areas of innovation that presently are gathering lots of attention, both within and outside of academia. The work consists of co-productions where new media play important roles in relation to social innovation and service innovation. The Neighbourhood aims at creating a co-production and innovation environment for collaborative services and social innovation anchored in a geographic environment that today seldom is associated with social and economic growth. If you're interested in taking part in our activities, please contact lab manager Per-Anders Hillgren.
Nations talk, cities act While leadership among the world's heads of state is at a standstill, the major cities of the world are becoming increasingly important when it comes to solving global challenges. But how can cities work with innovation?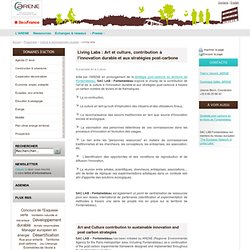 Living Labs : Art et culture,contributionà l'innovation durable et aux stratégies post-carbone Initié par l'ARENE en prolongement de la stratégie post-carbone du territoire de Fontainebleau, SAC LAB - Fontainebleau explore le champ de la contribution de l'art et de la culture à l'innovation durable et aux stratégies post-carbone à travers un certain nombre de leviers et de thématiques : La co-contruction, La culture en tant qu'outil d'implication des citoyens et des utilisateurs finaux, La reconnaissance des savoirs traditionnels en tant que source d'innovation sociale et écologique, La valorisation des personnes détentrices de ces connaissances dans les processus d'innovation et l'évolution des usages,
Living labs
Projets retenus
LL_Desrosiers-Developpement
FI-PPP | The Future. Now.
ROSANVALLON Jérémie
Pirene Lab - Living Lab rural - Alta Montaña
Este año ha sido el más intenso de los 4 eventos que llevamos Las actividades realizadas en el marco del IV Estage Pirene Lab estuvieron relacionadas con Pensamiento de diseño, Diseño centrado en el usuario, Prototipado rápido, con tecnologías como Realidad Aumentada, Sensores, Arduino, Android, OpenStreetMap, etc. para reflexionar sobre la Internet de las cosas en entornos de baja densidad demográfica, rurales y de Alta Montaña. El proyecto principal era un dispositivo capaz de recoger datos de unos sensores (humedad, temperatura y ruido) y enviarlos a un servidor de base de datos a través de WiFi, estos datos debían estar georeferenciados. La Realidad Aumentada, el motor de geolocalización Appunta y Android nos debían permitir realizar la lectura de los datos en la pantalla del móvil, apuntando con el móvil al dispositivo con los sensores. En una segunda fase incorporaremos el GPS para permitir movilidad al dispositivo.