Literacy Links
Unlocking the Common Core. What's It All About?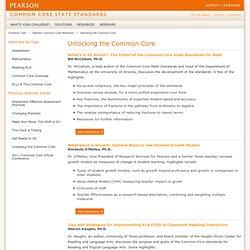 : The Intent of the Common Core State Standards for Math Bill McCallum, Ph.D. Dr. McCallum, a lead author of the Common Core Math Standards and head of the Department of Mathematics at the University of Arizona, discusses the development of the standards.
Books i want to read
QuadBlogging | "In terms of young children developing as writers this is the most interesting development in the last 20 years." Pie Corbett. Common core. Content area literacy. Assessment. Welcome to Reading Recovery initiative in partnership with the U.S. Department of Education. Children's Literature. Small Demons — Welcome to the Storyverse. Writing workshop. Reading workshop.
Theory
Visual literacy. Literacy videos. Critical Literacy. New literacies. Reading Online. Literacy. Choice Literacy - Resources for K-12 Literacy Coaches and Teachers. Write Today Ruth Ayres I believe in being a teacher who writes.
Today. And the next day and the one after that. I know there are reasons why this will never work. Voice of Literacy. Word Study.
---