Children's Literature
people of color literature
Recipe The yellowed newspaper clipping is attached to an index card with brittle cellophane tape. "Nov. 1949 Women's Day Kitchen" is written in faded ink at the top of the card.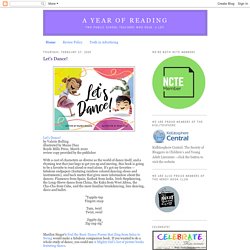 A Year of Reading
YA Lit and other Loves :)
Underage Reading
MotherReader
Since I haven't been reviewing much, I don't get much to review. That's totally fine and in fact preferred as I don't want to waste anyone's review copies and I can get much of what I want at the library where I work. But occasionally a package comes my way, as with a little collection of 2014 boardbooks from Chronicle. Now I don't actively look for boardbooks or tend to review them, so let's call this a set of "reactions."
It's part two of. . . Picture Book Bonanza! More picture books as recommended by you.
The Picture Book Bonanza Continues!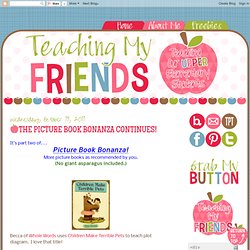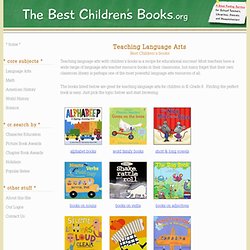 Teaching Language Arts with Children's Books -- Best books to use in language arts education
Teaching language arts with children's books is a recipe for educational success! Most teachers have a wide range of language arts teacher resource books in their classrooms, but many forget that their own classroom library is perhaps one of the most powerful language arts resources of all. The books listed below are great for teaching language arts for children in K-Grade 8.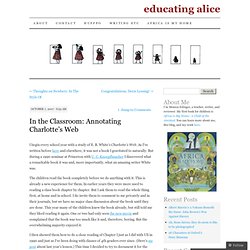 In the Classroom: Annotating Charlotte's Web | educating alice
I begin every school year with a study of E. B. White's Charlotte's Web.
These charts are posted here because I've received countless requests for them. Please note - the point of an anchor chart is to anchor the teaching and learning that is happening in your classroom, so they should be reflective of the work that you and your students are doing. Don't feel obligated to use the same wording or even the same charts that I've shown here - these are just examples of charts that I've used and/or seen.
A Literate Life - Anchor Charts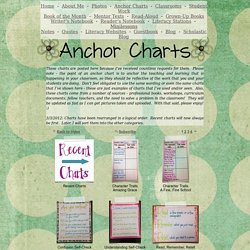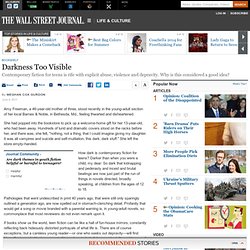 Amy Freeman, a 46-year-old mother of three, stood recently in the young-adult section of her local Barnes & Noble, in Bethesda, Md., feeling thwarted and disheartened. She had popped into the bookstore to pick up a welcome-home gift for her 13-year-old, who had been away. Hundreds of lurid and dramatic covers stood on the racks before her, and there was, she felt, "nothing, not a thing, that I could imagine giving my daughter.
Book Review: Young Adult Fiction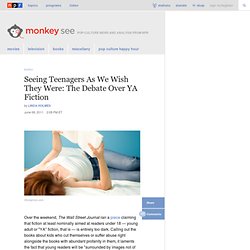 iStockphoto.com Over the weekend, The Wall Street Journal ran a piece claiming that fiction at least nominally aimed at readers under 18 — young adult or "YA" fiction, that is — is entirely too dark. Calling out the books about kids who cut themselves or suffer abuse right alongside the books with abundant profanity in them, it laments the fact that young readers will be "surrounded by images not of joy or beauty but of damage, brutality and losses of the most horrendous kinds." Unsurprisingly, the commentary has come under intense criticism — it's not in any way a new complaint, and every response to it points that out, along with plenty of other problems. But as easy as it is to tear the piece apart — for its complete failure to acknowledge V.C.
Seeing Teenagers As We Wish They Were: The Debate Over YA Fiction : Monkey See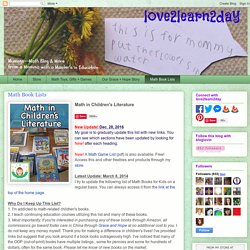 Math in Children's Literature 187K+ New! A Math Game List (pdf) is also available.